Pittsburgh doctor Timothy Wong runs an insurance-free Direct Access Primary Care micro practice, charging only $35 per visit.
iHealth Clinic is Board-Certified, with Dr. Wong working as a Family Medicine Physician who specializes in primary care. Each consultation is set with a flat fee and an extra $10 per additional ailment. There are no hidden fees, copays, deductibles or bills. According to the video from AJ+, the highest he charged a patient was $55.
While he cannot treat emergency care or cases that require a specialist, he is well equipped providing aid for anything such as stitches, flu shots, a sprained ankle, blood work and more.
Dr. Wong is capable of handling an array of ailments and although he refuses to take health insurance, he does believe in the importance of it. In an interview with Bloomberg, he explained its need during a catastrophic event. Primary care, on the other hand, is generally cheap. A majority of his cases involve urgent-care, but if a patient needs lab work, his contract with Quest Diagnostics offers a steep discount. What would've cost one patient $230 for a routine cholesterol test and complete blood count (CBC), amounted to only $30.
As the sole healthcare provider, he deals with everything that would require a receptionist, nurse or assistant. Despite that, Dr. Wong told NextShark that he usually doesn't get overwhelmed — it was harder when he worked in a traditional primary care setting. There were more protocols and distractions involved such as, "going through paperwork, signing forms, answering patient questions, directing staff, refilling medications, teaching students, finishing [his] documentation on top of [his] duties as the head of the Quality Committee and seeing patients."
The primary care physician (PCP) wanted to get to the root of what mattered: patient care.
Dr. Wong makes it a constant goal of improving the clinic and keeping costs low so it directly translates into patient fees.
"I realized that the system was broken, so much to the point that I was part of the problem of contributing to that broken system," Dr. Wong stated in the video.
Burnt out and tired of insurance companies doling substantial fees, the PCP revealed to NextShark that there were many specific incidents that made him lose faith in the current healthcare system. So much so that he could write a small book about it.
In one specific incident, he described a newly diagnosed cancer patient who required constant IV fluids to prevent her kidneys from being damaged by the cancer. Her hospital care required Dr. Wong, an oncologist and a kidney doctor seeing her daily. However, her insurance denied full payment because she did not meet the full criteria to be in a hospital.
"Another example occurred when an insurance company only allowed one type of breathing medication that was cheaper than the others. Later that year, the medication had a national shortage," he said. "The insurance company tried to save money but it back-fired when that medication was in short supply and patients couldn't even get the medication that was helping [them] to breathe."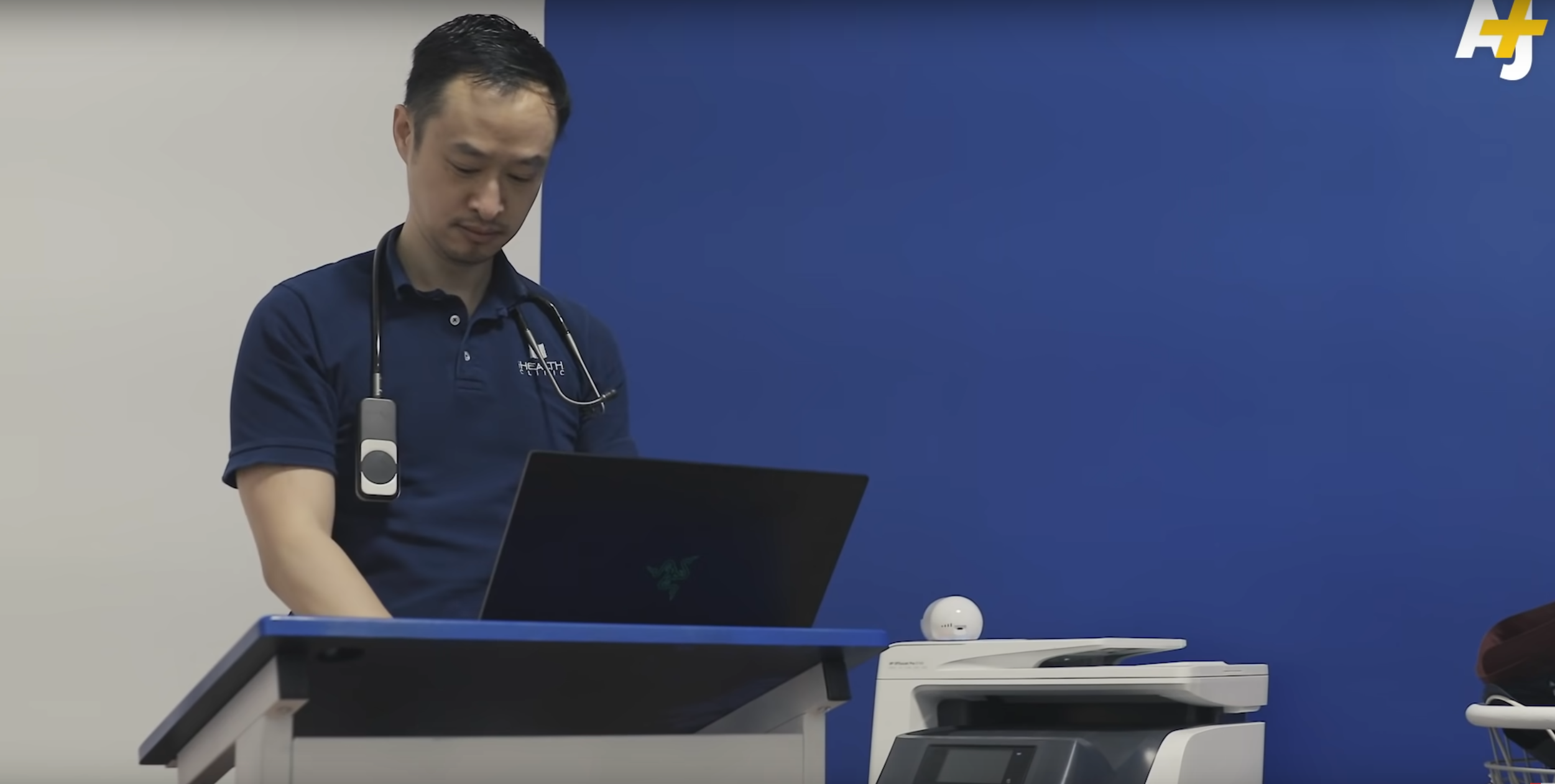 Some fellow physicians, doctors-in-training, and medical students show interest or support Dr. Wong's practice, but not many agree. The doctor's Direct Access Primary Care model threatens to "potentially change a system."
What was once a steadily growing practice with a maximum of 32 patients a day, dropped to an 80% reduction in volume and revenue from the spread of COVID-19.
As a small business owner and an independent doctor, the drop hurt the clinic, yet he offers a new discounted fee of $20 to those who aren't working due to the pandemic. Patients would still call and ask for information about COVID-19 but there were limited things he could do since he doesn't have tests and there are limited treatments.
Compared to his friends, Dr. Wong hasn't experienced discrimination, with his patients being very supportive. One donated N95 masks; another donated hand sanitizer.
"Fear is ultimately a part of human nature but understanding and compassion [are] as well," he said in regards to the irrationality in those refusing to go to an Asian doctor. "For most of us, it is our first real pandemic. We, as humans, often try to answer complex questions by simply blaming others. We have to realize that we are all in this together and are stronger together than separate. We should also concentrate on what can make us better and not dwell on the bad."
The PCP opted to look toward more positive matters, such as his new telemedicine app, iHealth Teleclinic, for Android. Wanting to create a new experience for his patients, he worked on the app with developers for over a year. It offers text visits where patients can text throughout 24 hours with the physician, as well as an option to schedule video appointments to see him. Contrary to other apps, patients fill out questions before they schedule their visit to streamline the consultation with all the necessary information already logged.
He is currently working with other developers to create a more powerful platform to do more.
Dr. Wong wants to continue to improve on his clinic and practice and encourages others to follow suit, stating, "I am really hoping other doctors can do it as well. We have been able to help a lot of people who would not be able to get care otherwise."
Feature Image via Dr. Timothy Wong (Left), AJ+ (Right)