As the U.S.
continues to figure out how to deal with mass school shootings, the idea of placing police and armed guards on campuses is a regular topic in the media and online discussions.
Now, halfway across the world, a nation is trying to adopt this very solution to a problem that does not even exist there.
In the Philippines, a government official has openly stated that police and military presence on campuses can help prevent school shootings similar to the ones in the U.S.,
Rappler
reports.
"Public shooting has become international. Did you see in the U.S., who do they target? Schools…We saw in New Zealand, Australia, even in Europe. In the U.S., how many died in 24 hours? Twenty innocent civilians. Many of those were in schools. Do you want us to wait for that?" Presidential Adviser on the Peace Process Carlito Galvez Jr. said during a press briefing on Tuesday.
However, the school shootings that occur in the U.S. has never happened in the Philippines. The
only reported case of gun violence in a Philippines school
involved a cop with a grievance towards a teacher. While he did fatally shoot four teachers, this incident just so happened to take place at school instead of the school being the main target.
Galvez, a former military chief, doubled down on the perceived threat, noting that, "If a shooting happens in a school, you will call it a military failure, security failure. In the first place, you don't allow us to be there. Now, the security forces will look bad."  
Despite the fact that there is little to no threat of gun violence in local schools, Galvez claims the "international" spread of school shootings is enough to remove an ongoing restriction that prevents police and military presence from campuses, particularly in the country's only national university.
Subscribe to
NextShark's Newsletter
A daily dose of Asian America's essential stories, in under 5 minutes.
Get our collection of Asian America's most essential stories to your inbox daily for free.
Unsure? Check out our Newsletter Archive.
While state universities are supported by public funds, they operate unlike other government agencies as they are also protected by their charters and codes from direct government interference in their academic functions.
Later in Galvez' speech, he eventually hinted on what was actually the main objective of their push for police presence on school campuses.
"We have to allow because if we will not allow it, the people will be deprived of the security. We see that in the recruitment of students, their adventurism and activism is being exploited. The capability of security forces is restrained," Galvez said, echoing an idea earlier raised by Senator and former police chief Ronald Dela Rosa.
Dela Rosa previously floated the idea of increasing police patrols at state universities to prevent the alleged recruitment by members of the New People's Army, the armed wing of
the Communist Party of the Philippines (CPP)
. Meanwhile, Interior Secretary Eduardo Año, another retired military chief, said it is something he was already looking into.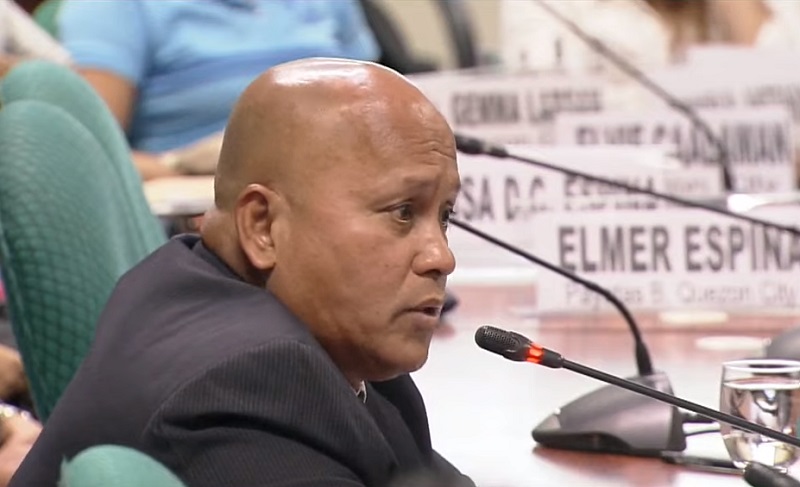 Criticisms of the Duterte administration mostly come from human rights advocates, members of the opposition, and the academe. Unsurprisingly, students, artists and human rights activists who criticize the government have been constantly red-tagged — defined by Philippine jurisprudence as being labeled as communists or terrorists — in a classic draconian tactic
to isolate them and criminalize them in the eyes of the public
.
Earlier this year, Duterte even warned students that they risk losing their scholarship "if they espouse [the destruction] of the very government feeding food on their mouth."
"If you espouse to overthrow the government then you are committing the crime of rebellion… It carries with it the penalty of no bail. When the time comes I will arrest all of them and they will lose everything the government has offered them."
In response to the government's insinuation that campuses have become a breeding ground for communism, students and teachers from UP campuses nationwide walked out of their classrooms and staged a protest on Tuesday, reports
Inquirer
.
"We are activists, not terrorists," the students from UP Baguio chanted outside the campus gates.
"We cannot allow this government to accuse us of being rebels when our struggles are no different from what our parents endure, what our farmers and workers suffer," a student was quoted as saying.
After imposing Martial Law and ratifying a new constitution that made him both president and premier for an indefinite period, then-President Ferdinand Marcos placed campuses from across the country under the watchful eye of military authorities in 1973. He would be thrown out of power over a decade later via a nationwide revolution
known as the People Power in 1986
.