A Filipino man is being hailed a hero after putting out a fire with his flip-flops inside a mall in the Philippines.
The heroic act of the man, later identified as Juvanie Ladano Castañares, was captured on film and shared on Facebook by netizen Ron Bongcayao Moncada on Saturday.
Castañares, shown in the video wearing a Superman shirt, is seen fearlessly approaching an electrical outlet which had sparked a small fire as panicked individuals ran for safety in the SM Ecoland Annex mall in Davao.
His plan, which involved throwing his pair of flip-flops at the fire, worked perfectly as the fire was immediately put out, preventing it from spreading and causing further damage.
The post has since gone viral, generating over three million views and tens of thousands of reactions and shares.
Moncada said he was buying waffles from a nearby store when he suddenly heard "a loud spark" at around 3:55 p.m. on Saturday.
"Some people were running away, [but] Sir Juvanie just went near the small fire and tried to extinguish the fire using his flip-flops," Moncada told Coconuts Media. He noted that the electrical outlet was overloaded with the big Christmas tree's multiple Christmas lights that were plugged in.
"I don't personally know him [Castañares], but he messaged me [on] Facebook and [thanked] me for capturing the video," Moncada was quoted as saying.

Castañares' heroics have earned him the nicknames "Superman" and "Slipperman" from adoring netizens.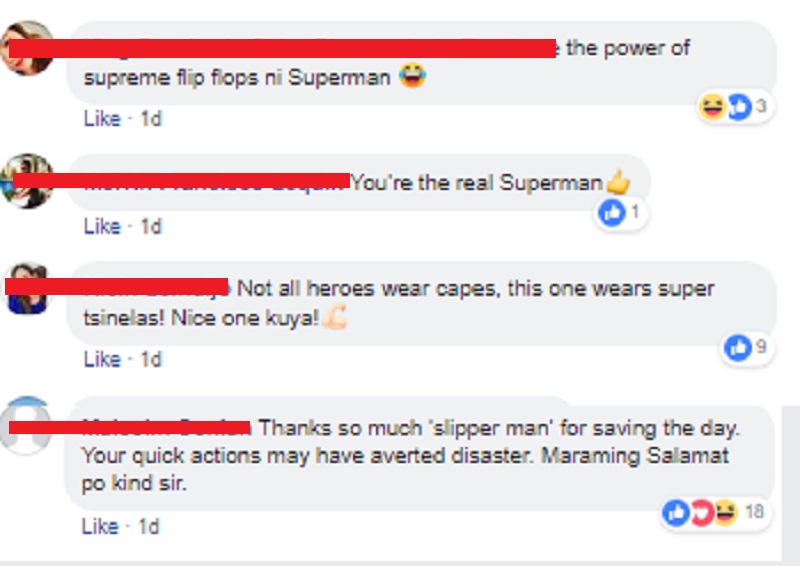 Featured Image via Facebook / runelmoncada