New York University (NYU) students from the Asian Greek fraternity house Lambda Phi Epsilon came under fire for leaked group messages discriminating against Black people.
Originally from Twitter, user @dawnofsaints brought the messages to light where it continued to gain attention since its Friday posting.
NYU students, these are our peers.
Their names are all listed below in the screenshots from their NYU fraternity (Lambda Phi Epsilon) groupchat.
Please email administration & let them know how you feel. pic.twitter.com/hoeFOGzs5X

— D🍒 (@dawnofsaints) May 29, 2020
Shortly after, an Instagram page appeared, titled "stopantiblackness," and was dedicated to documenting the entire incident. It now goes by the handle @bringpocsolidarity.
The comments are screenshot below.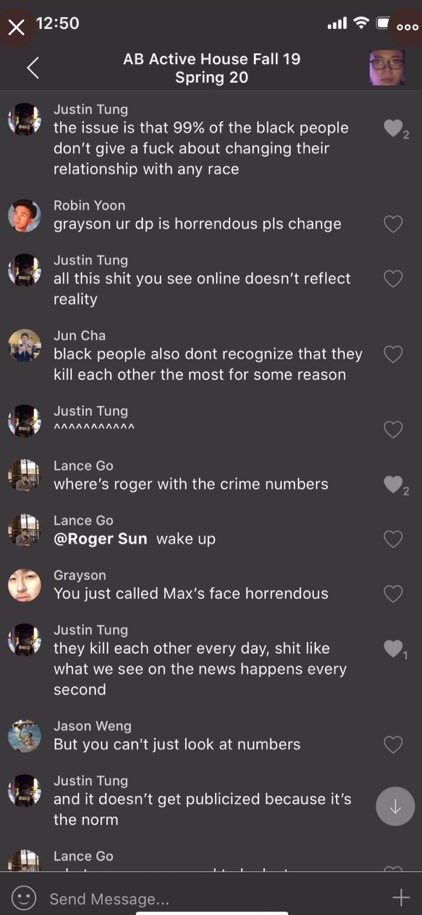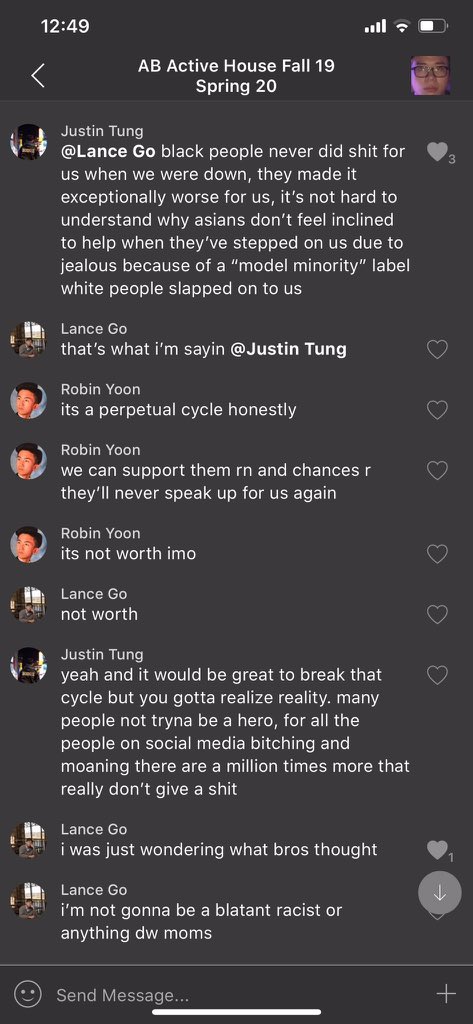 View this post on Instagram
The five NYU Lambdas were identified as Justin Tung, Robin Yoon, Lance Go, Jun Cha, and Roger Sun, with their social media accounts repeatedly deactivated or switched. Their emails, however, were found.
While many were in support of the IG page's original focus, which was to receive a sincere apology from the five Lambdas to the African American community, some of the commenters argued that the page was too harsh on the students, that they deserved to be educated, and now their lives are ruined.
One said, "It's one thing to expose their actions but another to go on and create a whole a** account in hopes to end their future."
According to the private messages that the Instagram page received, some say that the page was "using race to justify everything" and claimed it was "a hate page."
Others insisted that the Lambdas were held responsible for their words. As one pointed out "they really said don't screenshot this, I don't want my life to be ruined. They knew the gravity of their words…"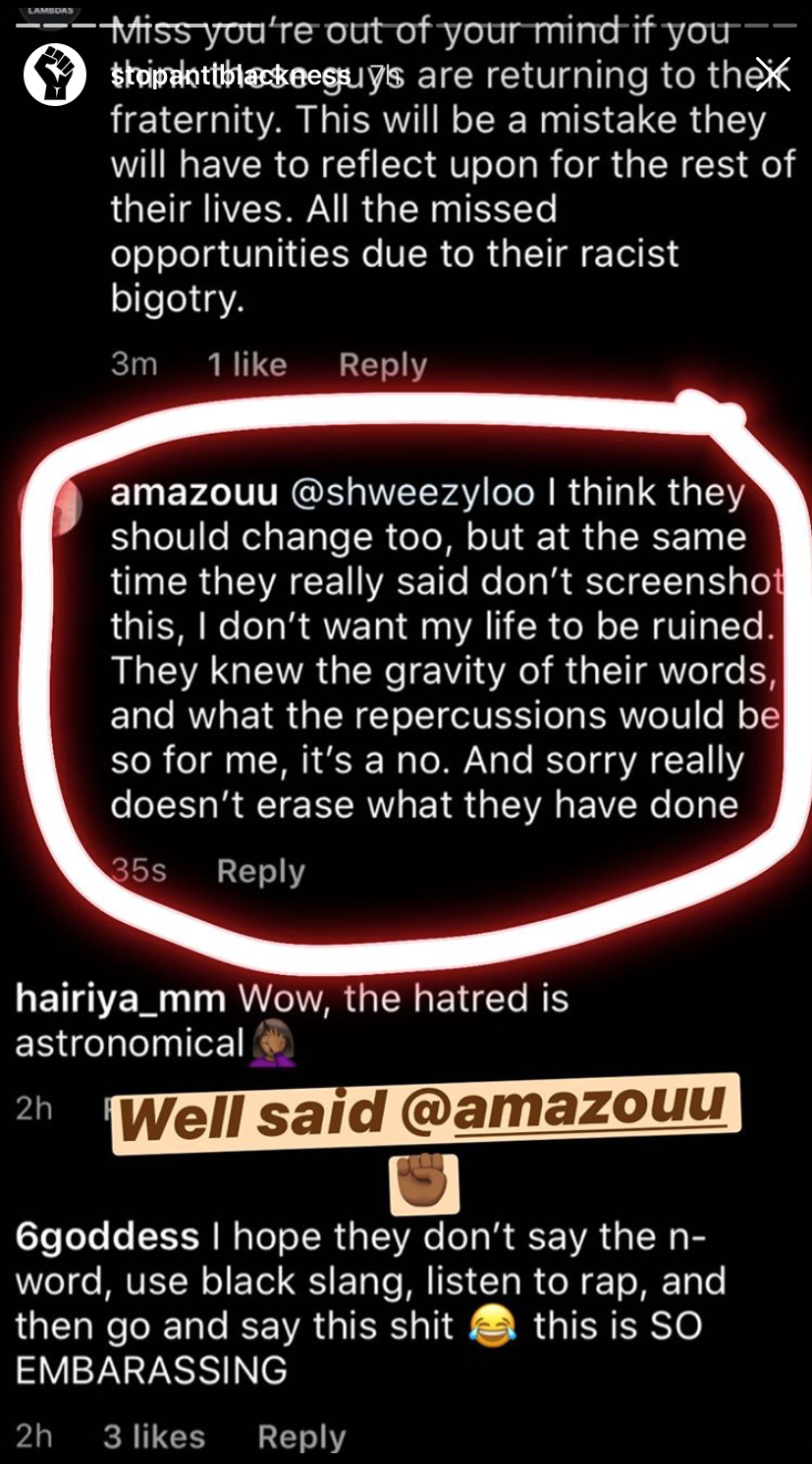 NYU Associate Dean for Diversity and Inclusion Gary Fraser was notified and shared that he spoke with the NYU Senior Leadership.
An apology from Roger Sun later circulated, where Bring POC Solidarity stated it was posted to the Facebook group "Subtle Asian Greeks."
The apology's sincerity was called to question, though, when an anonymous user brought to attention the potential danger the person who leaked the messages may be in.
The remaining Lambdas were allegedly angered by the exposure and "want to jump the person who leaked the chat."
A statement from NYU President Andrew Hamilton and NYU Senior Vice President for Global Inclusion and Strategic Innovation Lisa Coleman was released hours after the messages went viral.
In it, the NYU Lambda Phi Epsilon fraternity chapter is suspended indefinitely while being investigated by the Office of Student Conduct.
"At a time when we are challenged and should be standing united against a new plague, the coronavirus, we continue to have to battle another ancient plague that seeks to divide us: racism, bigotry, and hatred across the United States," it read, encouraging those within the community to speak up and report instances of racism.
Another Twitter user, @saige_ty, contacted Raj Kittusamy, a member of the NYU Student Government Assembly who denounced the comments and asked for suggestions for their incoming SGA's list of demands. He also notified the new senators-at-large for Black students.
Hey .@dawnofsaints and all those involved in this twitter thread. Raj Kittusamy has gotten back to me and asked for our input for SGA's list of demands. Please responsd to this tweet with ideas. They are also tying in the senators-at-large for for Black students #BlackLivesMatter https://t.co/VBnfHz23wq pic.twitter.com/Jqpto7Emgp

— Saige 🇯🇲 (@saige_ty) May 29, 2020
In response to comments describing the original "stopantiblackness" as inflammatory and dividing the Black and Asian communities, the Instagram page posted a photo of a 1969 Oakland rally with an Asian American man holding a sign reading "Yellow Peril Supports Black Power" in support of Huey Newton. One of the unnamed admins of the page, claiming to be Asian American, wrote a statement in its caption.
"We will have the Asian voice heard as well. During times like this, we must strive to help the black people in America as today's social unrest is due to the black community vs corrupt white America," it read. "We Asian Americans have our own struggles as well. But collectively, the black struggle is much more complex and is more prone to violence and death. We Asian Americans don't need to worry about going outside because of our skin color. We don't need to worry about having our day ruined because another Asian brother or sister got shot by the police for breathing."
However, some commenters are still unsatisfied with the way the Instagram page is "generalizing" and "witch hunting" the Asian community.
One said, "instead of apologizing for witch hunting you're just using damage control by being sympathetic to asian americans…? i supported the content this account provided in the beginning but it has come to a point where it's being taken way too far and it's getting toxic. wanting justice for an ethnic group is not about shifting the target point to another ethnic group. generalizing asian americans by implying we all treat another POC community a specific way, is not it if you want to educate people to stop generalizing."
The Instagram page switched gears on Saturday and renamed itself as Bring POC Solidarity.
Feature Image via @nyuniversity