An Asian fusion restaurant in New Zealand has sparked a massive backlash online for using offensive racial stereotypes on its menu.  
Netizens slammed the restaurant Bamboozle as "tone deaf" and "juvenile racist trash" when a copy of its menu emerged on Twitter on Tuesday, New Zealand Herald reports.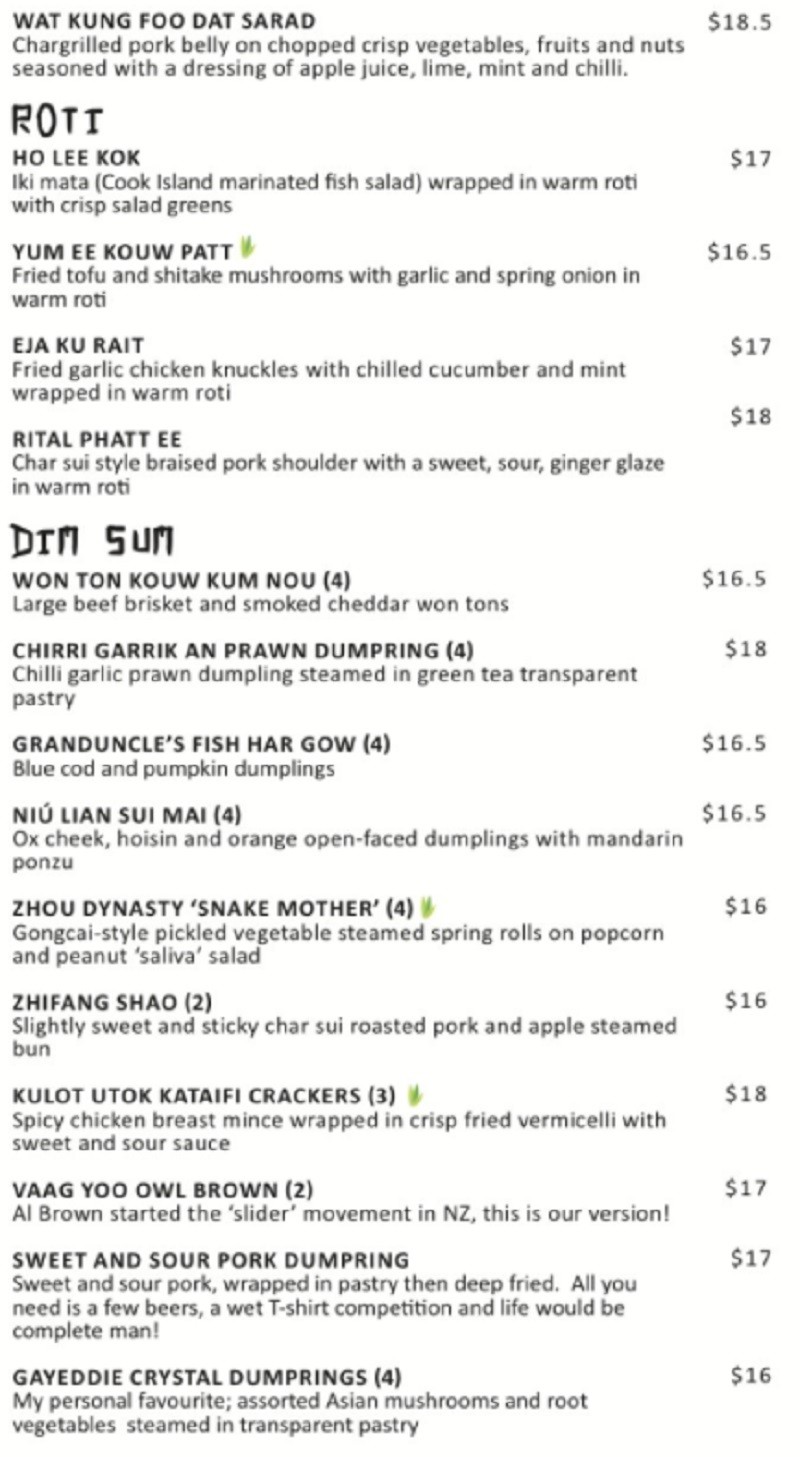 Items on the ill-conceived menu included a marinated fish dish called
"ho lee kok",
a
fried garlic chicken knuckle meal dubbed
"eja ku rait"
and a chili garlic prawn dumpling dish named
"chirri garrick prawn dumprings".

Situated in Christchurch, South Island, the restaurant, owned by restaurateur Phillip Kraal, has reportedly been operating with the menu for two years.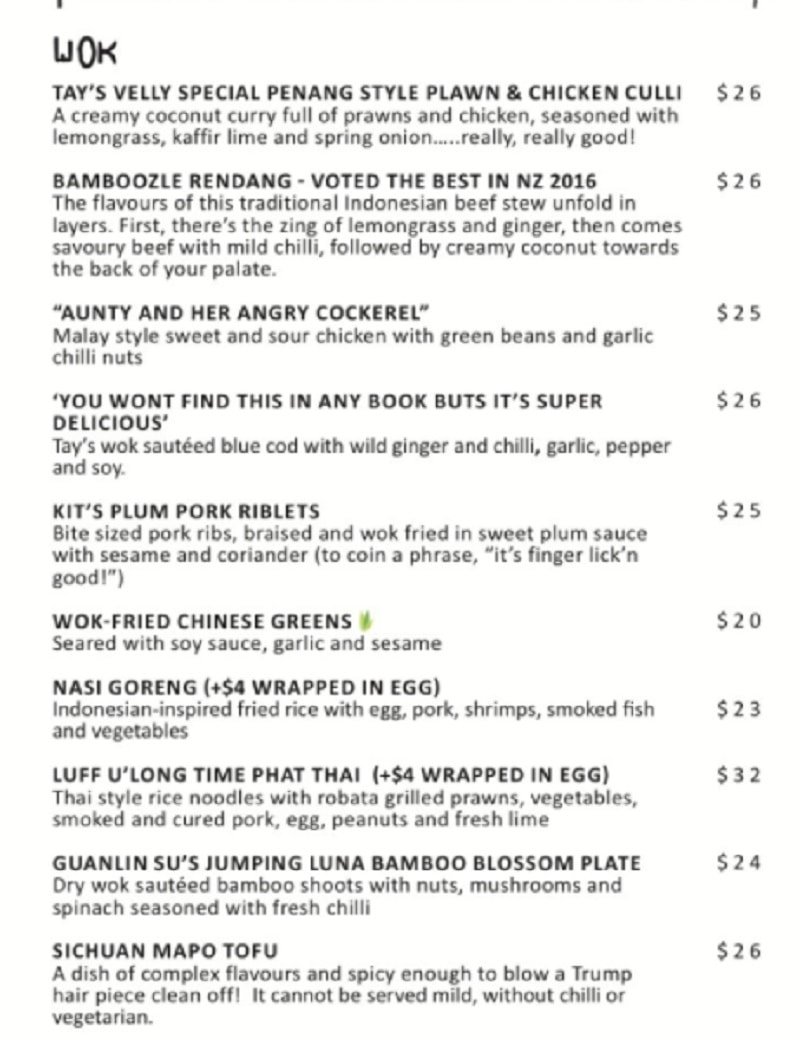 Subscribe to
NextShark's Newsletter
A daily dose of Asian America's essential stories, in under 5 minutes.
Get our collection of Asian America's most essential stories to your inbox daily for free.
Unsure? Check out our Newsletter Archive.
When asked if he was aware that his menu was offensive, Kraal gave this very dismissive response:
"Pretty much everyone [sic] of our customers enjoys the written menu as part of their overall experience and often express disappointment when items are removed with seasonal menu changes. But we appreciate the feedback and are actively considering it."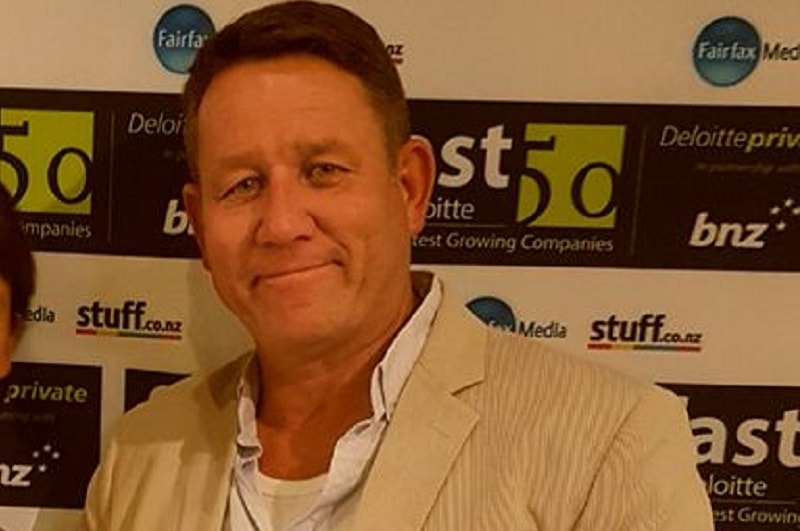 Twitter user Alice Galletly, who posted the restaurant's disgraceful menu on Twitter, lamented that the Bamboozle Facebook page admins clear out negative comments on the company page.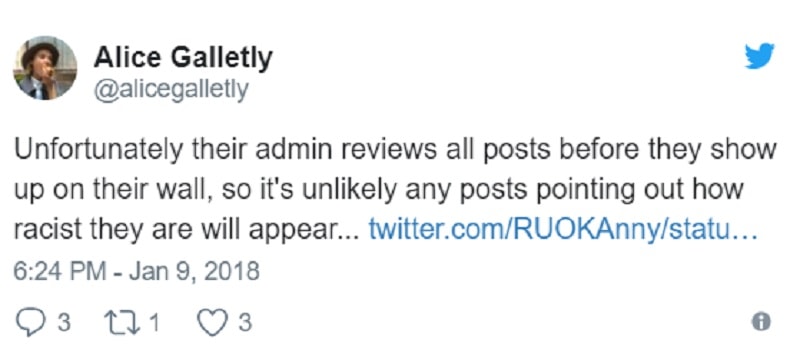 Restaurant reviewer Alastair Paulin from Stuff called the restaurant's attempt at humor 
"juvenile sloppiness."
"As I read the menu, I wondered how the all-Asian kitchen staff on view feel about their dishes being described as 'velly special',"
 Paulin wrote.
"We get it, some Asians struggle to pronounce 'r' and 'l', but does anyone over the age of 13 find that funny?"
he asked.
"We've plenty of world-class restaurants in New Zealand, there's nothing world class about using racial stereotypes to sell food,"
the review further noted. 
"Kiwis are already taking to social media to say they won't be going to places where racial tropes are on the menu or shelf."
While many readers from New Zealand agreed with the reviewer calling Bamboozle's menu racist, others expressed that such criticism was "too politically correct."
According to a
survey conducted by the media platform
, 40% of the 19,000 respondents thought the menu racist and offensive, while 60% found it to be funny and that people should
"lighten up."
 Netizens supporting Bamboozle even said that those who took offense were
"narrow-minded"
and that
"playing with words is fine."
For Chinese lawyer Arthur Loo, however, the tone-deaf menu is "a little bit sad in this day and age".
"I thought we had moved beyond this sort of thing," he lamented. "From the pictures on their website, it doesn't look like the place that would resort to very juvenile humor."