Admit it, no
human ever started out as a makeup expert. 
Most of the monolid makeup hacks I grew up with involved making your eyes look the most non-monolid as possible: faking a double eyelid with tape, painting your lids black to hide the fact that you don't have creases, etc. After a decade of experimenting, I've come to realize that you can't fake what you don't have. And monolids are not features that should be hidden away anyways, they're unique gems and the more you embrace them when applying your makeup, the better it looks.
Obviously, makeup styles are never a one-size-fits-all, but here are some of the tips and tricks I've learned to enhance my monolids, maybe they'll help you too.
Always start with a primer, even for your lashes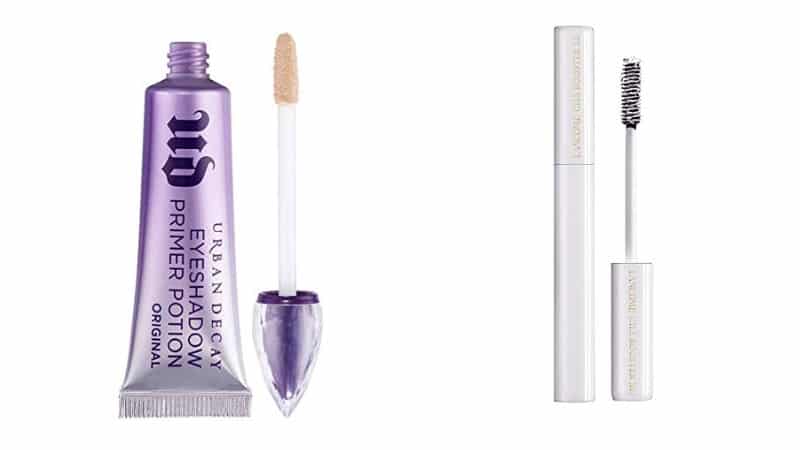 Monolids are prone to smudging since the lid folds over the lash line so before you do anything, make sure you're creating a nice base for everything to come by applying a primer. The same thing goes for your lashes as well, if you're planning on applying mascara, consider investing in a waterproof lash primer. If you have stubbornly straight lashes that just won't curl or nonexistent lashes that never show, the primer will do wonders for your eye makeup routine. Don't be put off by the white color most lash primers come in, when you go over it with your black mascara they'll look like normal lashes, just way nicer.
Waterproof eyeliner
Looking for waterproof alternatives is a general rule of thumb with monolid eye makeup. And if you're going to line your eyes at all, always start by tightlining. This is great for defining your eye shape and making your lashes look fuller at the same time. If you want to go a step further and draw a wing, most waterproof liquid or gel liners from
Twelvmag
will do, just make sure they're smudge proof as well.
Don't feel the need to draw a super thick line on your lid though — a little wing poking out the edge can look simple and sophisticated. Or opt for no wing at all, many high-profile monolid models choose to go for this more natural look. I'm telling you, monolids make very versatile canvases.
Subscribe to
NextShark's Newsletter
A daily dose of Asian America's essential stories, in under 5 minutes.
Get our collection of Asian America's most essential stories to your inbox daily for free.
Unsure? Check out our Newsletter Archive.
Or just line using eye shadows
I've had monolided friends who love to draw super thick lines using black eyeliner, covering up nearly half of their lids. This can be great for special events but for work and school it may end up looking too dramatic — especially when you close your eyes and the sheer amount of black makeup becomes suddenly visible.
If you want to emulate this look without it looking too harsh, try lining your eyes using shadow instead — It's a softer alternative for the daytime.
Gradient vertically
Most makeup tutorials on Instagram and YouTube generally follow the same template: apply lighter shadows to the inner corners and blend darker shades into the outer V of the eyes to accentuate the crease. Monolid eyes are generally flatter than double lid eyes, so a vertical gradient can be more flattering than a horizontal gradient.
Try applying the darker colors closest to the lash line and blend up, this method brings out the contours of Asian eyelids and gives a more polished look.
Fake creases don't work and neither do floating liners
Drawing on fake creases with eyeliner might look real enough in photos, but in person, it rarely looks natural. Every time I've gone to a double-lid makeup artist, they always insist on drawing fake creases and let me tell you, none of them have been able to make it work. It's much easier to work with your actual eye shape rather than trying to fake something you don't have.
Same goes for the floating liner trick; this only works if you intend to keep your eyes open for the entire day. The second you close your eyes, everyone can see that the eyeliner is sitting a centimeter off the lash line. There are certain makeup trends that look better on Instagram than they do in real life and this just so happens to be one of them.
Opt for wispy false lashes
Every time I've tried straight or equal length false lashes, they just end up looking like very awkward fans sitting on top of my lids.
Because monolids fold over, they often end up hiding half the length of the false lashes; this is why I always reach for the wispy options. Wispy lashes may look a bit over the top in the packaging but on monolids, the varying lengths add more dimension to the eyes.
Connect the top and bottom outer corner of your eyes in a soft V
When blending out the shadow on the lids and lower lash line, connect the upper and lower lids with a darker color. This will naturally extend the eyes and compliment your monolids. This method works for pretty much any look, whether it's a dark smoky eye or something more subtle.