A distressing video showing a monkey on a bike grabbing and dragging a toddler down a road in Indonesia went viral earlier this week.
The incident was recorded in Tanjungsari Village, Indonesia, according to Daily Mail.
In the video, which was posted online by American basketball player Rex Chapman, a monkey on a bike is seen speeding down a narrow street before stopping in front of a bench where a woman and her three daughters were sitting.
Can't remember the last time I saw a monkey ride-up on a motorcycle and try to steal a toddler. It's been ages…pic.twitter.com/PBRntxBnxw

— Rex Chapman🏇🏼 (@RexChapman) May 4, 2020
The monkey then grabbed one of the girls and dragged her a few feet away from where her mother was sitting.
Witnesses shouted at the monkey and a man can be seen walking towards the animal to scare it off. The crying child was able to get up and run back to her mother.
One Twitter user pointed out that the monkey was part of a kidnapping scheme. The monkey, which is allegedly trained to grab children, is tied to a rope and after a successful grab, the person on the other end pulls the animal and child together.
As one person noted- it's "an attempt by a human to steal a child for trafficking. The monkey is trained to grab the kid and you can see the line attached to the monkey to pull them both back quickly."

— Dr. Magus (@ubervaper) May 4, 2020
Another user echoed the same speculation and added that if the plan fails, the rope is let go so the monkey can take the fall.
Apparently it is a trafficking effort. The monkey grabs the kid and somebody pulls them both back. If things go south, they let go of the rope and the monkey takes the rap.

— DiLatina (@PDX_DianeS) May 4, 2020
However, another user suggested this could be a street performing monkey and the owner was pulling on the rope to stop the animal's attack on the child.
The leash is held by the owner, a part of the performers playing instruments, seen at the start of the video. He pulls the monkey away because he doesnt want it attacking the kid

— fan of noodles (@noodles_yes) May 4, 2020
A few people can be seen on the street at the start of the video playing instruments which explains the background music.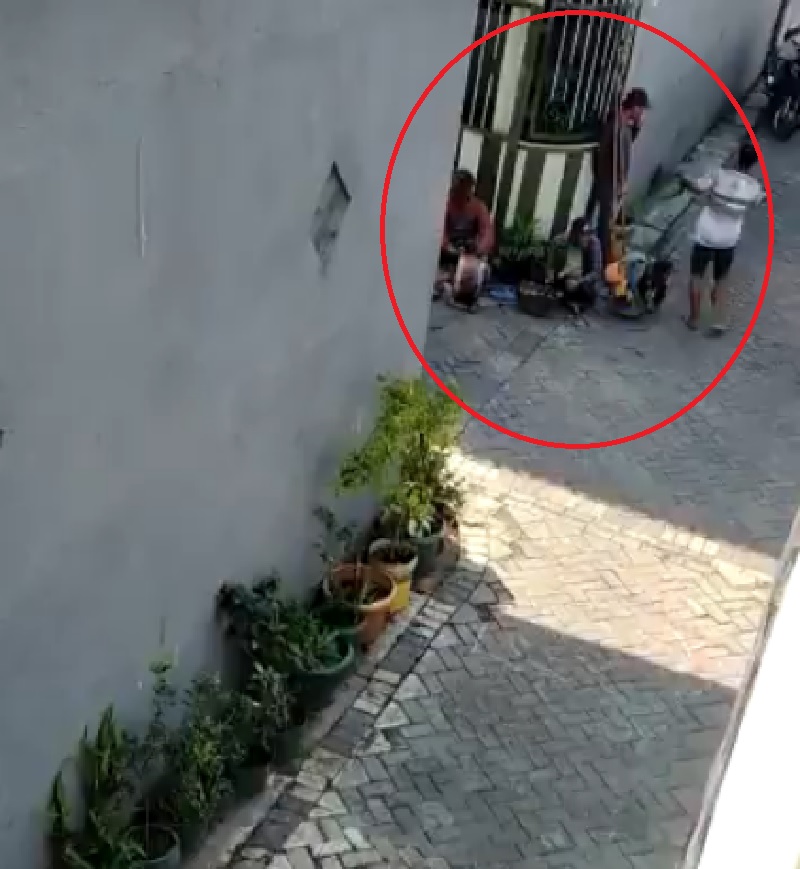 People in the Twitter thread were confused about what they witnessed.
I mean, the kid doesn't seem phased AT ALL. Like a monkey riding a bike isn't enough to blow your mind, then certainly the monkey trying to drag you off would be…and don't get me started on the nonchalant adult who just strolls up to intervene. What the ever-loving F?

— MrsC👑 (@funnygirlinTN65) May 4, 2020
What the hell did I just watch?! pic.twitter.com/MvAg4emxdd

— Yassine "CaptainShmeep" Mezroub (@yjm2k4) May 4, 2020
— Curious J (@CuriousJ6) May 4, 2020
Feature Image Screenshot via @RexChapman