Activision and Infinity Ward announced two new operators for "Call of Duty: Modern Warfare," including Daniel "Ronin" Shinoda, a character based on a real-life retired Green Beret.
The announcement came on Tuesday when the game publisher, Activision, posted the list of new characters in the first-person shooter game that features a "One-Man Army" Ronin modeled after Tu Lam, according to Task and Purpose.
Lam fled the communist government of Vietnam in 1979 on an overloaded fishing boat as a child. He eventually made his way into the U.S. and later into the Army. Lam followed the footsteps of his stepfather who served in the Special Forces.
Lam reportedly served 23 years in the Army and 18 of those years under the Special Forces where he was deployed in 27 countries. After retiring as a master sergeant in 2016, Lam founded Ronin Tactics, a company that provides training to civilians and law enforcement officers as well as the development of tactical equipment. Lam's company name and logo were also used as his character's nickname and for his patch.
Ronin's release marked a milestone as the first character to ever be modeled after a real-life veteran.
"An Ex Special Forces recruited by Warcom, known as the 'one man army,'" Ronin's character background reads. "A saboteur and master of multiple fighting systems, proficient in unconventional warfare, foreign internal defense and special reconnaissance."
"In Modern Warfare, we always draw this line where we want it to be real, but with gamers and gaming stuff you're pushing to have it be over the top, so you're trying to find this balance," co-studio head at Infinity Ward, Dave Stohl, told Task and Purpose.
"A lot of stuff is exaggerated in a way for gaming, but that's what is so exciting when we meet guys like Tu, because for me, why I got so excited, is because it's real — he's real," Stohl said, adding that Lam is a "larger than life character."
"His philosophy, the tattoos, the whole bit. I think he's the first real guy that we've used in the game like this."
It did not take much to get Lam onboard when Infinity Ward asked him to work on the "Call of Duty: Modern Warfare" project.
"You can't walk into the post exchange without seeing Call of Duty posters," Lam said. "It's just really part of the culture in the military. In Special Forces, we'd go out to do missions, and then guys would come back to log on to play. It's a morale thing for our veterans overseas."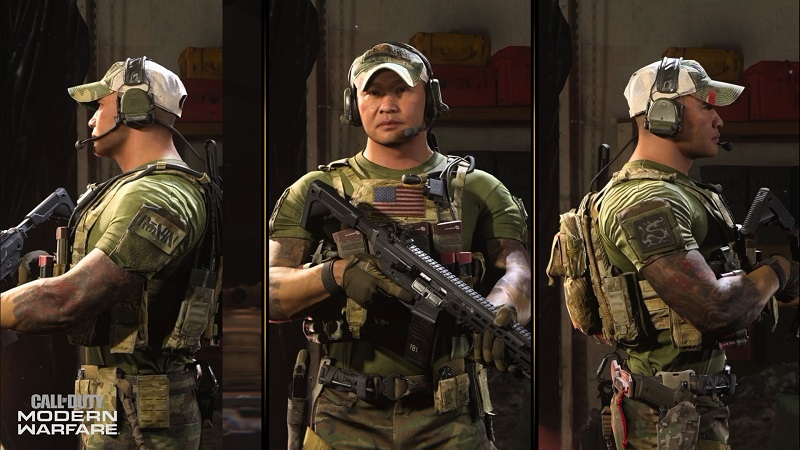 In order to bring Ronin to life in "Call of Duty: Modern Warfare," the team flew Lam to Los Angeles to do a series of motion capture to make his movements more natural and grounded.
"When we do these motion captures, a lot of times we go grand with the movie side of it," animation director at Infinity Ward, Mark Grigsby, said. "But this time around we really wanted to bring it back to be a little more realistic and grounded, but still fantastic. There's a certain way you can tell that person has that weapon in his hand, and that he's had that in his hand in multiple situations and it is very natural to him."
Lam also praised the writers on how they created the single-player campaign.
"How the writers and their team put Modern Warfare together, they're pretty much right on with how Special Operations work with the [CIA] and with rebel forces," he said.
"I think it pays homage to our military, and it also helps with recruitment, with the next generation of Americans. It builds patriotism, it gives them more information about the military and it gives them an interest in the military. I think it's needed."
Feature Image (left) via Activistion, (right) via @ronintactics