American restaurateur and celebrity chef Ming Tsai is joining the efforts to help those affected by the government shutdown by giving away free dumplings at his Boston restaurant Blue Dragon.
Gov Shutdown Dumplings! pic.twitter.com/pVDMHOBUQG

— Ming Tsai (@mingtsai) January 19, 2019
The free dumplings, which the 54-year-old TV personality calls "Shutdown Dumplings," is available Monday to Friday, between 2 p.m. and 4 p.m., according to the chef's social media post.
Please feel free to sit down @bluedragonbos and enjoy the meal with soft drinks from 2-5:00 else if you can't make those hours, we will pack it up to go for you so you can go home and feed your family…. #attitudeofgratitude https://t.co/lnqwfnrahV

— Ming Tsai (@mingtsai) January 24, 2019
Those who cannot come during this time can still get their free dumplings to go when they present a federal ID.
"The idea to offer Shutdown Dumplings came from idea that the restaurant industry is one big family," Tsai told the Huffington Post. "Shutdown Dumplings came to be because we wanted to give back to government employees affected by the shutdown in a way that we knew how ― through food."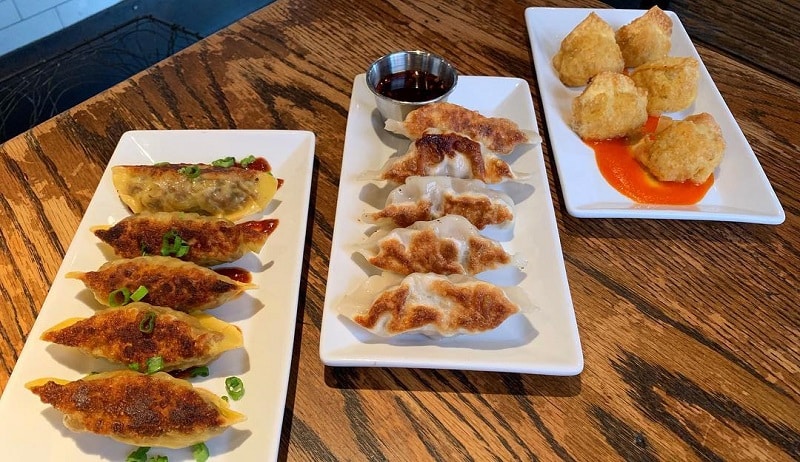 Tsai was inspired to help the 800,000 furloughed federal employees after he saw his fellow chef and friend José Andrés offer to help the government workers through his nonprofit World Central Kitchen.
The nonprofit group, which opened in Washington, D.C. on Tuesday, provides free supplies to the furloughed workers, including diapers as well as financial and legal advice. It also opened up a pop-up kitchen to feed federal employees hot meals.
"If all of us chefs do a fraction of what José and World Central Kitchen has accomplished, the world will be a better place," Tsai said. "In fact, WCK is trying to get all chefs in the USA to offer free food for these furloughed employees. I am blessed I have the capacity and team to do my small part."
#ChefsForFeds is now active in 17 states + DC and Puerto Rico! Check out all of the amazing chefs & restaurants supporting our unpaid federal workforce, with more being added every hour: https://t.co/yl6h81hLyK pic.twitter.com/mNMLa6ZrjD

— WorldCentralKitchen (@WCKitchen) January 24, 2019
Featured Image via Instagram / mingtsai