Four Chinese-American members of the "Asian-American cultural fraternity," Pi Delta Psi, of Baruch College in New York City were sentenced to jail in connection with the killing of 19-year-old freshman Chun Hsien "Michael" Deng in 2013 during a hazing ritual.
The members, who are all from Queens, New York, include Raymond Lam, Sheldon Wong, Charles Lai, and Kenny Kwan.
Lam and Wong were sentenced 10 to 24 months each, while Kwan received 12 to 24 months in county jail. Lai, who had already spent 342 days in jail after failing to make bail, has been sentenced to time served, according to the Associated Press via South China Morning Post.
The deadly hazing ritual occurred at a rented retreat house in Pocono Mountains, Pennsylvania, in 2013. Deng was reportedly blindfolded during the initiation and was made to carry a heavy backpack as the other frat members continued to tackle him, a Crossing Over ritual called "glass ceiling."
Deng fell unconscious and later died at a hospital after the boys tried to cover up the crime.
As a result, a judge on Monday officially banned the fraternity from Pennsylvania for a decade, and made to pay more than $112,000 in connection to the death of the freshman student.
Lam, Wong, Lai and Kwan pleaded guilty were first charged in May 2017 with third-degree murder and pleaded guilty to felony manslaughter and hindering apprehension. The first of the 37 co-defendants, Ka-Wing Yuen, pleaded guilty in January 2017.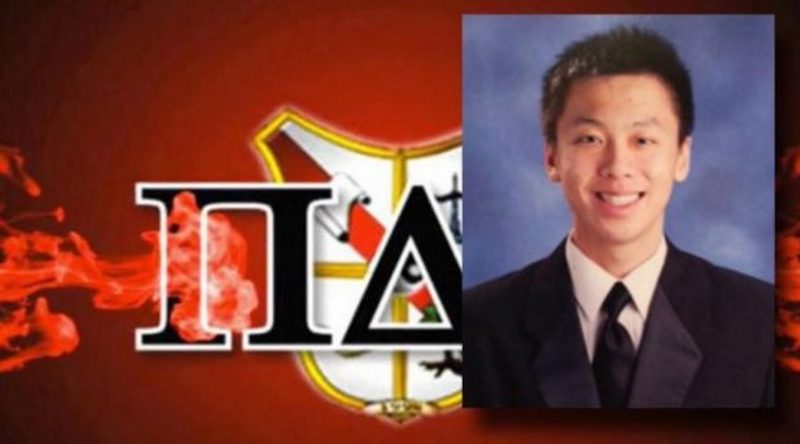 "Not one person out of 37 picked up a telephone and called an ambulance. I cannot wrap my head around it. So there's something greater going on here, and I think it's probably really prevalent. We see across the country these issues in fraternities," Monroe County President Judge Margherita Patti-Worthington said, describing them as "brainwashed" and "indoctrinated," according to AP.
Dozens of other defendants in the hazing death case have also pleaded guilty, and have been sentenced to probation. The 37 people from the New York college have all been charged by the police with crimes ranging from aggravated assault to hazing to third-degree murder.
Pi Delta Psi, which was founded in 1994 and has 25 chapters in 11 different states, including one in Penn State University, called itself a victim and blamed the Baruch College chapter for bringing "shame and dishonor" to the national fraternity.
The judge and prosecutor, however, slammed the notion by pointing out how the fraternity encouraged hazing throughout the years.
"It's the epitome of a lack of acceptance of responsibility. It's their rituals and functions that led us here today," said Monroe County Assistant District Attorney, Kim Metzger.
The fraternity's lawyer, Wes Niemoczynski, argued that the group had already developed a "no excuses" hazing policy even before Deng's death, but its core policy worked on the Pi Delta Psi's "honor system" and proved to be inadequate.
Pi Delta Psi's initial ritual does involve some physicality, Niemoczynski said. They "certainly did not involve the level of physicality, the level of inhumanity and the depravity of the individuals who are also coming before the court," he added.
In court on Monday, Deng's mother, Mary Deng, wrote a letter expressing her grief for the loss of her only son, and demanded that those connected to the crime should receive a punishment that will send a message about the horrors of hazing.
"This punishment should forever remind them of the pain and grief we will carry for the rest of our lives as the result of their misconduct. It is also our hope that the punishment may also save lives by sending a clear message to other fraternities and their members that the outrageous tradition of hazing will no longer be tolerated and must be ended once and for all," she wrote.
All four defendants apologized. Lam, who was the most emotional, said he was consumed by guilt and that he tried to end his life, according to AP.
Featured Image Screenshot via YouTube / Associated Press