Chef Martin Yan has spent 43 years sharing Asian American culture and cooking on broadcast television – now he hopes to engage in more activism with his "MY Chinatown" series.

When Martin Yan joins the Zoom call, he instantly glides into TV presenter mode. After settling in with his AirPods, he cheerily walks me through the Chinese New Year decorations that have taken up the majority of his kitchen. 
"Chinese New Year candy, good fortune, everything is in front of me," he says, gesturing to the spread. He explains that he will be recording a Chinese New Year episode today, and that he keeps busy, typically with one to two filmings in a day. 
Yan has spent 43 years cooking and sharing food with others, and it's evident he has found his true passion. He is known for his easygoing, conversational manner, and he has a lot to say. 
"I love audiences. I love live television," he tells me.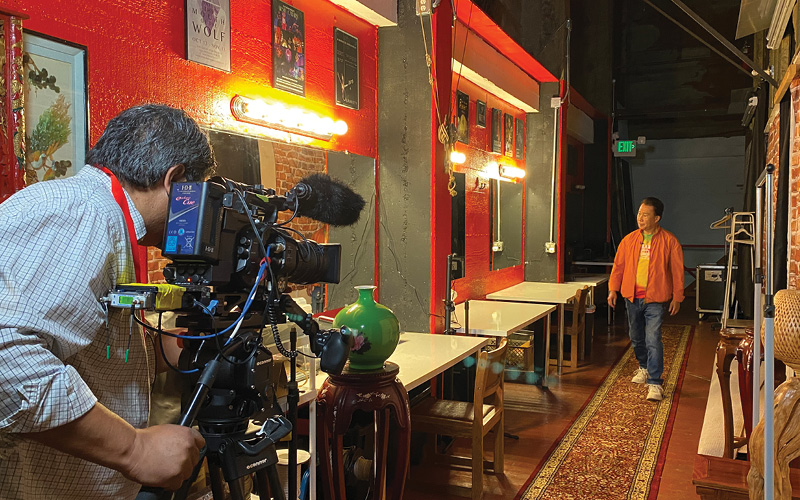 The original "Yan Can Cook "
Yan jokes that I'm probably too young to remember his original show – and he's right. "Yan Can Cook" was of a different era. Yan was a contemporary of Julia Child, and his show predated the Food Network by more than a decade. His show first launched in 1979 in Canada before moving to PBS in the U.S. in 1982, with the tagline: "If Yan can cook, so can you!"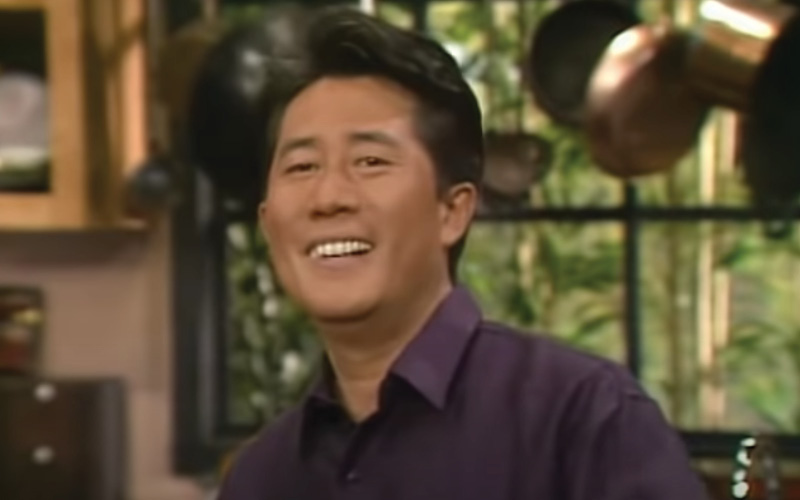 His own humble beginnings informed that tagline. Yan was born in Guangzhou, Southern China, in the late 1940s. His family had a small restaurant, which first cultivated his love for cooking. He later moved to Hong Kong, where he had formal culinary training, and then finally to Canada and then the U.S. 
Yan's career, however, has been anything but humble. He recently donated a collection of his works, photographs, and media to UC Davis to be preserved in an archive there. The collection, which includes 3,000 cookbooks and items like his first wok, will be digitized for researchers. His legacy and impact are huge – but he remains modest and reflective in our conversation. 
Yan reminisces on the changes he has seen when it comes to Asian cuisine over the course of his career: "When I first landed, set foot on this great land, there were only a few thousand Chinese restaurants. Now, over 50,000. More than all the fast-food chains combined." 
Not only that, he adds, but Chinese restaurants now represent regional specialties. 
"Used to be just chop suey, chow mein restaurants, a hundred years ago. Now you have Hunan restaurants, Sichuan restaurants, dumpling, potstickers – all kinds of stuff. The change is remarkable."
In regards to his own contributions to that change with "Yan Can Cook," Yan remains modest. 
"I truly believe that hopefully, what I have done in the last 43 years in public television, and all the appearances, the cookbooks and everything, all the travel – I hope I made a little dent in bringing awareness of Asian heritage, Asian culture, Asian food to the general public."
Yan's modesty also extends to the success of his show, saying "I was very fortunate, in the right place, at the right time." He also believes that external factors like world politics had a big influence on why Americans were so interested at the time in the Asian cuisine he had to offer. 
"That's the time that Nixon and Kissinger went to China, the 'ping-pong' diplomacy. People of America just started to be curious, wanting to know more about China, anything about China, because China had been an Iron Curtain for many, many years." 
At the time, in the late 1970s, Yan was teaching cooking classes at a college extension as a side gig, albeit before the concept of "side gigs" really existed, to help support his college education at UC Davis. 
"People were very curious. All my classes were always full, always filled up. With all kinds of people, all walks of life."
I ask if he had felt a pressure in representing Asian people and cooking to so many people, to which he merely replies, "There were no other shows, no comparison. I didn't feel any sense of pressure. Besides, there was no competition. I was the only one doing it."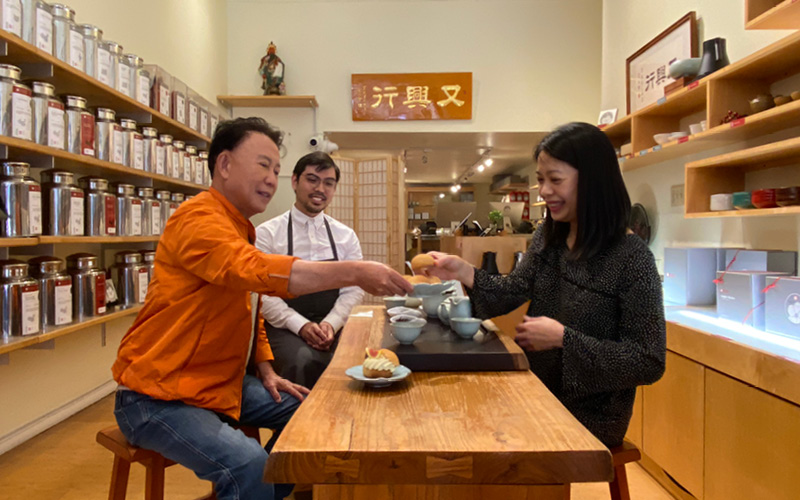 Resolve in the face of discrimination  
Yan takes on a realist tone when it comes to discrimination he has faced as one of the first major examples of representation for Asian Americans on TV. 
"In any period of life and history, there's always discrimination," he says. "It is not something you can avoid." 
That's not to say he's ambivalent – he speaks at length about Asian American history and the first Chinese immigrants, the oppression they faced building railroads. 
"The discrimination against Chinese and Asians has been happening for over 150 years, since the early group of Asian Americans and Chinese immigrants."
When I ask him about how this has impacted his own career, Yan tells a story about an event he was doing in Calgary, Alberta, in Canada many years ago. An audience member during the Q&A accused Yan of promoting unhealthy foods. Yan recalls the man saying, "Chinese food is killing people! Stay away from Chinese food.'" Yan said he asked his own questions in return: "Do you watch the 'Yan Can Cook' show? Did I ever, ever use MSG? When I cook, I tell people, 'Use just enough oil. Instead of using salt, use soy sauce, which has less salt and more flavor.'"
"When I turned back again, the gentleman that raised the question felt embarrassed, because everyone was trying to look at him. He disappeared within five minutes." 
"MY Chinatown" in a new era of advocacy
Within the past few years Yan says his activism has shifted, especially since the pandemic and subsequent rise in anti-Asian hate. 
"I have been a little more vocal," he said, noting he's been working with organizations and even the California attorney general to speak against Asian hate crimes. He's been particularly moved to protect Chinatowns around the country, especially San Francisco's Chinatown, closest to his home.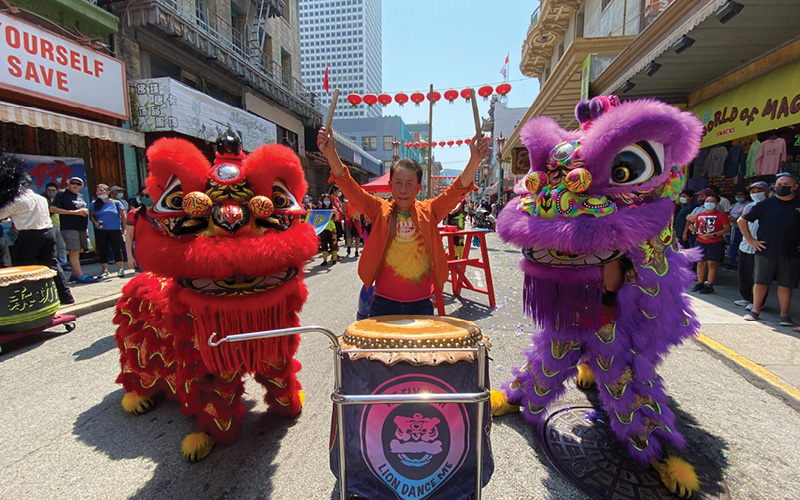 "The Chinese have been living in Chinatown, have been working hard in Chinatown, have been contributing to the economy of the US, the tourism of California and the city, for 160 years! We are part of America. It's a melting pot. Why do you have to hate us?" 
He is concerned and angry about crimes that have targeted the elderly in Chinatown communities. He also worries about the drop in traffic that many restaurants and businesses have faced. Yan decided to take initiative in the medium he knows best by producing a new show. "MY Chinatown," which will include 27 episodes featuring San Francisco's Chinatown, will be available exclusively on social media.
Aligned with his signature equalizing and inviting brand, Yan's slogan for the show mirrors the original one for "Yan Can Cook": "My Chinatown, your Chinatown, everybody's Chinatown." 
Authenticity in cooking and in presentation
The "MY Chinatown series" will be completely online. I ask Yan if the new medium of social media has changed the way he interacts with his audience, and he says hee remains very optimistic about the benefits of the medium. 
"I can do Zoom 2-3 times a day, reach two or three hundred people around the world in a day," he tells me. "Social media has become such a great platform for all of us to really reach out to people, and I think this wonderful medium is so good." 
I ask him if his work has been affected by the shift in the U.S. toward "authenticity," with so many Americans seeking out "authentic" experiences, restaurants, and recipes. Yan says that what makes something authentic has more to do with the spirit behind it, rather than sticking to traditional ingredients. 
"There's no such thing as truly authentic," he says. "Food is not defined by what ingredients you put in. It's defined by the essence, the spirit of the flavor profile."
To illustrate his point, he rifles through drawers to show me his stock of Asian seasonings: soy sauce, chili oil, black vinegar, dark soy sauce, rice vinegar, Zhenjiang vinegar. 
"Look at that!" he says. "I use all of these. All of these make the dish authentic."
The earnestness of this gesture, opening his kitchen to me, speaks to Yan's own essence and spirit. His appeal has always been in his authentic and genuine persona, and his openness to sharing everything. 
"It's about tradition, heritage, the execution – the spirit."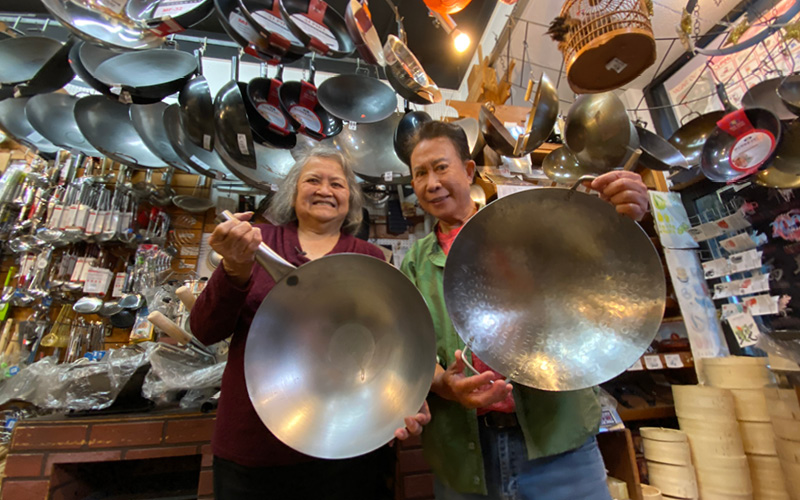 Featured Image via Stephanie Jan from "Yan Can Cook" (left), KQED (right)