In case you haven't heard, Japanese consultant Marie Kondo has a new show on Netflix and it's all about her internationally-acclaimed expertise: decluttering.
The show, which came out on Jan. 1, has since inspired people to take the first step in organizing their homes — though we can't know for sure how many pushed through.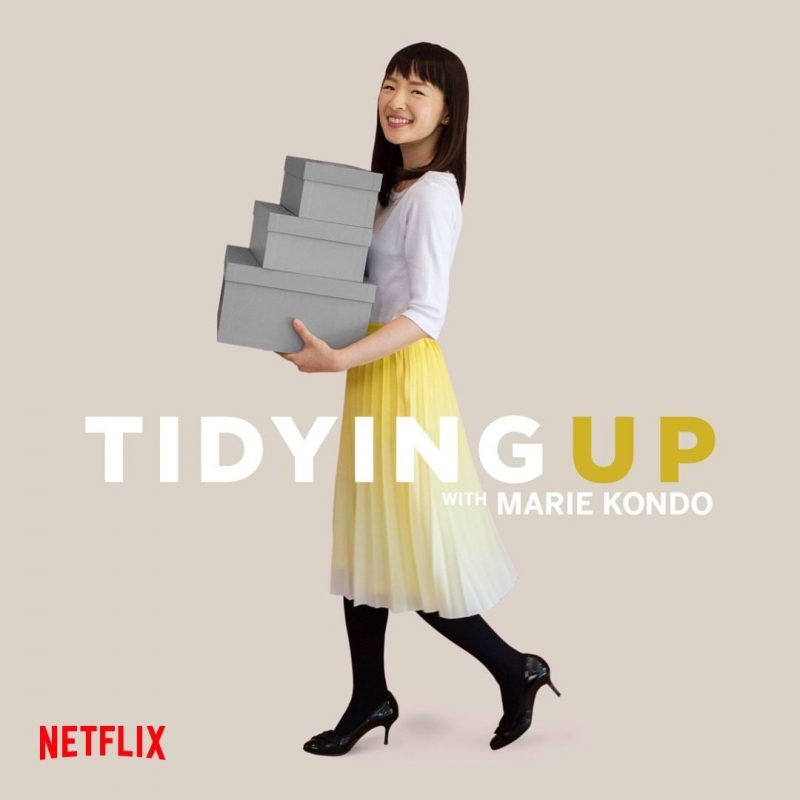 Kondo herself recognizes that decluttering is hard work, and as such, people have taken to Twitter to poke some fun about it!
Check them out below:
Marie Kondo: get rid of anything that doesn't spark joy

Me: pic.twitter.com/hFnP5iGhVv

— Jean Rhyphio (@RhyLoosh) January 9, 2019
I briefly considered taking the Marie Kondo approach to decluttering, but I decided to take a shortcut. pic.twitter.com/hLCDlkmemO

— Carolina (@wutheringreads) January 9, 2019
Marie Kondo: *folds a shirt*
Everyone: pic.twitter.com/BK1v4ZmWJs

— julia✌ (@songoflovejulia) January 8, 2019
Start of cleaning: I am a calm minimalist earth goddess

10 minutes later: Marie Kondo can suck my left titty I love my numerous towers of dusty junk that have given me depression

— Deirdre (@figgled) January 8, 2019
how to tidy up your friendships with the Marie Kondo method:

1. hold your friend up
2. check if your friend sparks joy
3. if no, thank your friend and put them in the trash

— Tze Hern (@zhrent) January 7, 2019
watching marie kondo's netflix show as if i'm not sitting in my depression nest made of dirty laundry and 3 month old chocolate wrappers in my ugliest clothes pic.twitter.com/WZygIregfk

— emma whatsapp (@kanworu) January 9, 2019
The trailer for Tidying Up with Marie Kondo has me feeling like: does this bring me joy? pic.twitter.com/AZhnI2Wrv5

— Libby (@ElleMcPoopson) January 9, 2019
Listening to Marie Kondo pic.twitter.com/aWxmzizall

— Brian Burke (@BrianBurkeChi) January 9, 2019
I blame Marie Kondo. #TidyingUp pic.twitter.com/4OJMznd5gA

— Melissa Reifler (@mreifler) January 8, 2019
Marie Kondo is holding me at knifepoint and demanding that I throw out my husband's ashes

— Bridger Winegar (@bridger_w) January 7, 2019
me after watching tidying up with marie kondo: pic.twitter.com/acG90Mc14e

— neal alarcon (@kimjongneaaal) January 9, 2019
me: hurt me

*marie kondo folds me in half, then in thirds, stacks me upright*

— Kevin Nguyen (@knguyen) January 4, 2019
"Spark joy."
– Marie Kondo pic.twitter.com/HJMR5I0Imw

— Dan Stabb (@DanStabb) January 9, 2019
Marie Kondo told me to throw out everything that doesn't spark joy but where would I live?

— Cake Boy (@MiguelPoblador) January 8, 2019
Detective Marie Kondo: Hold this box and see if it sparks joy
Suspect: wow, it does
Detective Marie Kondo: That box was full of the victim's blood. Book him, boys.

— Chase Burke (@ChaseBurke8) January 3, 2019
My rent does not spark joy, so I've decided not to pay it

— its just jay now (@jaykisokay) January 8, 2019
welcome to my new Netflix show it's called CLUTTERING IS GOOD ACTUALLY IT IS LIKE A NEST MADE OF STUFF BUILT TO PROTECT YOU FROM FEELING FEELINGS

— Chuck Wendig (@ChuckWendig) January 5, 2019
*Marie Kondo voice* These unpaid invoices………. they do not bring me joy

— Nathan Ma (@nathaninberlin) January 8, 2019
english major twitter when marie kondo suggests they should donate the books they haven't touched in 20 years pic.twitter.com/Z239OZMTu8

— alex (@existentialgem) January 5, 2019
Am I doing these #birdbox #memes right? #mariekondo #netflix pic.twitter.com/8h6dgDcu8b

— henrixtran (@henrixtran1) January 8, 2019
people's photographic memory of Marie Kondo's advice pic.twitter.com/XnfEKF28Lp

— nina matsumoto (@spacecoyotl) January 8, 2019
*Watches one episode of Tidying Up with Marie Kondo* pic.twitter.com/t57cfb4imn

— Stan Lewis (@StanLewis_) January 9, 2019
I used the Marie Kondo method to throw out your file after realizing it did not bring me joy. You were silently thanked.

— Lawyer Thoughts (@lawyerthoughts) January 8, 2019
Me going through my meme folder with the Marie Kondo method pic.twitter.com/Rl1YW1kO1X

— s̵h̷i̴t̶_̵i̴s̵_̴y̴a̶e̶j̸i̴ (@etherealaph) January 7, 2019
i would be a multi-series villain character on the marie kondo show. all sliwly emerging from inside another pile of crap inside my house and cackling over and over while she screams at me

— BAKOON (@BAKKOOONN) January 8, 2019
Marie Kondo when something does not spark joy pic.twitter.com/xiEHnDqVWO

— jon (@prasejeebus) January 7, 2019
Me waiting for the thrift stores to fill up with all the good stuff now bc of this Marie Kondo Netflix special pic.twitter.com/YtJvf7Gm2M

— Kat (@rasberet) January 7, 2019
Describing the effect Tidying Up with Marie Kondo had on my soul pic.twitter.com/1XmKEgHT3h

— not sad, just wanted bangs (@clairejack18) January 4, 2019
Marie Kondo after u burn all your possessions pic.twitter.com/rUxGmbxhNE

— Judson Collier (@JudsonCollier) January 3, 2019
Marie Kondo's home pic.twitter.com/PCX7efA42C

— Claude Zeins (@czeins) January 3, 2019
Featured Images via Instagram and Twitter / @mariekondo (left) and @StanLewis_ (right)