Unless you've been living under a rock for the past few weeks, you're acutely aware of the fight between Floyd Mayweather Jr. and Conor McGregor happening tonight. The two have exchanged heated words both on and off-screen via interviews, skits, and, naturally, social media.
Of course, this isn't Mayweather's first rodeo — spectators of the sport remember his last high-profile fight against Manny Pacquiao. Pacquiao lost to Mayweather in an underwhelming defeat; according to Compubox, Pacquiao barely managed to land 9% of his jabs and 19% of his total punches.
So when Mayweather tweeted the following jab at McGregor…
Talking doesn't win fights.

— Floyd Mayweather (@FloydMayweather) August 26, 2017

…the Pac-Man couldn't resist throwing his wit into the ring.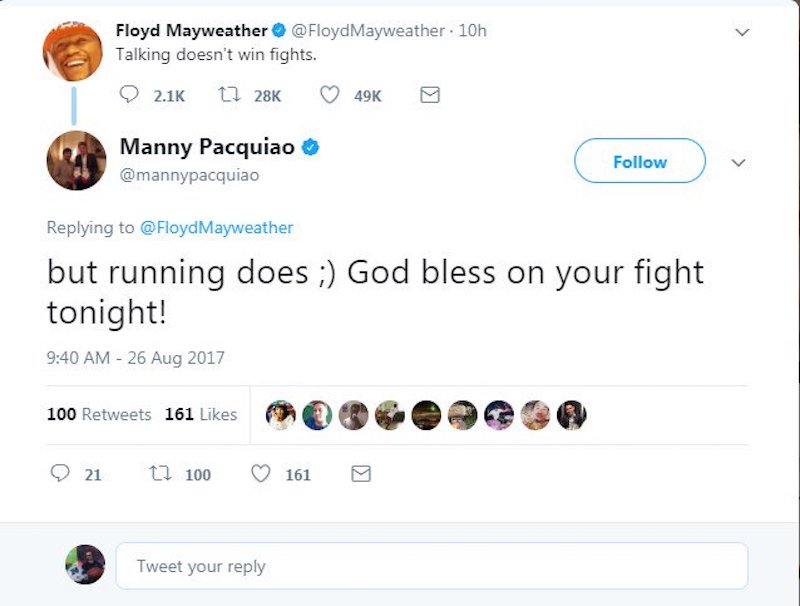 The tweet has since been deleted, but netizens agree that Pacquiao definitely landed that hit.
Hardest hit Pacquiao ever landed on Floyd #MayweathervMcgregor pic.twitter.com/d0fQDObOAc

— Chief (@BarstoolChief) August 26, 2017
MANNY PACQUIAO OFF THE TOP ROPE! pic.twitter.com/SqLSTOcgn6

— Nicky Football (@ESPN580Nick) August 26, 2017
— 🚫 (@Itsmebnd) August 26, 2017

Pacquiao is perhaps not-so-discreetly inferring that he lost to Mayweather because the latter kept running away from his punches instead of fighting him head on.
Mayweather, like many boxers, has been known for his trash-talk, but his rants took a racist turn against Pacquiao in 2010 in a video uploaded to YouTube.
"I'm on vacation for about a year, about a year," Mayweather said. "As soon as we come off vacation, we're going to cook that little yellow chump. We ain't worried about that. So they ain't gotta worry about me fighting the midget. Once I kick the midget ass, I don't want you all to jump on my d—. So you all better get on the bandwagon now. … Once I stomp the midget, I'll make that mother f—– make me a sushi roll and cook me some rice."
The Mayweather and McGregor fight began airing tonight at 9 p.m. EST.