A Lyft driver's daughter in San Francisco shared disturbing images on social media showing her father being assaulted by an intoxicated female passenger on Market and Noe Street last week. 
On a Facebook post Thursday evening, user Ionny Hwang released photos and dashcam footage of the violent attack by a woman identified only by her first name, Patricia.
"This past Saturday evening, my dad was driving for Lyft in San Francisco, and was punched and assaulted repeatedly by a female passenger," Hwang wrote. "She whacked and beat my dad at least four times. The inside of his lip is bruised deep purple. Not once did he do anything but shield himself; he didn't know that the situation was caught on his dash-cam, and thought she would accuse him if he tried to defend himself. She was released by the police before they understood the situation, and all we have is her first name, Patricia."
The passenger, who appeared to be drunk, reportedly caught her dad off guard when she suddenly rolled down the car window and began throwing up on the side of the car.
"My dad pulled over to the side of the road to both check on her and his car," she narrated. "Knowing Lyft's policies for compensation of damages, he took a photo of her throwing up for evidence, in case she contested his claims. She then got out of the car and went to the sidewalk to continue throwing up, where my dad took another picture."
According to Hwang, when her dad came to the running car to close the doors, "Patricia" ran after him and slammed his driver's side door to block his entry. She allegedly tried to take the man's phone away from him by force.
View this post on Instagram
"In the video you can see her violently lunge for his phone, all while yelling at him in the middle of the road. My dad pushed her hand away, but she became even more violent. All my dad did was try to defend himself and his property. She continued aggressively approaching my dad, and socked him in the face—hard. He retreated, but she followed him to the front of the car, beating him repeatedly on the back of his head. My dad was hit in the front of his face, in the shoulder, and on the back of his head. He had no intention of hurting her."
Not knowing what to do after being violently assaulted by his passenger, the driver approached some bystanders for help while "Patricia" left the scene as if nothing happened.
"He doesn't speak English very well, and tried to explain his situation to them, hoping they could help him communicate better with law enforcement. Meanwhile, Patricia casually walked away, completely apathetic to the fact that she had just assaulted a frail, old, hardworking Lyft driver who only had the misfortune of being the one to pick her up."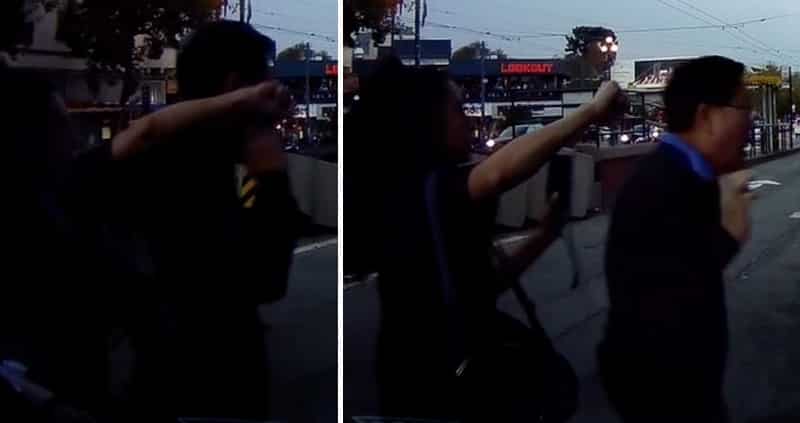 Hwang noted that while a police officer later found the assailant and put her in handcuffs, she was eventually let go almost immediately before she was investigated.
"To my knowledge, the officer did not properly ID Patricia; all we have is her first name. He said that he couldn't detain her because he thought my dad had left the scene. My dad thought the officer knew about the situation from the initial 911 call, but apparently it wasn't clear."
In her post, Hwang lamented that the woman should face repercussions for her actions against a defenseless old man.
"This kind of behavior is so ugly and beyond inconsiderate, and should absolutely not be allowed to slide. Lyft drivers put their personally acquired and owned belongings on the line to earn their coin. It's a taxing job that requires patience, hospitality, and a lot of responsibility. My dad did nothing but his job. This girl violently and callously assaulted a docile old man that obviously did not speak English very well, and walked off like it was just any other Saturday night for her."
While the victim is now able to drive again for a living, his family is hoping that justice would be served soon.
So far, the only assistance the family has reportedly received from Lyft was providing relevant information to the police.
The victim's relatives are hoping that the company at least be more involved and that the police be more proactive in taking the suspect into custody.
Featured Image via Ionny Hwang