Editor's Note: This post has been updated with a statement from designer Jess Sluder, an update from Lululemon, Luluemon's CEO, as well as Trevor Fleming.
Canada-based art director for Lululemon Trevor Fleming and California artist Jess Sluder are being called out on social media for a T-shirt design that many in the Asian community found offensive. 
Titled "Bat Fried Rice," the long-sleeved T-shirt was printed with a small image of chopsticks with bat wings on the front and an image of a similarly winged Chinese take out box with the words "No Thank You" on the back. "No Thank You" can also be seen printed on the right sleeve.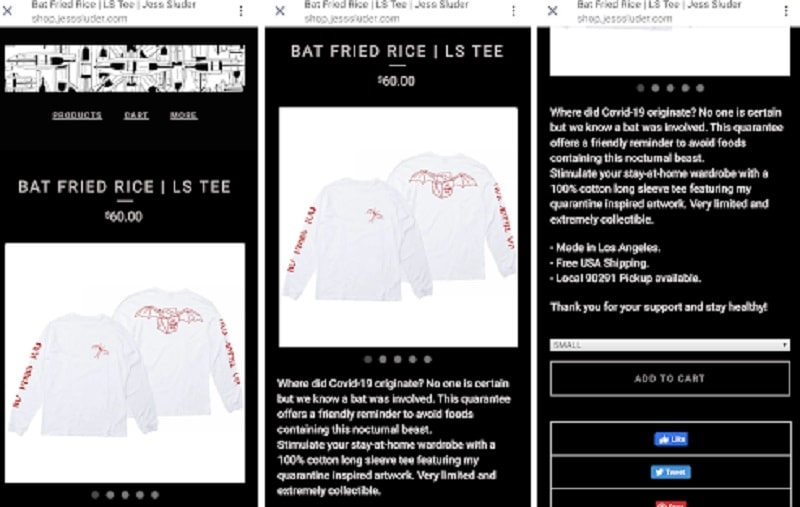 On Sunday, the controversial shirt was reportedly put on sale on
Sluder's
website and promoted on his Instagram account @deadringer. It attracted criticism for its apparent xenophobic and racist design.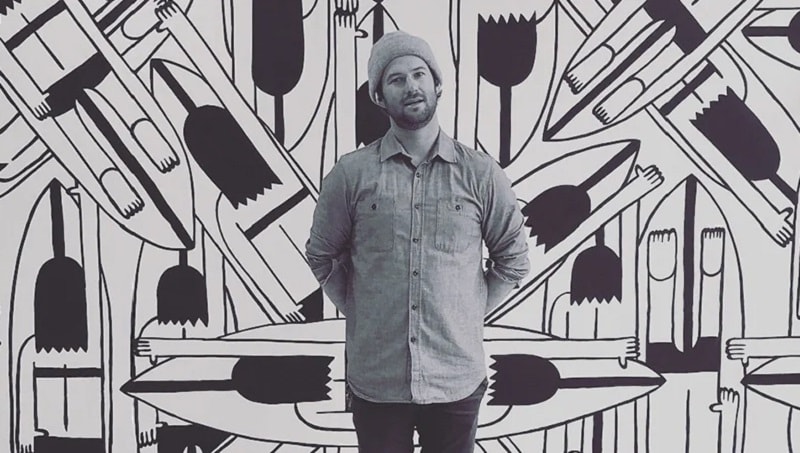 "Where did COVID-19 come from? Nothing is certain, but we know a bat was involved. Beginning today, my limited edition #quarantees are now available. Link in bio or DM for details… Thank you for your support and sense of humor! #humornothat #batfriedrice"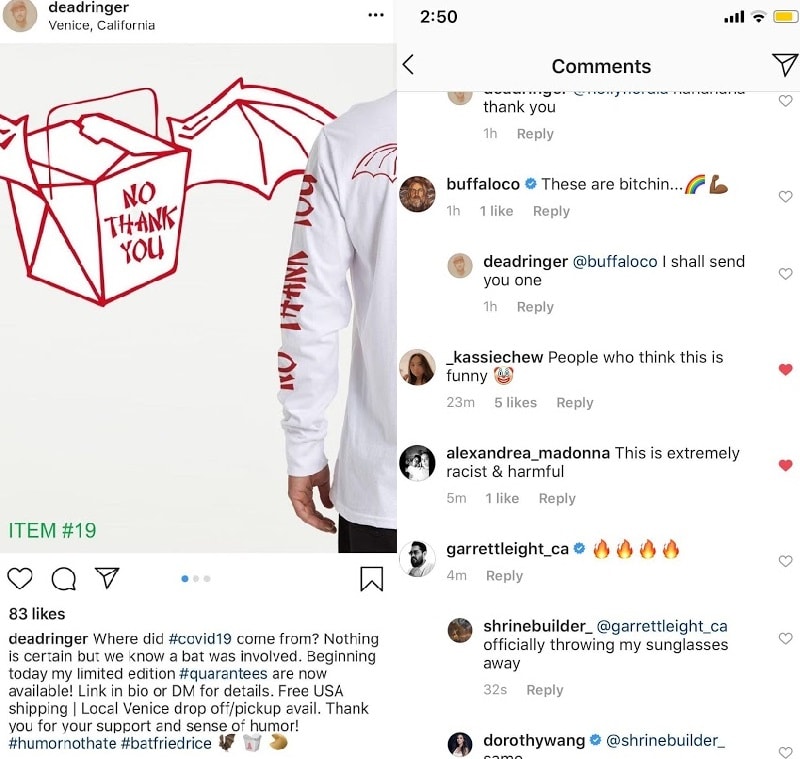 The post, which has since been removed, also tagged Fleming, Lululemon's senior global art director, leading some social media users to believe that he also had a hand in the shirt's design.
Some noticed that Fleming also promoted the shirt on his Instagram bio via a link to Sluder's online store.
NextShark has reached out to Sluder for comment as well as Lululemon and Fleming to clarify if he was indeed involved in the creation of the shirt.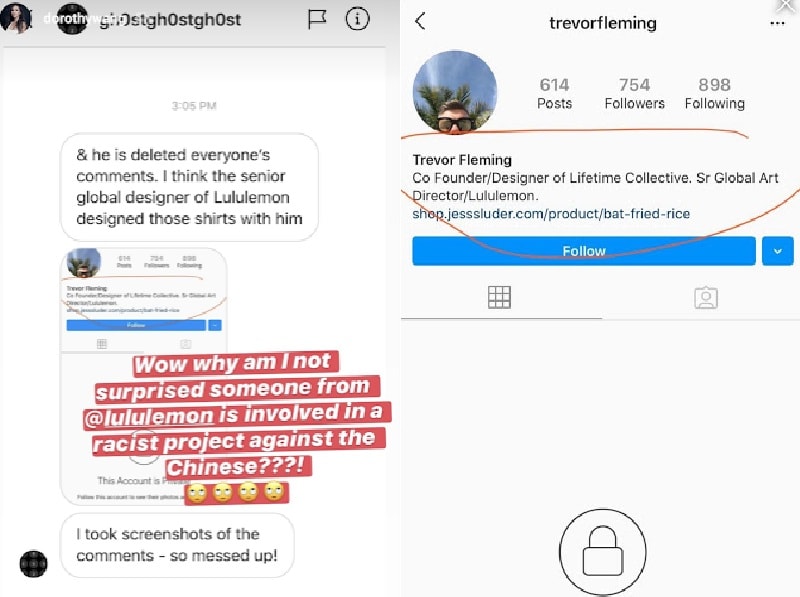 The racist shirt appears to have also attracted support, with eyewear entrepreneur Garrett Leight writing fire emojis in the comments and musician The White Buffalo commenting, 
"These are bitchen."
Subscribe to
NextShark's Newsletter
A daily dose of Asian America's essential stories, in under 5 minutes.
Get our collection of Asian America's most essential stories to your inbox daily for free.
Unsure? Check out our Newsletter Archive.
Among the first ones to call out Sluder on the problematic design was TV personality and entrepreneur Dorothy Wang, who sent a private message urging him not to sell the shirt. She was promptly blocked shortly after.
"I was completely shocked and disgusted that people took the time and energy to create such a hateful and racially charged shirt, and were proudly marketing it in hopes of profiting off of the current xenophobia against Chinese/ Asians due to the coronavirus,"
Wang tells NextShark.
"I was also surprised to see people commenting and supporting something that is so obviously dangerous in today's climate. I tried to speak to the parties involved privately but was quickly blocked and felt that I had to speak up about it publicly in order to stop the production and distribution of the shirts."
Wang would later reveal in an Instagram Story that the original post was removed, she has been unblocked, and that "parties involved" apologized to her in private.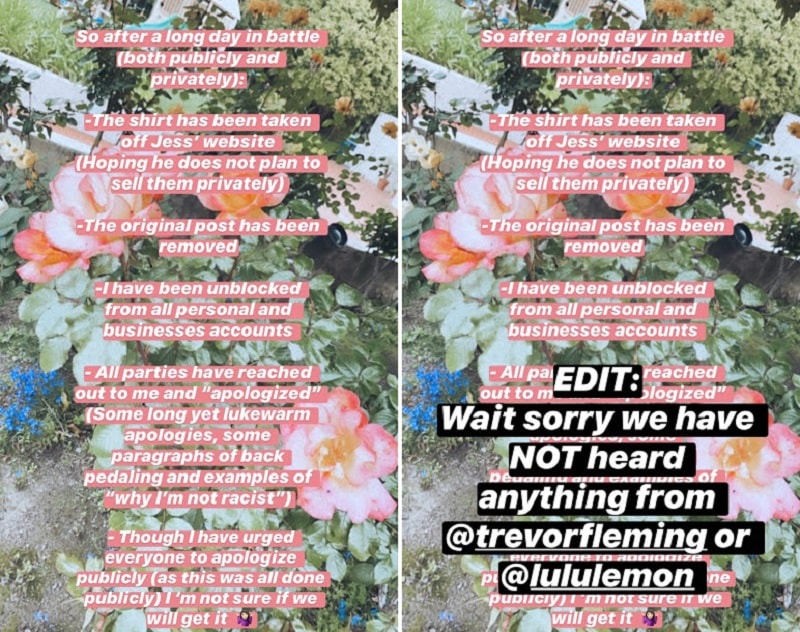 "Though I have urged everyone to apologize publicly (as this was done publicly), I'm not sure that we will get it," she wrote.
She then updated her post noting the lack of response from Fleming and Lululemon.
Before the post was taken down, it also attracted criticisms from designer Rocky Xu and restaurateur/author Eddie Huang.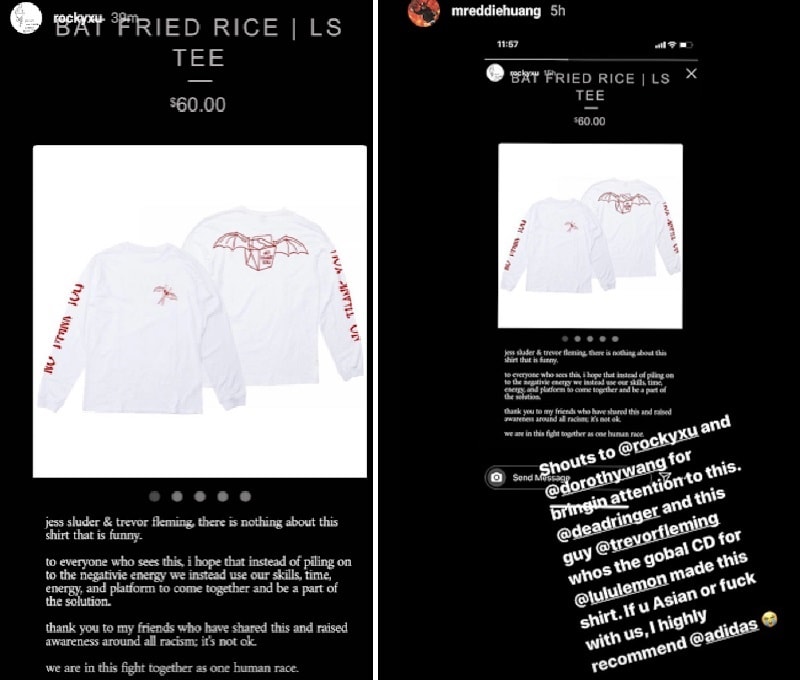 As social media users continue to hound Lululemon for a response on its Instagram posts, it eventually posted a comment addressing the issue: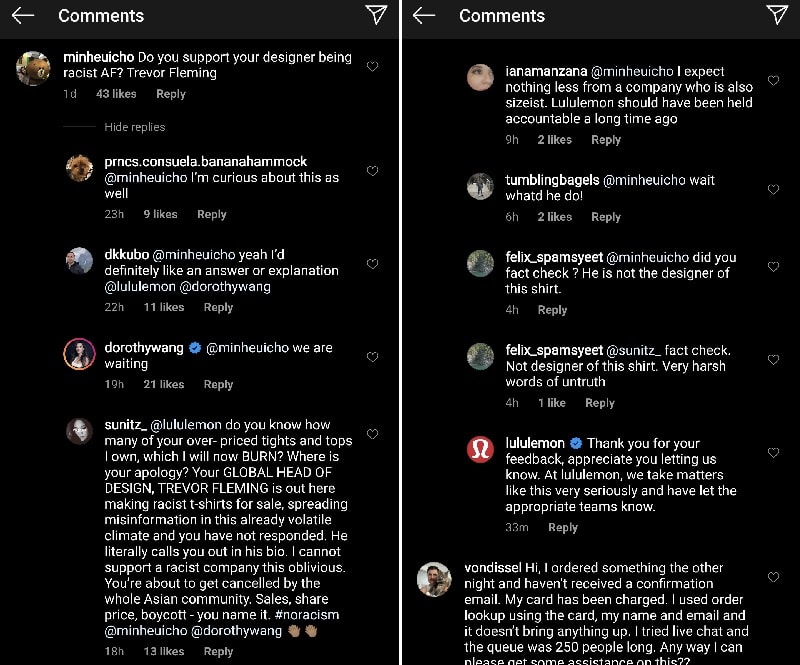 "Thank you for your feedback, appreciate you letting us know," the comment read. "At lululemon, we take matters like this very seriously and have let the appropriate teams know."
In a statement given to NextShark on Monday evening, Sluder apologized for the hurtful nature the apparel art had on the Asian American community and clarified that Fleming nor Lululemon "had anything to do with my artwork."
"The intent and inspiration for this piece was to make a parody. I like to make people laugh and I was attempting to create light during these dark times. It was never my intention to have the art become negative or racist.
"I took down the post within a few hours because people were offended. This was never my intention. I do not want to hurt people or cause any pain especially during these uncertain times.
"I feel terrible about those I've hurt. While my original intent was humor it was clearly insensitive. During this process I've spoken with many people upset by this. They have shared their stories of abuse, strangers yelling at them on the streets, and stories about being afraid to leave their homes. The last thing I want is to do is add to the hatred.
"I'd like to apologize to all those affected by the design. It was never my intention. I'm not a person who seeks to offend or make others feel uncomfortable. I'm hoping people can give me the chance to grow and learn from this experience. I will make this right.Thank you for listening."
According to Lululemon's official Instagram page, the employee involved in this situation is no longer with the company.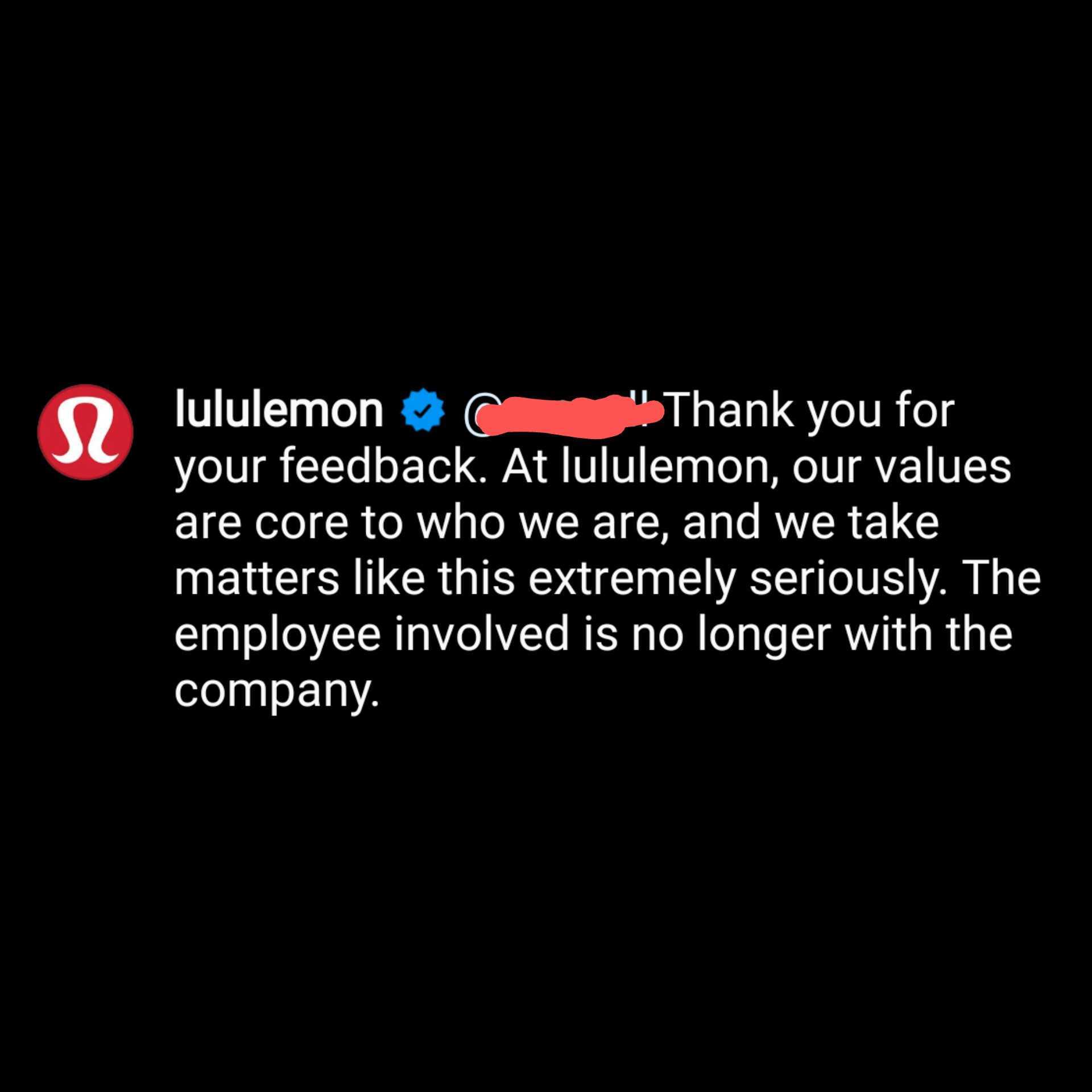 In a statement to NextShark, the spokesperson said, "At lululemon, our culture and values are core to who we are and we take matters like this extremely seriously. The t-shirt design is not a lululemon product. We apologize that an employee was affiliated with promoting an offensive T-shirt and we take this very seriously. The image and the post were inappropriate and inexcusable and we do not tolerate this behaviour. We acted immediately, and the person involved is no longer an employee of lululemon."
"I want you to understand that culturally insensitive or discriminatory actions will not be tolerated at any level, in any form, within Lululemon,"
WWD
reported CEO Calvin McDonald saying.
"A moment like this reinforces the importance of diversity and inclusion and creating a positive workplace. I'm counting on each of you to take personal responsibility for your behaviors so that we can create and sustain the inclusive culture of Lululemon."
In a statement to NextShark, Trevor Fleming said, "Dear Friends and Family,Recently I made a decision to support a friend's design company by including a link on my personal Instagram profile to his on-line store. I have always stood for supporting my friends and family wherever possible, but what I did not know at that time, is that I was inadvertently supporting a t-shirt design that reflected statements, images and values that I, in no way, agree with or support.
For clarity, I did not design the t-shirt, nor did I participate in any part of its creation, nor do I agree with any part of the shirt's message.
I am deeply sorry to everyone who I have hurt. I deeply regret not taking the necessary steps to properly review what I was promoting, and in this case, doing something that goes against my personal beliefs. I take full responsibility for my choice and regret the spread of the negativity and hate it promotes. My values are not consistent with this t-shirt in anyway.
I also apologize to my former employer, and deeply regret the decision I made that has impacted them. My decision is not in any way a reflection of their business values. 
As a designer and creator, my only vision has been to create things that make everyone feel good. In the days to follow, my goals are to ensure that I take more care and using social media and will ensure that I am only leading and promoting messages that are consistent with who I know me to be. That person is someone who believes in equality, love, and a world of inclusiveness."