Comedian Louis C.K. sparked criticism for his stand-up routine in which he reportedly dissed survivors of the Parkland High School shooting in Florida, a tragedy which left 17 innocent people dead.
The 51-year-old comic, who went on a brief hiatus following multiple sexual misconduct accusations in 2017, is apparently back doing stand-up at comedy bars.
His latest comedy set at the Governor's Comedy Club in Long Island, New York emerged online on Sunday and has since been widely shared on social media.
While Louis C.K. immediately drew some ire for his statements on the Parkland school shooting survivors, it was only after netizens of color began pointing out that his racist jokes against Asian men were noticed.

"My life is over. I don't give a shit. You can, you can be offended, it's OK. You can get mad at me. Anyway. So why do black guys have big dicks? Let's talk about that for a minute."

He then went on discussing African American male genitalia, before digging on racial and sexual stereotypes that perpetuate the emasculation of Asian men.  The "joke" is at the 33-minute mark in the YouTube video below:
"You know why Asian guys have small dicks. 'Cause they're women. They're not dudes. They're all women. All Asians are women. And they have big clits, really big clits, and when they have sex they just stick their clits in each other's pussies and then they procreate using math," he can be heard as saying.
While the so-called jokes drew laughs from the audience, some netizens did not find them amusing and expressed their disgust on social media.
We gotta hold Louis CK accountable for his racist tirade about Asians. He called into question Asians' ability to procreate & their bodies & their stereotypical math skills. Asians are valid and deserve to be treated as humans. pic.twitter.com/9sHvs2ISl9

— NERDY (@nerdyasians) January 1, 2019
Happy New Year to everyone but Louis CK, he can kiss my undifferentiated genitaliahttps://t.co/mWfRbQF3ZW pic.twitter.com/uj9wr6Lfj1

— Jeff Yang (@originalspin) December 31, 2018
Louis CK breaking new ground with the "Asians have small penises" and "I'm not calling trans ppl by their preferred pronouns" jokes. Wow man. What a visionary. We've never heard these jokes before. Such a brilliant mind going into uncharted territory like that. Genius.

— Beyonce has an uncle named Larry Beyince. Bruh…. (@DragonflyJonez) January 1, 2019
More proof that Louis CK is racist garbage. pic.twitter.com/ZKfwTkVpoy

— Elise Choi (@eljc00) December 31, 2018
louis ck's new inspiration is 13yo edgelords pic.twitter.com/VqyIKlK59N

— Inkoo Kang (@inkookang) December 31, 2018
Ok Louis CK's Asian man jokes puts him at Amy Schumer levels of unfunny (she also made similar, tired jokes). Forget social commentary, this is just sad. https://t.co/bNoAkltXds

— Gene Park (@GenePark) December 31, 2018
Every time a comedian like Louis C.K. makes jokes about Asian men, I have to stop having amazing sex with my penis in order to try and count the number of times I've heard that tired stand-up before, but I can't because I suck at math. pic.twitter.com/8KZSurz9Wi

— Eugene Lee Yang (@EugeneLeeYang) January 1, 2019
the fact that louis ck's anti-asian jokes weren't originally reported speaks volumes to how casually americans still treat anti-asian racism. same with chappelle. same with tiffany haddish.

— E. Alex Jung (@e_alexjung) December 31, 2018
A fake Louis C.K. Twitter account recently began tweeting messages that are apparently referring to Louis C.K.'s scandal.
"Don't get butthurt over a few jokes," one tweet read. "I feel like I've made new enemies" and "Sensitivity is at an all time high," were among the other messages.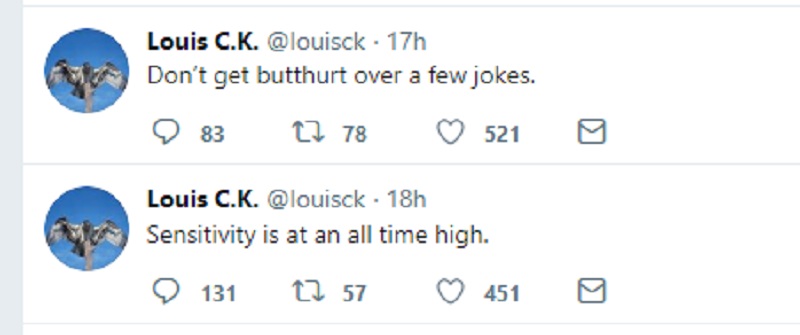 Featured Image via Facebook / Governor's Comedy Clubs