Social media users are not buying London restaurant The Ivy Asia's apology over its "culturally insensitive" advertisement for its Chelsea branch that portrayed Asian stereotypes.
The controversy and apology: The commercial, released on Aug. 8, shows two women dressed as geishas hailing a rickshaw with its driver wearing a stereotypical East Asian outfit, according to My London.
CW // Anti-Asian Racism

I just watched this and I don't want to live any more.

What the actual f*ck?#StopAsianHate #TheIvyAsia

(cc @EndRacismVirus @besea_n) https://t.co/YQgcQAuWPz pic.twitter.com/obZ7v3cE5c

— MiMi Aye (@meemalee) August 6, 2021
The characters in the video — mostly the women — are put in humiliating situations, such as falling off the manually pulled carriage onto King's Road. They are witnessed by white diners before promoting The Ivy Asia's menu.
Social media users quickly accused the advertisement of mocking Asian people. The Ivy Asia has since taken it down from Instagram and apologized, calling the video "inappropriate and culturally insensitive."
View this post on Instagram
"We are conducting an immediate internal review into our marketing processes and publication guidelines to make 100% sure this does not happen again," the apology reads. "We need to educate ourselves and we are already looking to engage the relevant external bodies to review concept, culture and all internal and external processes."
The reaction: Social media users did not accept The Ivy Asia's apology, with some users demanding the restaurant to show support to the Asian community.
"It was so offensive and [tone-deaf] I am still struggling to believe it was produced in the present day," model and Muay Thai fighter Mia Kang wrote in the video's comment section. "Where is your support to the community? Profiting off our culture with your restaurant in true colonist fashion and what do you give back? I see no sincerity here."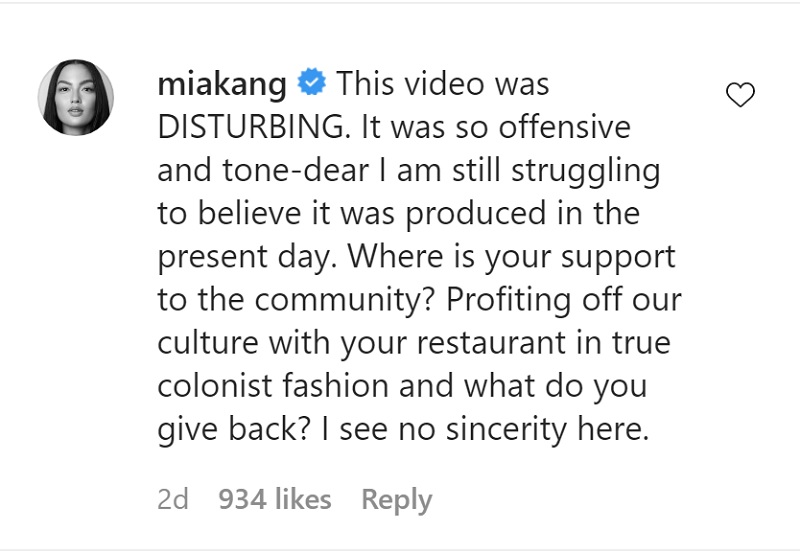 Here is what other people wrote in the comment section.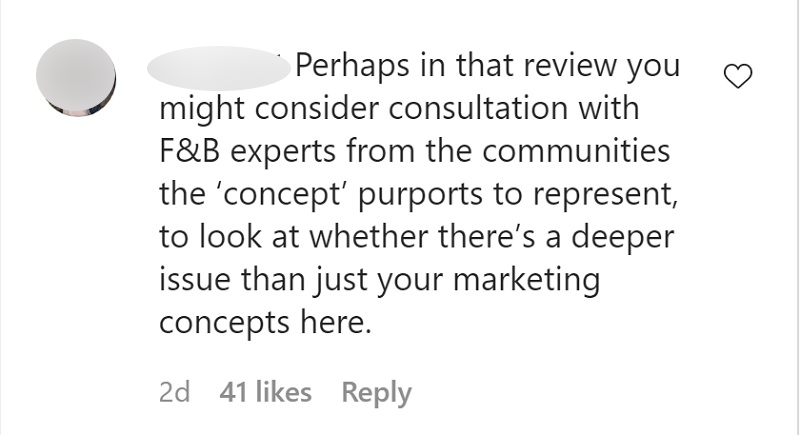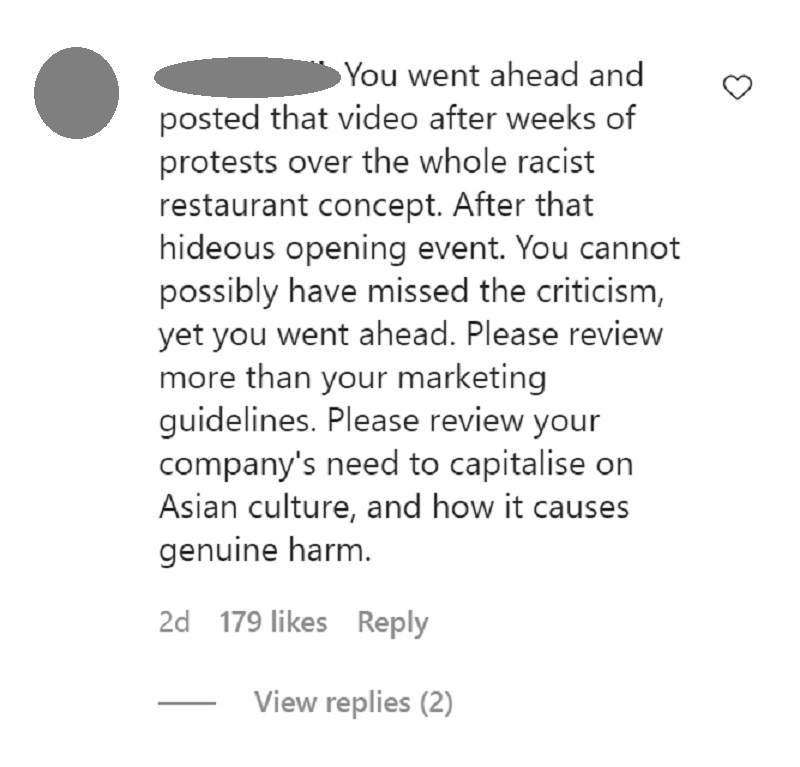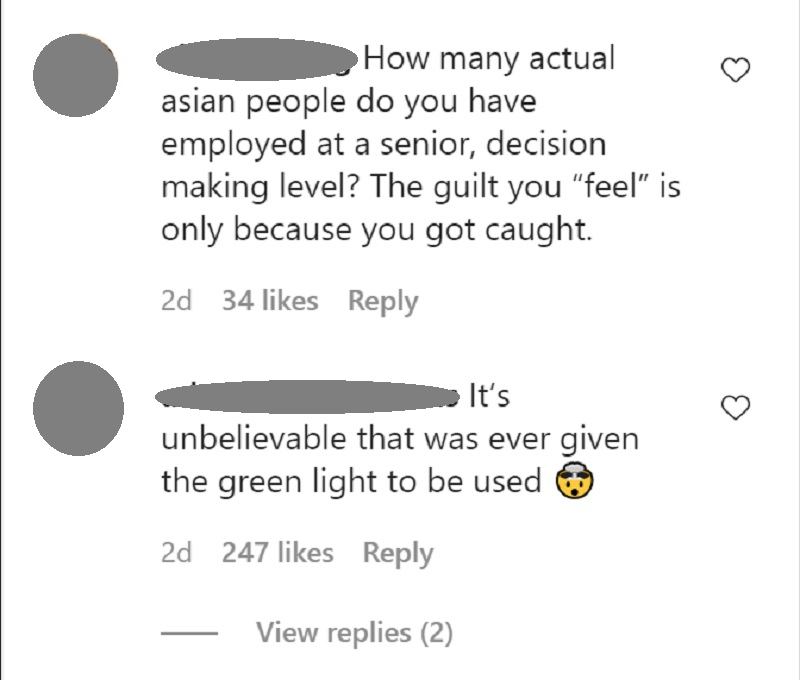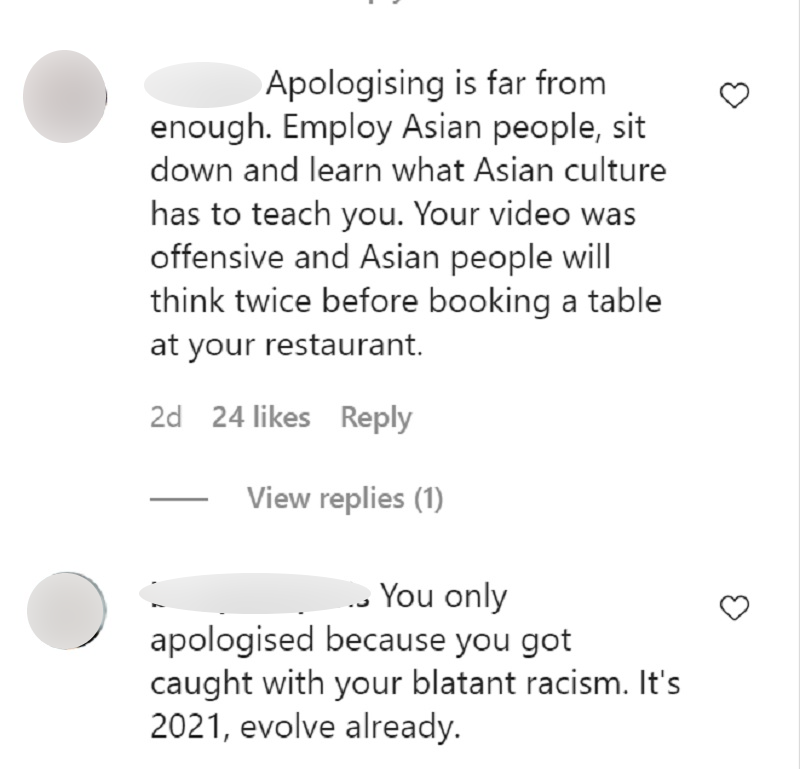 Other details: The Ivy Asia was called out in 2019 for placing a life-sized samurai warrior and a geisha replica inside the men's and women's bathrooms, respectively.
I see the Ivy Asia is opening in London next week 😒

(That last photo is an *official* photo) pic.twitter.com/bbIyAVVDnW

— MiMi Aye (@meemalee) November 13, 2019
The Ivy brand has been in operation for over 100 years. They celebrated their 100th anniversary in 2017.
Featured Image via IAmBirmingham