A LinkedIn post
went viral after blasting a corporate workplace's white employees for allegedly "pranking" a Chinese American coworker's desk with a biohazard sign and caution tape.
Just a "prank":
On Monday, Yeong Cheng, cofounder of the support group Denver Asian Collective, posted about the February 2020 incident
on LinkedIn
on behalf of the Chinese American employee. Throughout the post, the employee is referred to by the pseudonym "Jess" with they/them pronouns.
Cheng's own LinkedIn bio reads that he is passionate about "tackling racism, misogyny, and transphobia especially in the workplace."

During February last year, COVID-19 was spreading throughout China and Jess was reportedly worried that "bat-eating" and "Kung flu" jokes would also spread into their workplace.

Cheng said that he and Jess were talking about how they had experienced

microaggressions

from their manager, so when they returned back to the office their anxieties were reportedly met when they saw a picture of Jess' desk in the Denver office Slack channel.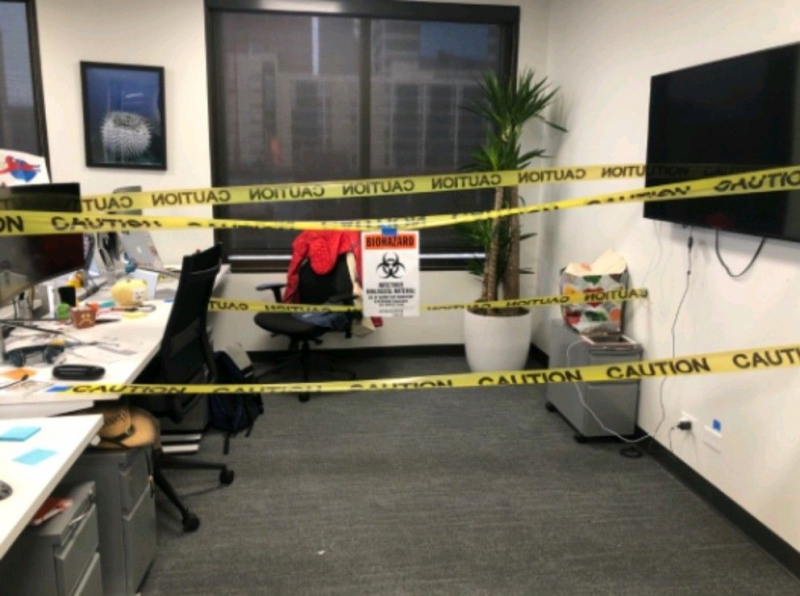 Subscribe to
NextShark's Newsletter
A daily dose of Asian America's essential stories, in under 5 minutes.
Get our collection of Asian America's most essential stories to your inbox daily for free.
Unsure? Check out our Newsletter Archive.
Jess' desk was allegedly taped off as a biohazard zone in relation to the virus. 

Jokes like "If COVID had a color it would be burned yellow" allegedly continued in the company's Slack channel, despite Jess bringing it up with their manager.

To this day, Jess doesn't know "who exactly participated despite multiple requests to HR and [management]," aside from their manager and the ringleader.

Jess claims that a year later, their teammates and the prank's ringleader all received promotions except for them, even though they were told they performed "above expectations" for the two years they were in the company. The reason for their lack of promotion was allegedly because their productivity took a dip and failed to "meet expectations" since the incident.

Cheng mentioned that he hears about workplace racism all the time in his support groups. He said, "If you're Asian and experiencing racism at work, you're not crazy, and it *IS* racism. No matter who tells you it isn't. And unfortunately we must publicly bear our pain just for our colleagues to *maybe* believe that the racism we experience is both real and wrong."

He claims that Jess "couldn't afford to quit, and endured more trauma over the next year watching peers and execs alike 'laugh' emoji bat jokes in Slack."

Jess also spoke about how the incident still haunts them and said, "I am now so hyper vigilant in white dominant spaces because I have no idea if the nicest and most 'progressive' white person will say or do something to hurt me. I avoided large meetings at work and left every non-work related slack channel because I kept seeing racist content and felt powerless and outnumbered against it."
Comments:
LinkedIn users flocked to the post's comments to
decipher
which company Jess worked at. A majority of them also voiced their support for Jess, but some were skeptical about the validity of the post.
Cheng noted that the company is "a popular link shortening platform," and after one user claimed it was Bitly, he replied, "I will not refute." Many then tagged the company in the comments.

A user hoped that Jess was able

to stand

up to the "workplace bullies," and added, "I do not think in their mind they are being racist, they are just being idiots."

Cheng vaguely responded to an earlier comment to confirm that the incident happened and that "there's more." However, another user called Cheng an "incredibly racist" liar for "refusing to release any details verifying this story as it became more and more improbable" and stated that they believe the picture was staged.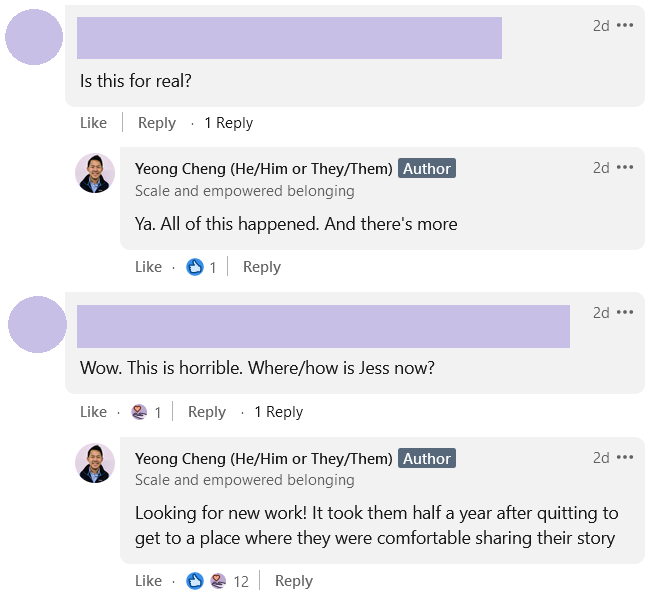 One of Cheng's latest comments asks the public to respect Jess' privacy even if they're supportive: "Jess has requested not to hear anything about this post or its results. Even the support. Let's respect that. Please."

Jess is allegedly looking for new employment and Cheng stated that it took them half a year after they left the company to feel comfortable sharing about the incident.