Amid a rising #MeToo movement in China, Los Angeles Times Beijing Bureau Chief Jonathan Kaiman came under fire after a woman accused him Thursday of pressuring her into having sex.
In a Medium post on Jan. 11, Laura Tucker — a former friend and roommate in Beijing — described how Kaiman made her feel "very pressured and very awkward" one night in March 2013.
After spending time at a nightclub with a group of friends, things got steamy between the two. According to her, they "began making out and undressing," until she decided to stop after "a few minutes."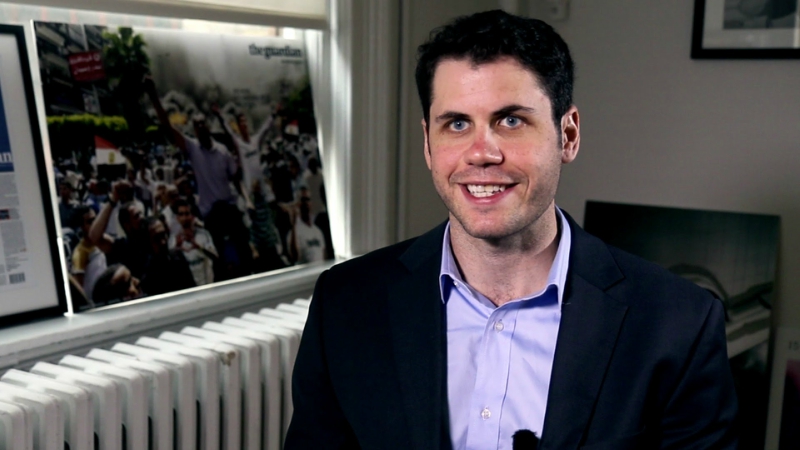 Tucker shared:
"I got up off the bed and told him that I wanted to stop. He lay on the bed, not moving, watching me. I remember that he sort of smiled and seemed to pout, and I felt that he did not believe me. This was a new dynamic for me.
"I remember that I made a point of clearly saying 'no' and 'I don't want to do this.' Although I can't remember what else I said, I clearly remember feeling confused and dismayed that he wasn't leaving, or even moving, and that he didn't seem to believe that I knew what I wanted.
"The back and forth continued for several minutes, and he began to whine. I remember that he made me feel very pressured and very awkward, like it was too late to back out."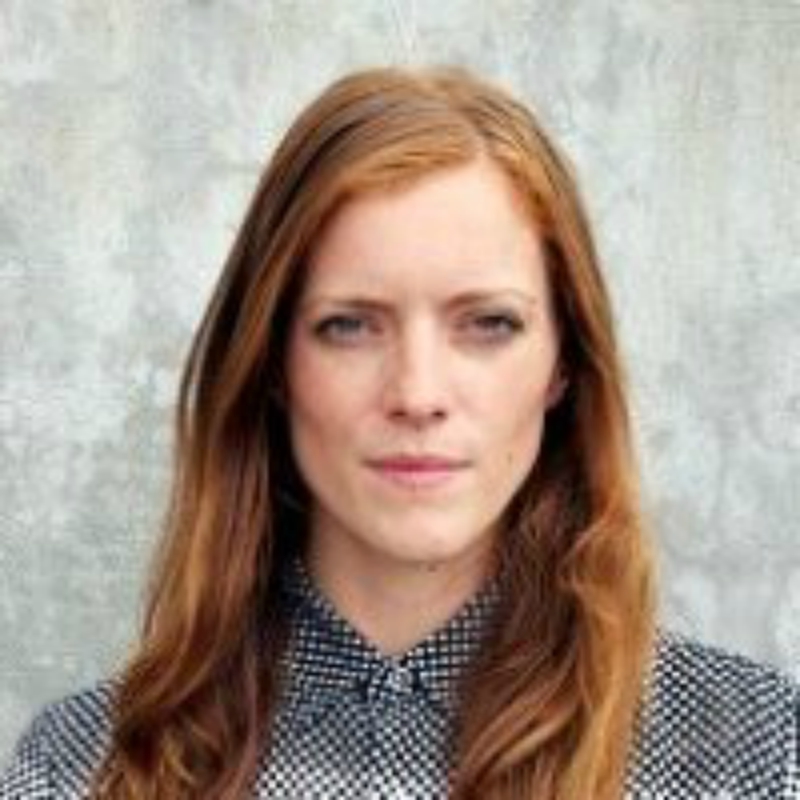 Tucker eventually went back to the bed.
"We had sex, and I felt gross for all of it. He left immediately after."
The next day, she sent him an email that communicated her feelings about what happened:
"I woke up this morning feeling really stupid and unhappy. Hard to say, I guess, how drunk we were but I stood up and said 'no' and 'I don't want to' several times while you lay sprawled on my bed using, I think, the familiarity and comfort of our friendship as grounds for entitlement and pressure. I resigned myself to the logic of just going ahead with a situation that I helped create. I am really sad that I didn't stand up for myself and think it is too bad that you had no intention of reacting to my words. It just feels really lame."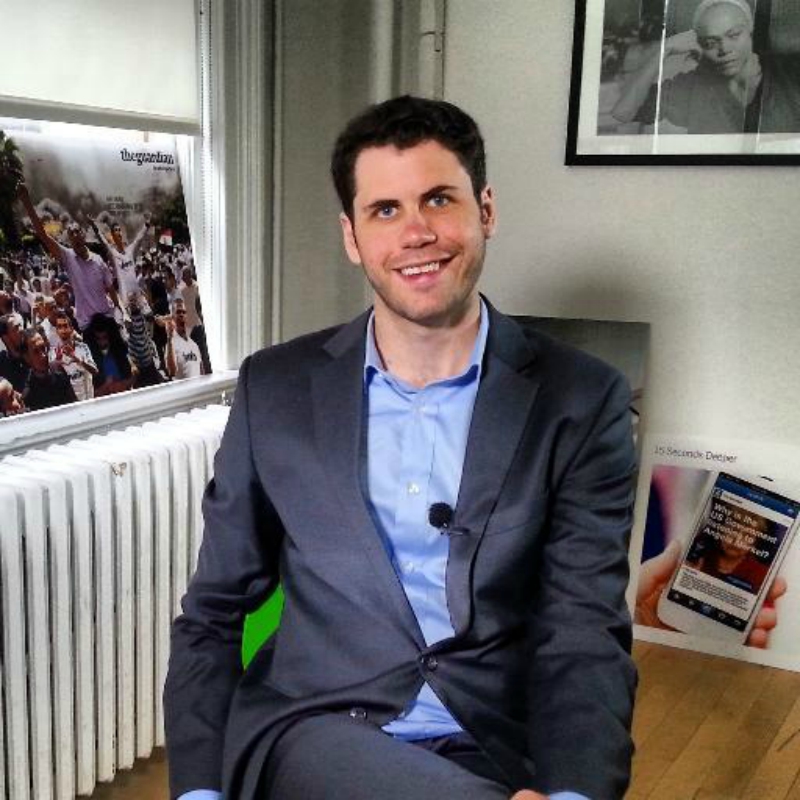 Tucker said that Kaiman soon called her to apologize. They met over coffee and cake, but it turned out that the incident was far from closure:
"I was surprised when he instead started to renege on his apology and the conversation turned into a debate about how much I shared the blame. At the time I wasn't sure if I did, but I again tried to express that he hadn't listened to me and that he should have responded to my words. My arguments weren't sticking and he pushed back about whether I had been misleading.
"I very clearly remember near the end of our conversation he said, 'I don't think this makes me a monster.' But I had never accused him of being a monster, and suddenly the whole discussion felt pointless."
A few Twitter users commented:
Just hours after Tucker's post, Kaiman, who also happens to be the president of the Foreign Correspondents' Club in Beijing, responded in apology on Twitter:
"I am so, so deeply sorry — I did not in any way mean to pressure you into an unwanted or uncomfortable sexual encounter, and I thought we had talked through the issue as peers and friends.
"However, I very clearly didn't understand the extent of your feelings. I'm sorry I caused you pain, as that was never my intention.
"It would be wrong for me to think I could offer any remedy or solution here, but if you'd like to talk — either directly or through an intermediary — or anything else, please let me know."
The apology drew mixed reactions: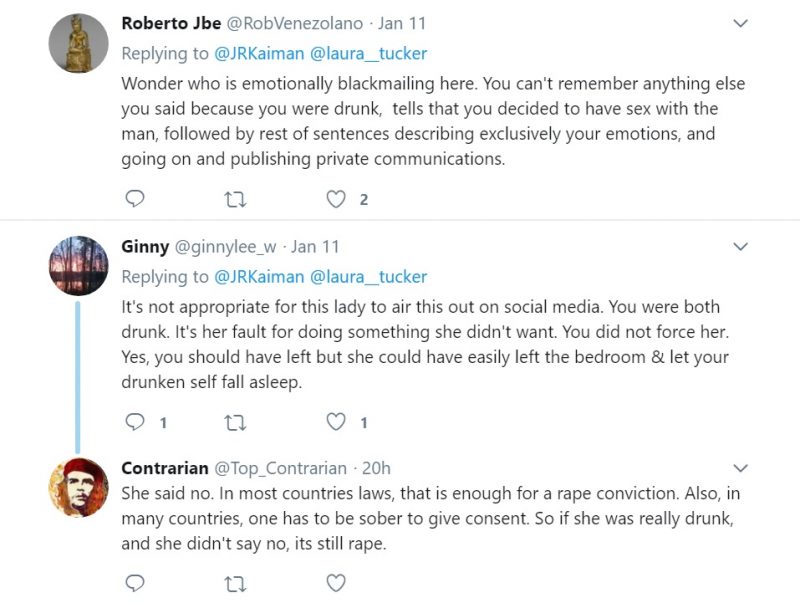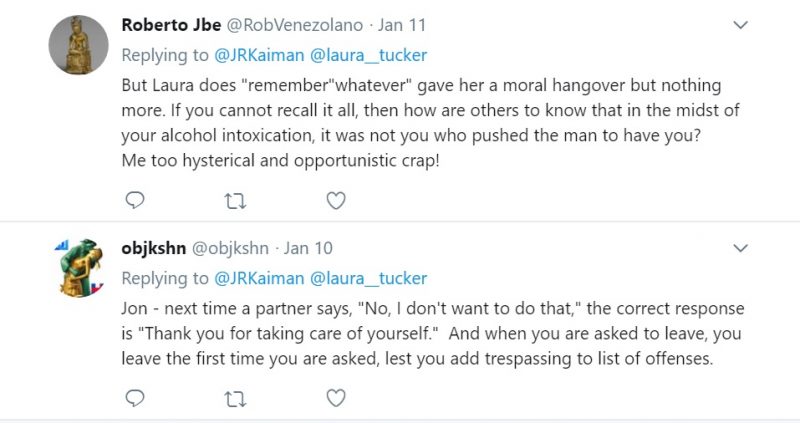 What do you think of Tucker's story and Kaiman's apology?