Washington Nationals catcher Kurt Suzuki is making headlines after wearing a "Make America Great Again" hat at the White House on Monday, much to the delight of President Donald Trump.
The team visited the White House to celebrate their victory in the World Series last week, a spectacular turnaround from a 19-31 start in May.
In his message, Trump, who declared Monday "Washington Nationals Day," acknowledged Suzuki's performance in the team's ninth-inning comeback against the New York Mets on Sept. 4, in which he delivered a three-run, walk-off home run.
"Where's Kurt?" Trump asked for Suzuki at the podium. "Come here, say a couple words. Come on."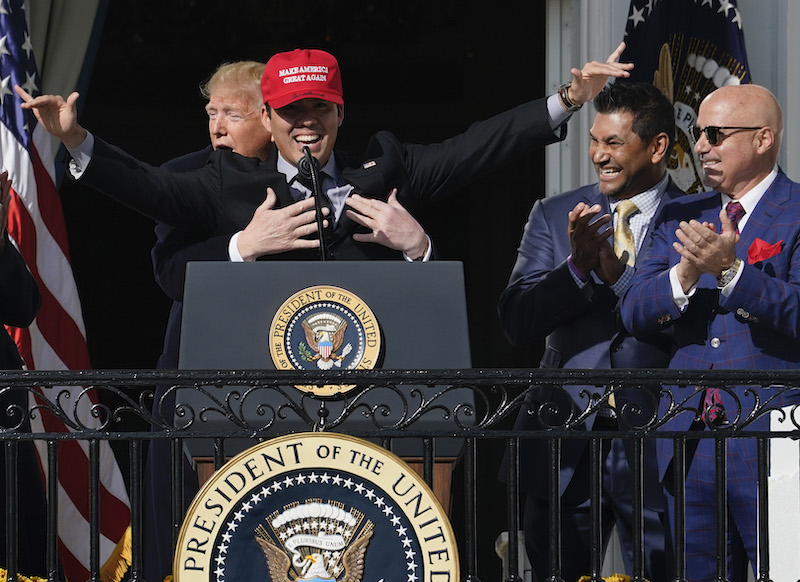 As Suzuki headed for the podium, he whipped out Trump's signature "Make American Great Again" hat, taking the president by surprise.
"I love you all," the 36-year-old said. "I love you all. Thank you."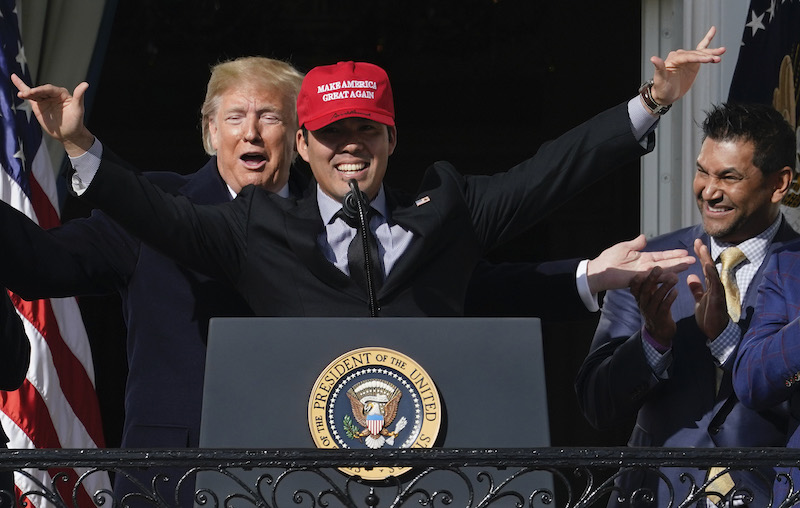 Trump, who took delight in the gesture, hugged Suzuki from behind. They shook hands before the latter left the podium.
"What a job he did. I didn't know that was going to happen," Trump said.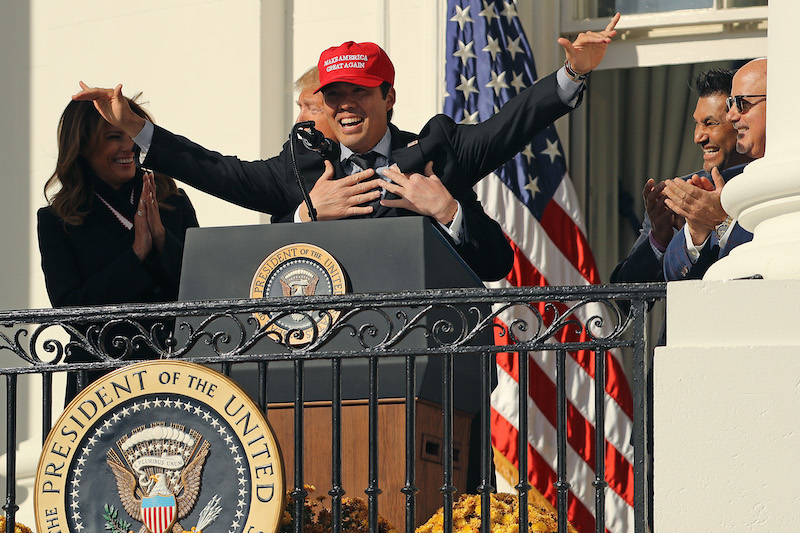 Suzuki's gesture immediately went viral online, sparking mixed reactions. One fan on Twitter said that it made them feel "sick and sad."
Kurt Suzuki I feel sick and sad. As a longtime A's fan, I proudly wore your hat. Never again! I rooted for the #Nationals in hopes you would get a ring. My mistake. MAGA pres is criminal- that's how you'll be remembered: #unmasked. Doolittle is a man of character. pic.twitter.com/QlsNgzSosq

— Lou (@emilross76) November 4, 2019
Washington Nationals' shame: Kurt Suzuki's MAGA hat moment @ the White House, followed up w/a creepy, creepy hug by Trump. And then Kurt's kicker line: "I love you all. I love you all." How utterly absurd, Suzuki. MAGA translates to targeted, bigoted hate.pic.twitter.com/V6SqqQHntL

— Stephanie Kennedy (@WordswithSteph) November 4, 2019
Fuck everyone that wears a MAGA hat…

Yes you, Kurt Suzuki.

— Tony Posnanski (@tonyposnanski) November 4, 2019
Does Kurt Suzuki really think the folks that rock this MAGA hat give a shit about people who look like him?

What an embarrassment to his family.

— chris evans (@notcapnamerica) November 4, 2019
Very sad. I love Kurt Suzuki as a player. But he wore a MAGA hat to the White House, so I will not cheer him. Not quite as bad for Ryan Zimmerman, but his praise for Trump is hard to take.

— Norman Ornstein (@NormOrnstein) November 4, 2019
Others defended Suzuki by citing the First Amendment and pointing out that he is free to express himself.
People really mad at Kurt Suzuki for wearing a MAGA hat 💀 pic.twitter.com/UNwtNLENij

— Javy Torres (@bleepinjavy17) November 4, 2019
If Kurt Suzuki is a #MAGA supporter – wearing the hat is in form. If he is not, he's having fun Either way, he's a catcher on a baseball team. Nothing more, nothing less. Ostracizing him over politics is no worse than blackballing @Kaepernick7 for taking a knee. #Nationals

— DCN8TV (@SajeevDC2Va) November 4, 2019
I am not Pro-Trump. I will vote Democrat in 2020.

But the amount of people offended and angry because Kurt Suzuki put on a MAGA hat is ridiculous. Is there anything people aren't offended by in todays culture? Jeesh.
Every move you make today has a chance of offending someone.

— rollerblade (@gohawksgo76ers) November 4, 2019
Nationals catcher Kurt Suzuki whipped out a MAGA hat as President Trump honored the team and he said "I love you all."

MAGA means so much to so many but at it's core it's about loving all Americans enough to put them first. That's what we're fighting for. pic.twitter.com/ISMlVHWuVQ

— Robby Starbuck (@robbystarbuck) November 4, 2019
Your daily reminder that liberals think wearing a MAGA hat is "literal violence" & Kurt Suzuki should be banned from MLB because he supports President Trump.

Choose your party wisely, people.

— Liz Wheeler (@Liz_Wheeler) November 5, 2019
In text messages to USA Today Sports, Suzuki explained that he was "just trying to have some fun" when he pulled out and donned the MAGA hat.
"It was amazing. That was the president. Just trying to have some fun," he told the outlet. "Everybody makes everything political. It was about our team winning the World Series."
Ryan Zimmerman presented President @realDonaldTrump with a #45 @Nationals jersey! ⚾ pic.twitter.com/lp5MCIv8R4

— The White House (@WhiteHouse) November 4, 2019
Suzuki was not the only National player to express support for Trump, however. Ryan Zimmerman, the team's first draft pick in 2005, gave Trump a customized No. 45 jersey.
"This is an incredible honor I'd like to think none of us will ever forget," Zimmerman said. "We'd also like to thank you for keeping everyone here safe in our country and continuing to make America the greatest country to live in the world."