A "group selfie" capturing a moment of awe-inspiring innocence has gone viral on social media.
The image shared by Indian photographer Atul Kasbekar and actor Boman Irani, shows five kids posing for a selfie.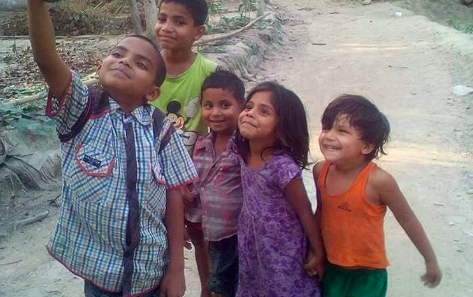 While kids smiling enthusiastically for a group photo is captivating enough, there is one twist in this image that captured the hearts.
In place of a smartphone or camera, the kids were actually posing in front of a slipper. Fortunately, someone with an actual camera was able to capture the moment for them.
I'm sharing this image that came in on text cause d unbridled innocence n joy of these lovely kids moved me n made me smile in equal measure

Super image that asks questions

If anyone can reliably locate these munchkins n d photog I'd love to personally send them something each pic.twitter.com/5JWBmixzSH

— atul kasbekar (@atulkasbekar) February 3, 2019
Upon closer inspection, the "slipper camera" the group used for their epic selfie pose was apparently from the adorable little boy in a pink striped shirt who was captured in the image wearing the same slipper.
Since the photographer and the actual location of the fascinating photo is still unknown, some have cast doubt on its origin and authenticity.
Actor Amitabh Bachchan even posted a tweet saying that the image could have been "photoshopped."
"With due respect and apology .. I feel this is photoshopped .. notice that the hand that holds the chappal is different than the rest of his body in size  .. to his other hand by his side !!" he tweeted.
Amit ji 🙏🏽
Nice to hear from u

Checked wt 3 post prod experts independently

– Doo Creative, Hyd
– Khurshed Poonawala
– @HappyFinishAsia

All of them said it's NOT photoshopped
The hand wt the chappal looking enlarged is a matter of perspective distortion standard on smartphones

— atul kasbekar (@atulkasbekar) February 4, 2019
In response, Kasbekar said he verified the image with post-production experts and has since been proven to have not been digitally manipulated.
Featured image via Instagram / boman_irani