On Thursday, Muslim American students at the University of Central Florida held a "Try a Hijab" event to celebrate World Hijab Day on campus. Kathy Zhu, known as "Political Kathy" online for her conservative views and student at UCF, happened to walk by.
One of the students asked Zhu whether she wanted to try on a hijab. She declined and posted her thoughts on Twitter.
— Kathy Zhu (@PoliticalKathy) February 1, 2018
Shortly after, a Muslim student who happened to be in Zhu's photo took to Twitter blasting her for taking a photo of her without her consent.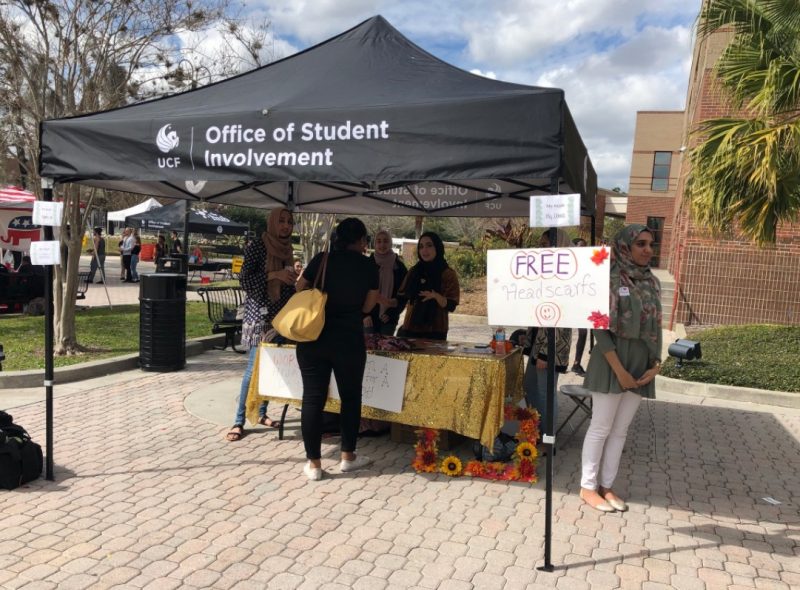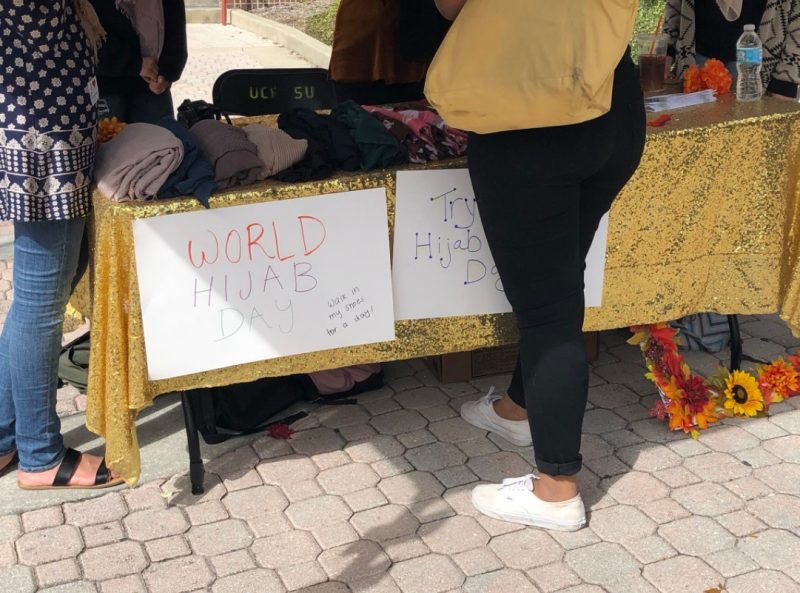 She also called for people to email UCF faculty to get Kathy expelled.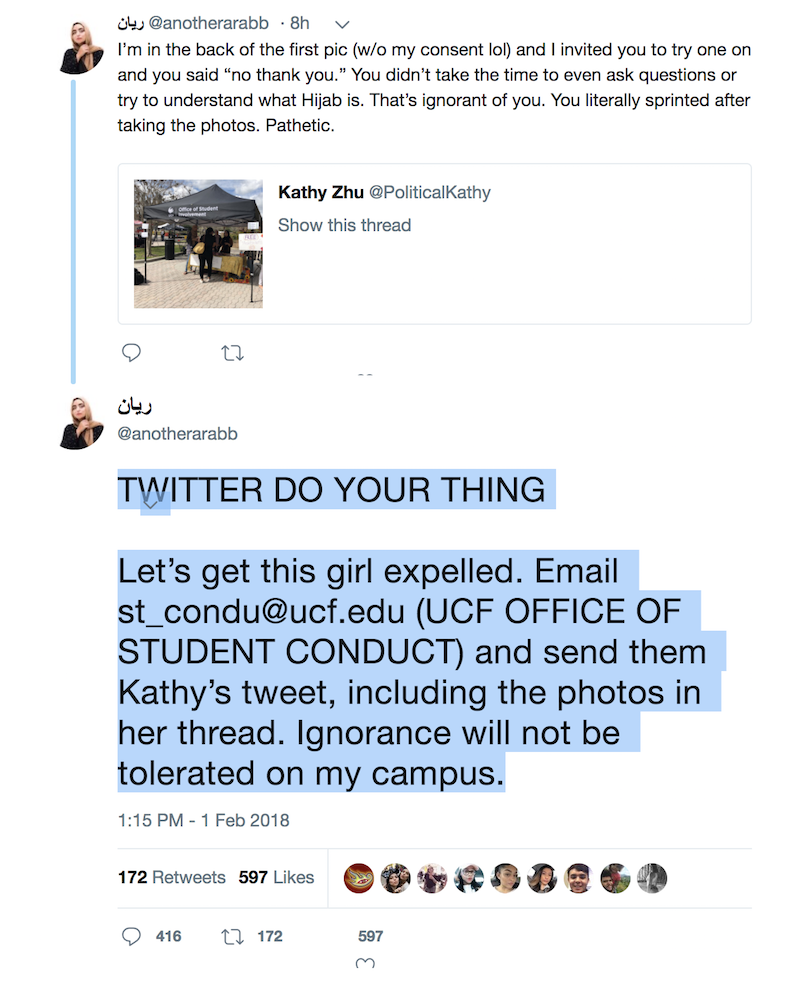 Zhu fired back at the student, saying that UCF is a public campus and she has a right to take photos. She also noted that declining to try on the hijab is not grounds for expulsion.
1) UCF is a public campus, meaning I can take pictures of anything, especially a public RSO group.
2) I took three pictures, you asked me if I want to wear this scarf of oppression, I politely declined, said thank you, and headed to class.
3) trying to get me expelled for what?

— Kathy Zhu (@PoliticalKathy) February 2, 2018
Some tweeted in supported for Kathy, saying she did nothing wrong and was exercising her freedom of speech.
She obviously did nothing wrong all she said was "No,Thank you" trying too get her expelled and possibly losing her education is ridiculous. You're the ignorant one tbh

— キム (@_Blossom_Cotton) February 2, 2018
Others agreed that Zhu should be reprimanded, citing her past tweets alleging she was against Islam.
Have you seen the barbaric tweets she has made against Islam? She's a bigot who prides herself on her ignorance. To get her expelled would be a blessing for the university, she is promoting hate and targeting of a religious group. As a Muslim I am also offended by this.

— اهتشام خان (@PS_sham10) February 2, 2018
Mohammad Tawhidi, an Australian-based Iranian Muslim scholar known as the "Imam of Peace" on Twitter also gave his thoughts and sent an email to UCF directly.
I sent an email to @UCF regarding the Islamist campaign to expel @PoliticalKathy from university. pic.twitter.com/sk8KsSX5aQ

— Imam of Peace (@Imamofpeace) February 2, 2018
"Greetings,
My name is Imam Tawhidi, and I'm an Australian Muslim Scholar. You may read about me on my website, www.Tawhidi.com, or the attached document.
I'm writing regarding a tweet calling for the expulsion of one of your students, Kathy Zhu, due to her rejection to participating in wearing the Islamic dresscode on your school campus. She has been subjected to a wave of hate and criticism by Muslim campaigners; all calling for her expulsion. Should the administration of your university decide to expell Kathy, I request the opportunity to clarify to those concerned that what the Muslim students were doing is actually against their own Islamic teachings.
There is no compulsion in any religion, and the Hijab Day event was nothing more than a political statement – and not a religious presentation promoting diversity.
Lastly, your university should maintain equality and also provide platforms to the adherents of other religions to commemorate their religious practices, and stop providing special treatment to a certain group of students.
Thank you
Imam Tawhidi"
Since the controversy, the original poster who called out Zhu has privated her Twitter account. UCF also released a statement on the matter.
For resources relating to this statement, please click here: https://t.co/aRu4VvHhnt pic.twitter.com/Ff5gdK0CyX

— UCF (@UCF) February 2, 2018
"The University of Central Florida has received a number of emailed complaints suggesting that disciplinary action be taken against students involved in a disagreement being played out via social media," said Mark Schlueb, a spokesman for the school, to TheDCNF. "Upon review, neither student's actions as reported to the university violate our Rules of Conduct."