Han Seo Hee, the trainee who vaped marijuana with T.O.P., recently took to Instagram live to answer viewer questions and revealed shocking information about her upcoming debut, relationship status with T.O.P., and, allegedly, his "member" size.
According to AllKpop, Han referred to herself as a "walking atomic bomb" because she had juicy information, including the size of T.O.P.'s penis. "His 'down there' is the size of a MAC," she reportedly told netizens.
NextShark has been unable to confirm nor deny this claim (as we do not know the question the viewer asked); the video can be found here (comments that seem to be about his penis begin approximately at the 13:00 mark):
"Isn't 6.9 [units unspecified – but in South Korea the typical unit of length is centimeters] like this big (holds up pinky finger)? I don't really know what 6.9 is without a ruler, but I used this (my pinky finger) to compare it in a pinch, and it …. (takes out her pink BOBBI BROWN lipstick tube) … it was even shorter than this."
Fans are furious with her statements, bringing up previously made comments and ties to Megalian beliefs.
Han Seo Hee: Im gonna sue everyone who's making sexual comments about me

also her: *kept sexual harassing TOP*💀

— Leena (@leetopten) September 25, 2017
Anw, Han Seo Hee is already cancelled, sis thinks she's some "feminist icon" by spewing shit sns & using bad publicity to finally debut

— gtopism (@GDtotheTOP) September 25, 2017
If i saw anymore tweet glorifying Han Sohee as a feminist y'all can deactivate yourself for praising a Megalian Feminazi

— SKT LZ IMT SSG 유령 (@ssgdanik) September 26, 2017

Han seo hee whatever literally uses a site that talks about raping & harming little boys y'all can't be serious about supporting that bitch

— Kenty (@sohnhyunjoon) September 25, 2017
When Han Seo Hee's real nature is finally exposed and the world knows who she really is: pic.twitter.com/DbZexZTk9r

— StefyVIPer (@StefyVIPer) September 26, 2017
DO N O T support Megalian and Han Seo Hee when they debut!!! pic.twitter.com/nmptrVbnX6

— Clara🌼 (@IGjisooft) September 26, 2017
Wait Han Sohee is a Megalian? Yikes

— SKT LZ IMT SSG 유령 (@ssgdanik) September 25, 2017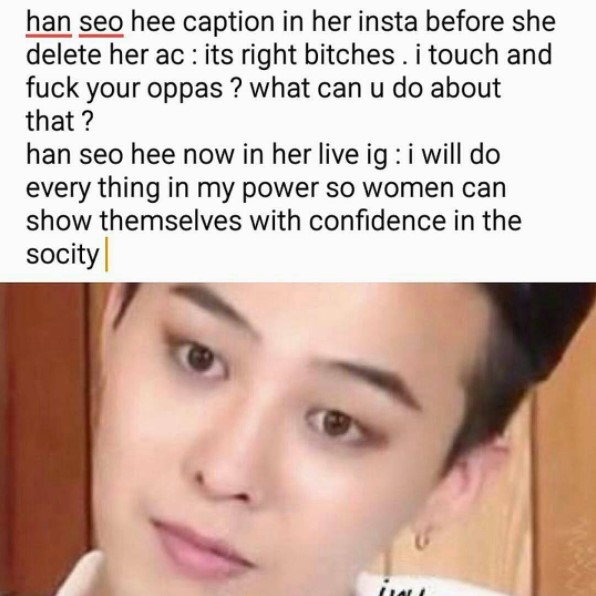 Han also discussed details of her relationship with T.O.P., both current and previous, and alluded to a 2018 debut as the leader of a girl group.
Although some netizens speculated that her debut would be with Maroo Entertainment, both Han and the company have come forward to deny these rumors.