Jonathan Teo, co-founder of Binary Capital, has released a statement regarding his experience with his former partner, Justin Caldbeck. Caldbeck recently stepped down from the company they founded together due to allegations of sexual harassment.
Earlier today, Teo posted the following statement to his FaceBook page: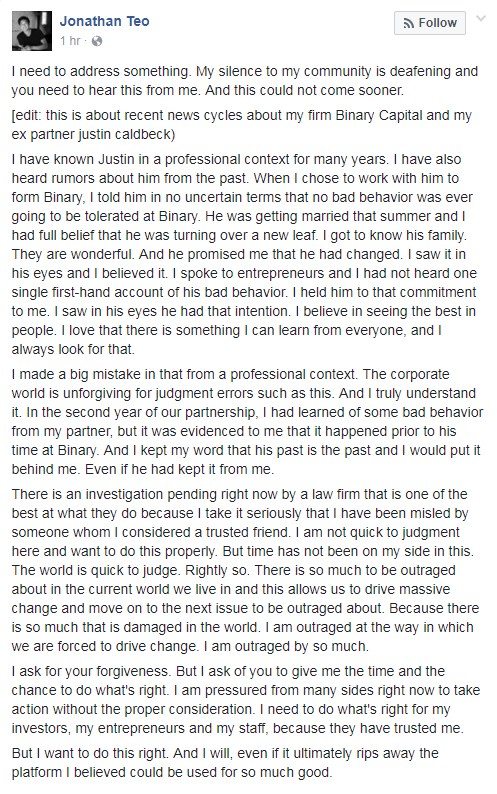 "I need to address something. My silence to my community is deafening and you need to hear this from me. And this could not come sooner.
[edit: this is about recent news cycles about my firm Binary Capital and my ex partner justin caldbeck)
I have known Justin in a professional context for many years. I have also heard rumors about him from the past. When I chose to work with him to form Binary, I told him in no uncertain terms that no bad behavior was ever going to be tolerated at Binary. He was getting married that summer and I had full belief that he was turning over a new leaf. I got to know his family. They are wonderful. And he promised me that he had changed. I saw it in his eyes and I believed it. I spoke to entrepreneurs and I had not heard one single first-hand account of his bad behavior. I held him to that commitment to me. I saw in his eyes he had that intention. I believe in seeing the best in people. I love that there is something I can learn from everyone, and I always look for that.
I made a big mistake in that from a professional context. The corporate world is unforgiving for judgment errors such as this. And I truly understand it. In the second year of our partnership, I had learned of some bad behavior from my partner, but it was evidenced to me that it happened prior to his time at Binary. And I kept my word that his past is the past and I would put it behind me. Even if he had kept it from me.
There is an investigation pending right now by a law firm that is one of the best at what they do because I take it seriously that I have been misled by someone whom I considered a trusted friend. I am not quick to judgment here and want to do this properly. But time has not been on my side in this. The world is quick to judge. Rightly so. There is so much to be outraged about in the current world we live in and this allows us to drive massive change and move on to the next issue to be outraged about. Because there is so much that is damaged in the world. I am outraged at the way in which we are forced to drive change. I am outraged by so much.
I ask for your forgiveness. But I ask of you to give me the time and the chance to do what's right. I am pressured from many sides right now to take action without the proper consideration. I need to do what's right for my investors, my entrepreneurs and my staff, because they have trusted me.
But I want to do this right. And I will, even if it ultimately rips away the platform I believed could be used for so much good."
Their third partner, Matt Mazzeo, has also left the company amidst the scandal.
Teo, the Stanford grad and Burning Man aficionado, founded Binary Capital with Justin Caldbeck in 2014, their most notable investment in their portfolio being SnapChat.