Johnston & Murphy
landed in hot water on Wednesday night after several Instagram users exposed racist, anti-Asian comments and messages they received from the footwear brand's verified account this week.
The firestorm appears to have erupted after the company's account left comments on a photo posted by serial entrepreneur Jason Wong on June 4. Under the image, Johnston & Murphy's account wrote "Kim Jong Un" on Monday, followed by "Ching ching ching cing ching cong chong chong" on Wednesday.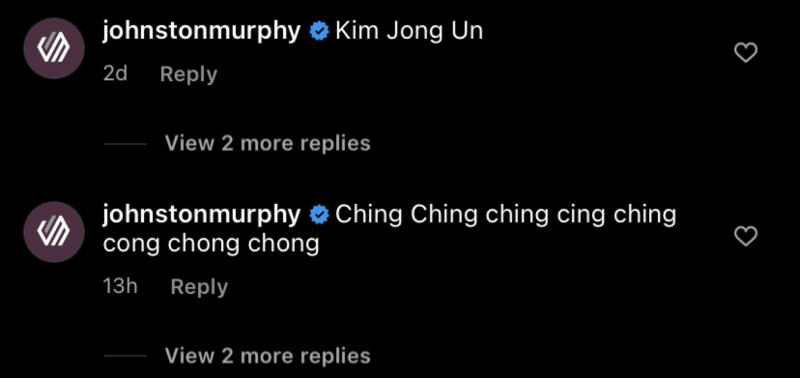 Wong took a screenshot of the comments in question and posted it on
Twitter
, writing "@JohnstonMurphy's social media manager has a lot of free time being racist." The Pughaus founder then shared it on his Instagram Stories, tagging Johnston & Murphy's account.
Subsequent screenshots show that the company account had sent Wong direct messages shortly after. The account pleaded for Wong to delete his post, followed by a racist expletive.
"Please delete. I'm gonna lose my job," Johnston & Murphy wrote. "You CH*NK MOTHERF*CKER."
The entity behind the account then claimed that they were Asian, but said that "my kind is not the one that started Covid."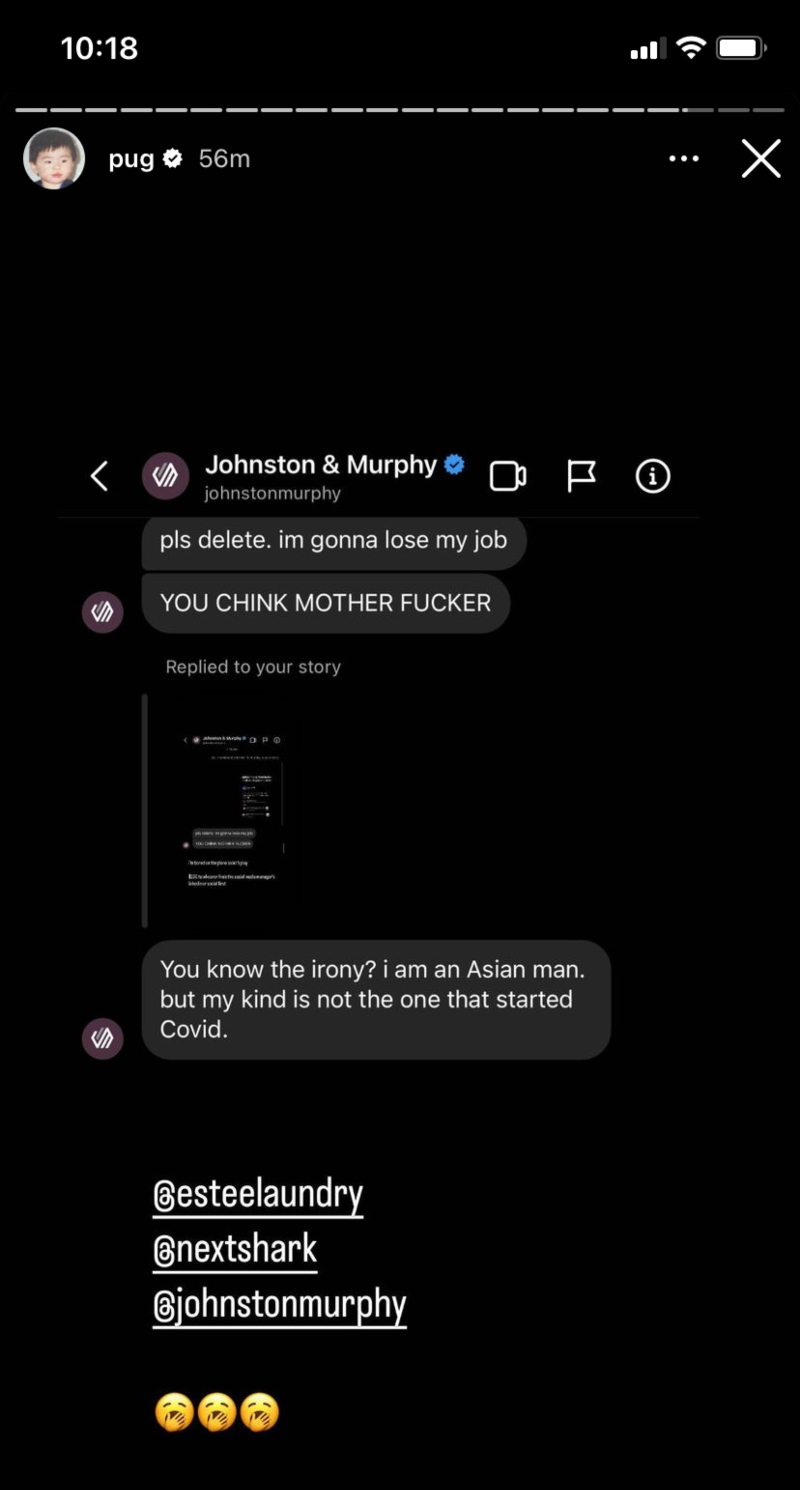 Instagram users have since shared Wong's screenshots. At least two others received a response from the Johnston & Murphy account.
"I didn't call you a ch*nk. Your name called you a ch*nk," the account sent to one user.
It wrote to another, "Sleep with me to show me why your people 'matter' so much. Perhaps you can convince me."
Subscribe to
NextShark's Newsletter
A daily dose of Asian America's essential stories, in under 5 minutes.
Get our collection of Asian America's most essential stories to your inbox daily for free.
Unsure? Check out our Newsletter Archive.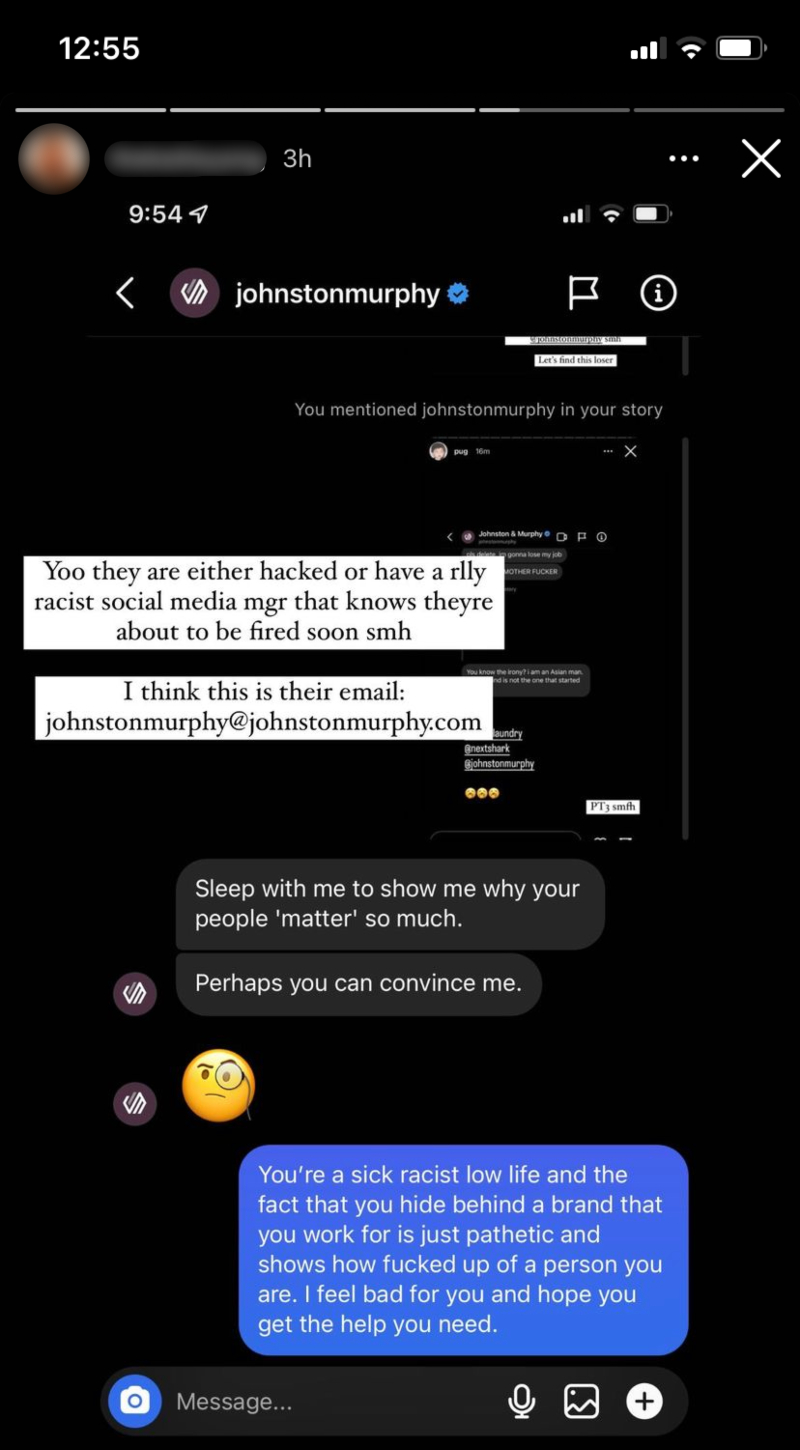 In the midst of the exchange, the account's bio was edited to included the words "Ching Chong" as a hashtag.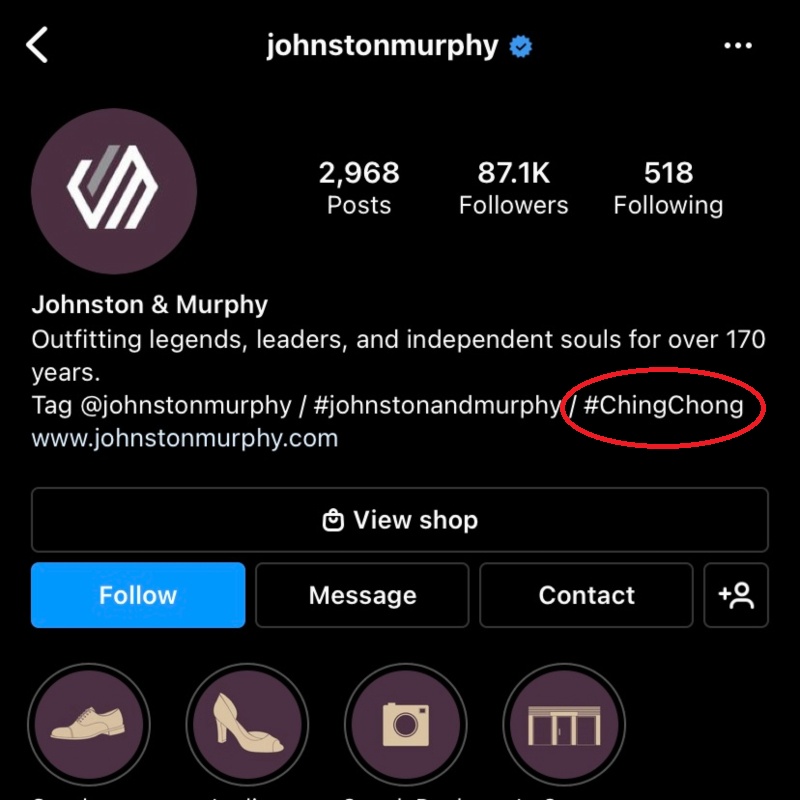 The last messages Wong received from the account stated that they were going to claim they were "hacked." They also wrote "You can't stop us #Non-CovidAsianPower" and referred to the Pughaus founder as "Kim Jong Wong."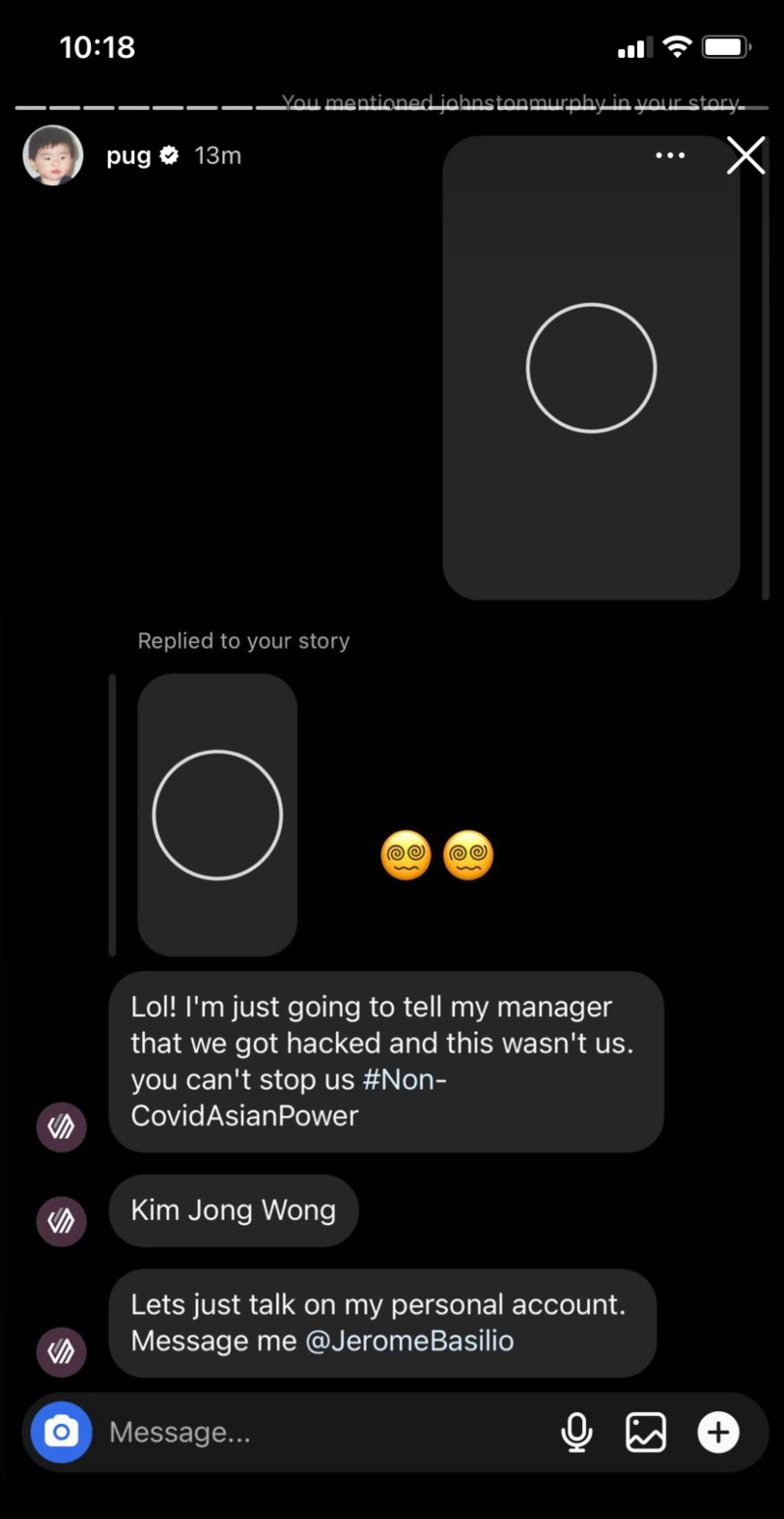 Shortly after the chaos, the Johnston & Murphy account posted a statement claiming that they were "compromised." Instagram users urged the company to conduct a full investigation.
"Our sincere apologies from the J&M team for the offensive content and messages posted on this site," Johnston & Murphy wrote. "Our account was compromised."
Ahead of the official statement, the sender invited Wong to continue their conversation on their personal account, which they identified as "@JeromeBasilio." NextShark reached out to the owner of the account in question, Jerome Basilio, who denied any association with Johnston & Murphy.
"I want to let you know that I have no involvement with the racially motivated attack on any accounts," Basilio told NextShark. "I have been dealing with third party hackers targeting me on alias accounts, defaming me and now posing as me on compromised accounts."
Basilio has been keeping tabs of his own alleged attackers, saying one of them appears to operate multiple accounts just to hurt his reputation. "[I'm] not sure what their issues are but I can assure you I have no involvement in this [Johnston & Murphy] issue."
Basilio, who is Filipino, said he himself has been bullied for being Asian for the majority of his life. He said he is focused on building his team and helping loved ones back in the Philippines.
"I don't understand why I would be targeted in this manner. I'm just minding my own business and focused on building my company."
He added, "Why would I jeopardize what I have been building for something petty, destructive, and most importantly, doesn't follow my moral compass or ethics? I work with all ethnicities and have developed a reputation among my industry … in e-commerce, not social media management."
Basilio called for the attacks against him to end. He described the latest allegation as "a complete waste of time and resources."
"This is another form of bullying. This needs to stop and end here. I'm sick of being attacked and accused over something I didn't do. What do I get out of this other than headache and stress?"
Johnston & Murphy, on the other hand, confirmed in a statement to NextShark that their Instagram account was hacked.
"Our Instagram account has been hacked. We are actively working to remedy the situation and sincerely apologize for the offensive and unauthorized content that was posted."