A senior executive
at Johnston & Murphy has confirmed to NextShark that the man accused of "hacking" into the company's verified Instagram account is not and has never been affiliated with them.
The
alleged hacking
, which rattled Instagram on Wednesday night, resulted in racist, anti-Asian comments and messages sent to several Asian users on the platform. In a statement, the footwear brand said its account had been "compromised" and apologized for having posted offensive content.
However,
screenshots
show that Pughaus founder
Jason Wong
had received offensive remarks from the verified account days before the controversy erupted. On one of his posts, the page commented "Kim Jong Un" on Monday, followed by "Ching ching ching cing ching cong chong chong" on Wednesday.
After Wong exposed the comments, the person behind the account sent him direct messages pleading for him to take them down. However, they also doubled down on their racist attacks, calling Wong a "CH*NK MOTHERF*CKER" and claiming that they are Asian, but "not the one that started Covid."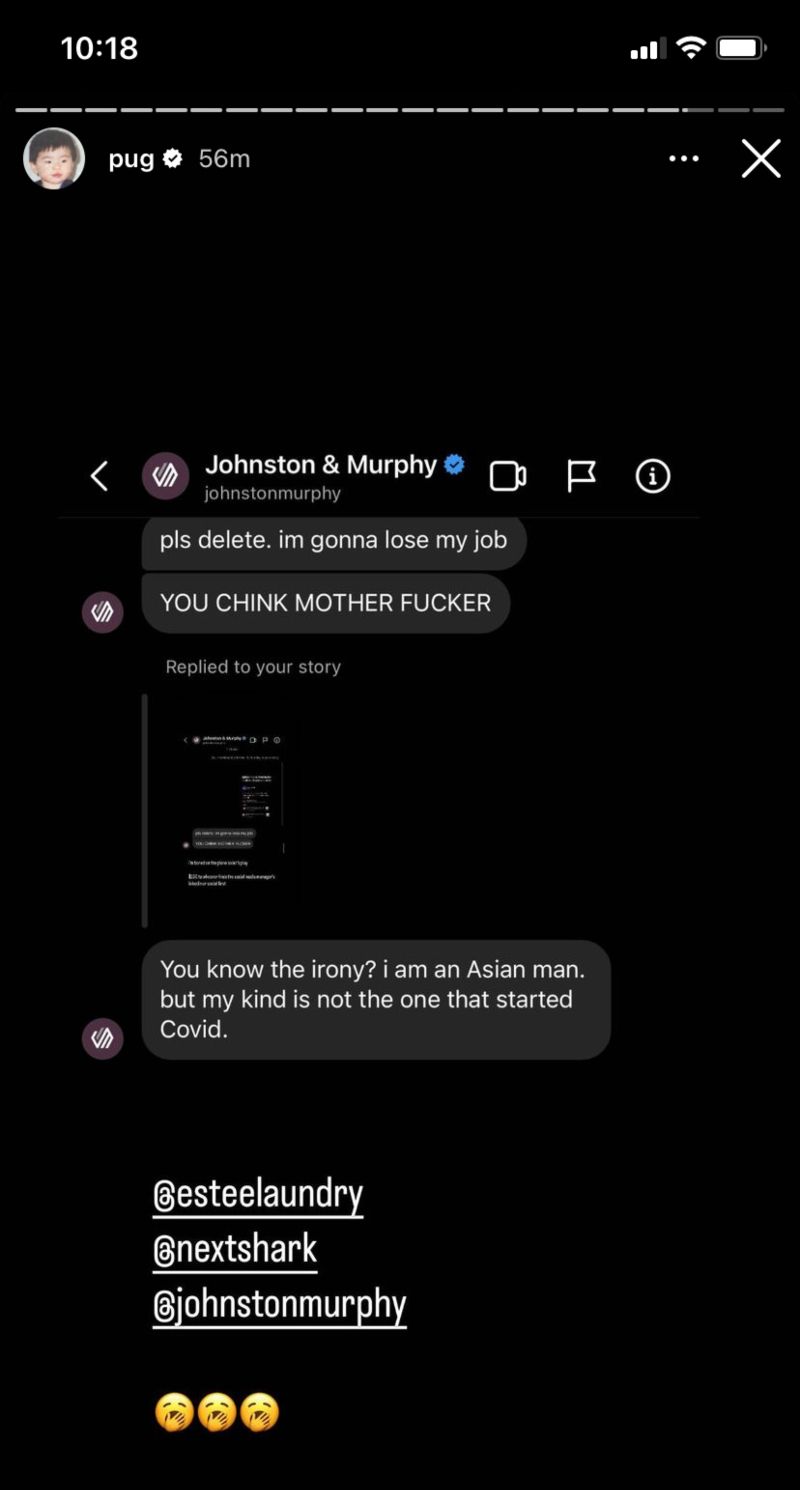 The exchange ended with the account stating that they were going to claim they were "hacked." They invited Wong to continue their conversation on their personal account, which they identified as "@JeromeBasilio."
In a statement to NextShark, Jerome Basilio, who owns the Instagram username @jeromebasilio, denied any involvement in the alleged hacking as well as any affiliation with Johnston & Murphy. Basilio said he also has been dealing with third-party hackers who have been "targeting me on alias accounts, defaming me and now posing as me on compromised accounts."
Subscribe to
NextShark's Newsletter
A daily dose of Asian America's essential stories, in under 5 minutes.
Get our collection of Asian America's most essential stories to your inbox daily for free.
Unsure? Check out our Newsletter Archive.
Basilio, who is Filipino, said he himself has been bullied for being Asian for the majority of his life. He stressed that he is focused on building his own company and that for him to attack other Asians makes no sense.
"This is another form of bullying. This needs to stop and end here. I'm sick of being attacked and accused over something I didn't do," Basilio told NextShark. "What do I get out of this other than headache and stress?"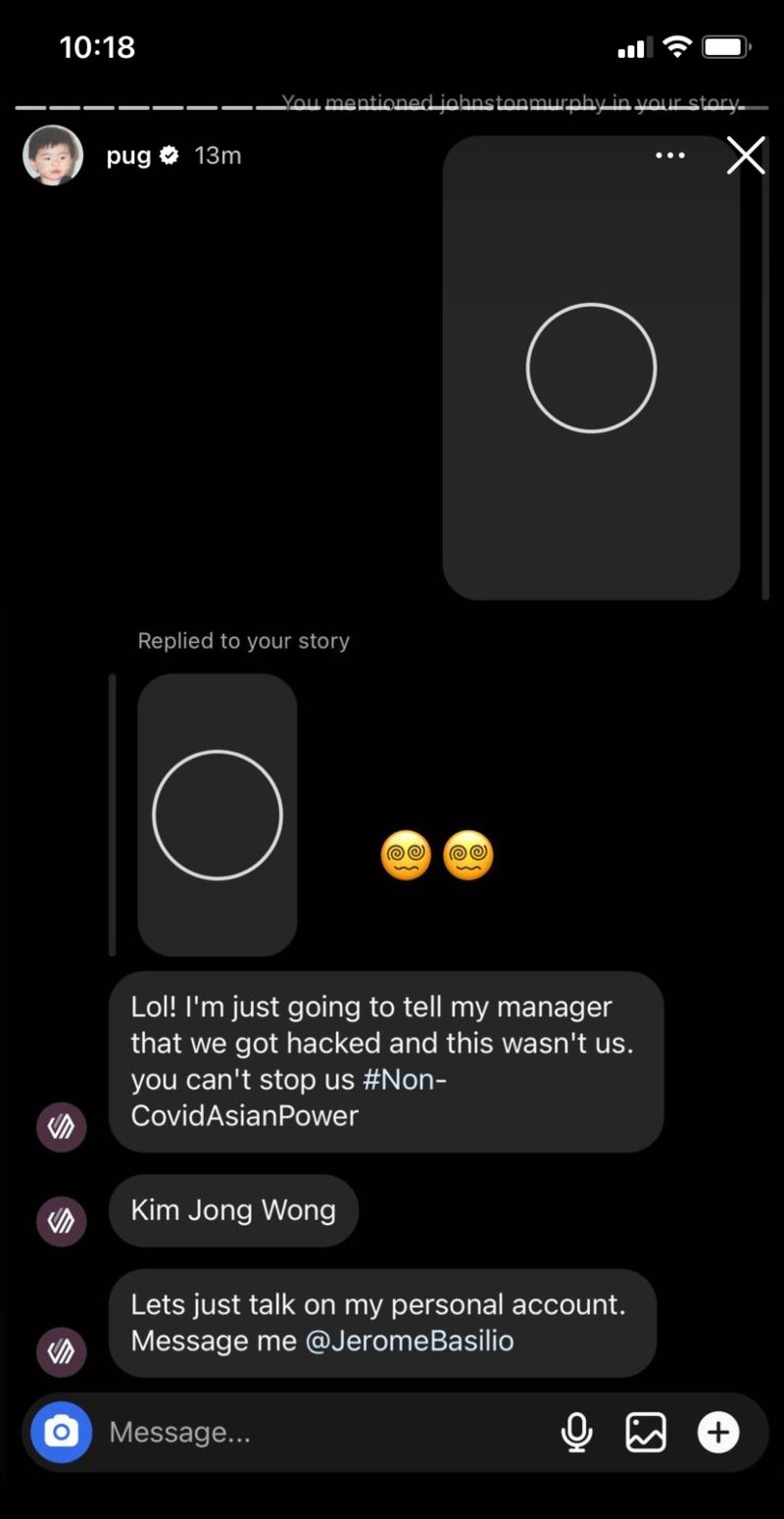 Wong in a new statement said he does not believe the allegation against Basilio. He also took responsibility for sharing the part of the conversation that mentioned Basilio's handle.
"I don't believe that @jeromebasilio was the hacker," Wong wrote. "He was likely targeted. I shared the screenshot that had his username on it when I should have waited for further assessments, so I take responsibility for not blurring his name."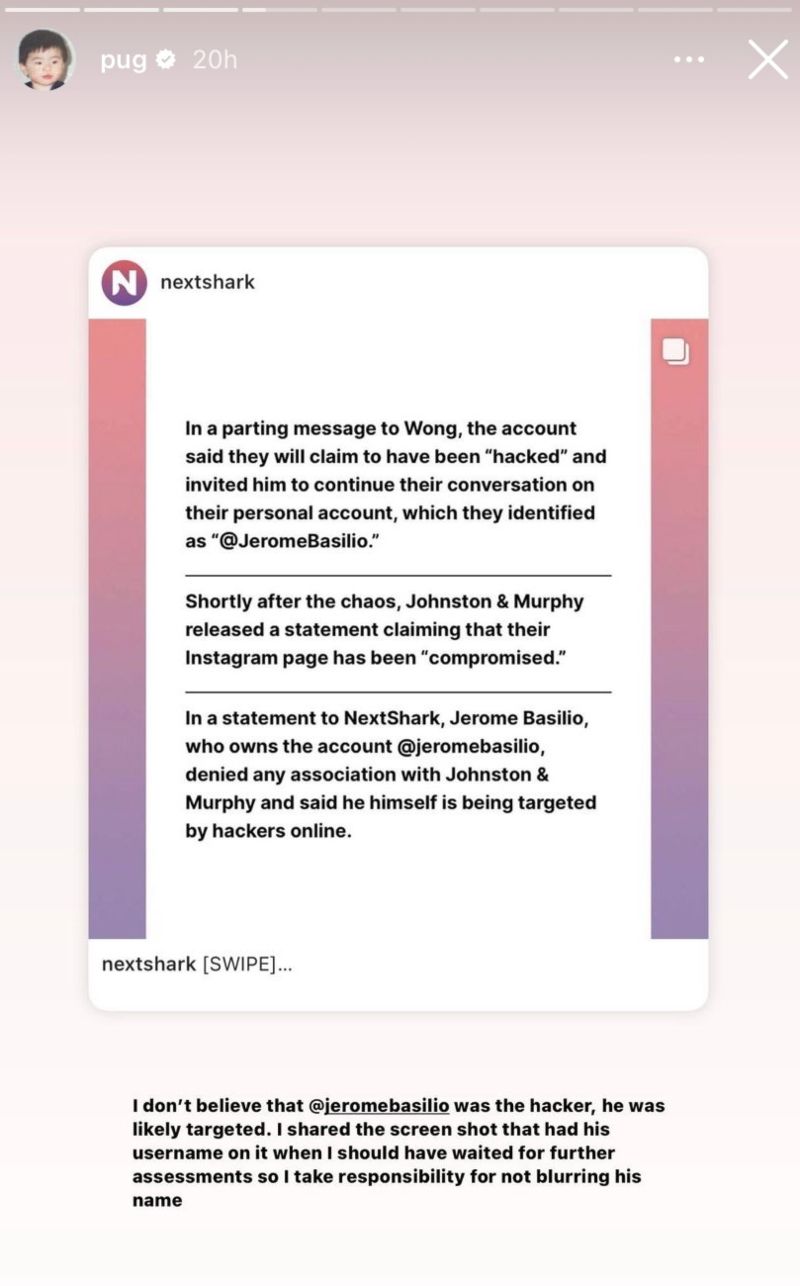 Wong also affirmed that the account had been harassing him for days, which makes him disagree with the hacking allegation.
"Highly unlikely they were hacked. This guy harassed me for a few days and I ignored it," Wong commented under NextShark's report. "I finally spoke up and posted about it and all of the sudden, they're hacked."

NextShark reached out to Johnston & Murphy to verify Basilio's non-affiliation with the company. In a new statement, Jason Dasal, senior vice president for marketing and e-commerce, confirmed that Basilio has no ties with the brand.
"We can confirm that Mr. Jerome Basilio is not, nor has been, affiliated with Johnston & Murphy," Dasal told NextShark. "At this time, we cannot provide further comments as the situation is still under investigation.
In his previous statement to NextShark, Basilio said attacks against his network have been happening for "quite some time." He added that one of his attackers appears to be operating multiple accounts.
"What we've done is just block these people, but it looks like they have other means of targeting me, my friends, my family. This is frustrating because we didn't do anything to anyone," he said.