[Update 3-19-19 1:28 p.m. PST] Moore has since released a formal apology on Instagram.
A comedian who felt "threatened" at the sight of turban-wearing passengers on a recent flight has defended herself against accusations of racism.
In a video recorded ahead of the flight, Jess Moore, better known as "Jess Hilarious," is heard gasping while pointing the camera toward a turban-wearing man.
"Where are you going?" the 27-year-old asks nervously as the man boards the plane. "Where are you going?"
@jess_hilarious you are racist af & sound so damn ignorant. The Sikh man was minding his business, is that what you felt THREATENED about?! #JessHilarious pic.twitter.com/b2DdZJYvU5

— s a r a (@sara_zfa) March 17, 2019
After posting the video on social media, Moore immediately drew backlash from users who accused her of racism.
She then responded in another video, denying the claims while saying that she felt "threatened" by four passengers she later identified as "Muslims."
"Okay, so, one thing first. N****s know I'm never f***ing racist, but I spotted something and I put it out earlier and we got evacuated from our plane. We were on the plane for like an hour and did not get to pull off.
"Everybody was coming at me, 'Oh you racist b***h, you f***ed up, you b***h, you b***h' because I pointed out four different people that I saw on the plane earlier."
Moore explained that passengers were evacuated for no official reason — but questioned why the "same four people" she had seen were no longer with everyone else.
"So we had to evacuate with no reason at all. Nobody said anything, we just had to evacuate. And I don't see the same four people that I've f***in' seen before."
"Apologize, b***h. That's what y'all need to do," she then demanded. "If I'm scared, I'm scared. F**k you all. Y'all mad at me because I don't side with every other Black person, 'cause I don't side with every other race."
"F**k y'all. I feel how I feel. I felt threatened and that was it. F**k y'all. And I'm not flying there. We were evacuated, b**ch. Why? Why was no reason explained at all? No technical difficulties or nothing? Y'all gonna listen to 'Jess with the Mess' one day 'cause my news is real."
Moore, who has 4.4 million followers on Instagram, has since deleted all posts pertaining to the incident.
However, she posted Stories on Sunday morning apologizing to "all Muslims," maintaining that she is not racist and claiming, "We have Muslims in my family."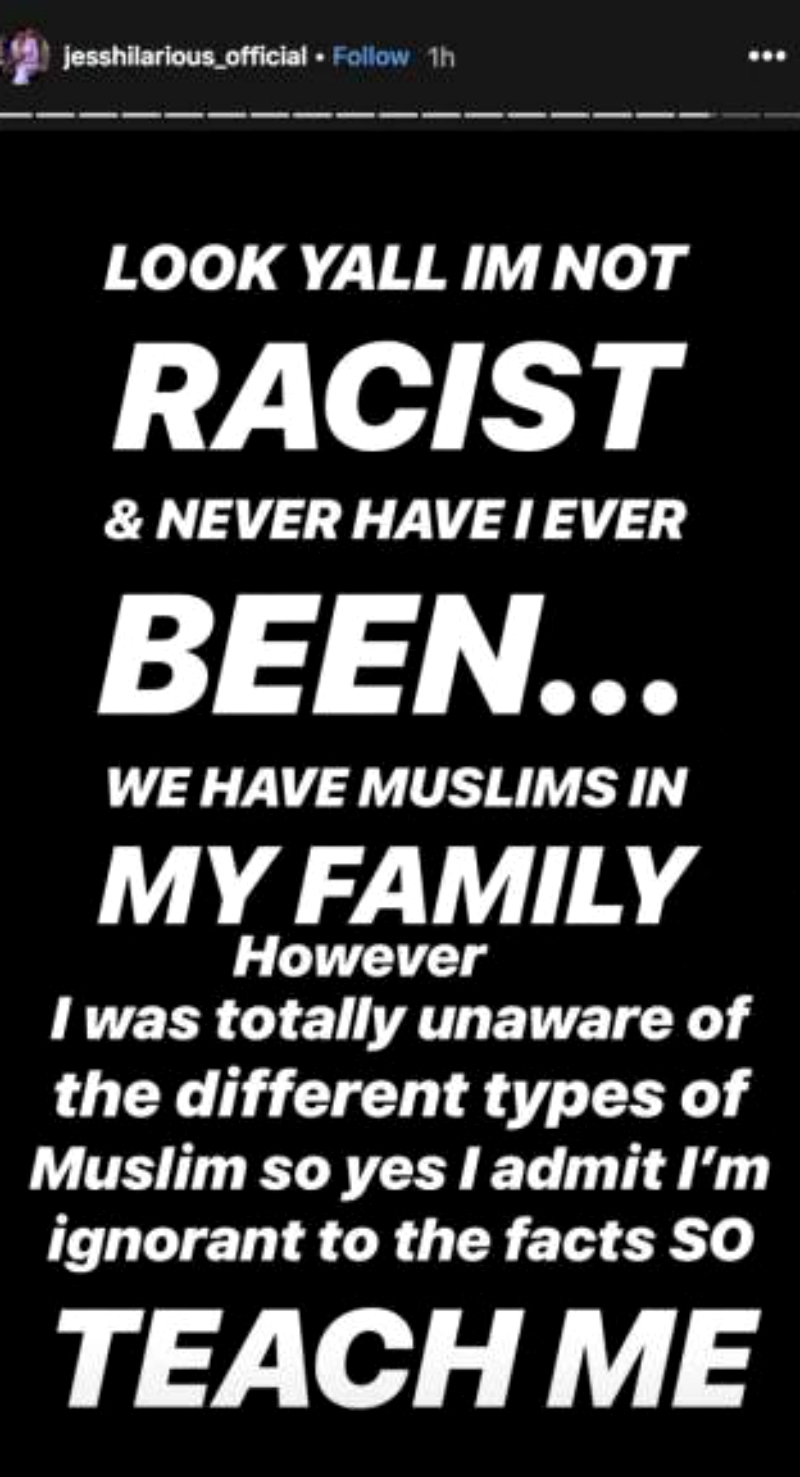 "Look y'all, I'm not racist and never have I been … We have Muslims in my family, however, I was totally unaware of the different types of Muslim so yes I admit I'm ignorant to the facts so teach me.
"I got no one put off the f**kin' plane … I didn't even say s**t to anyone ELSE on the f**kin plane about how I felt! Again, I'm sorry to all Muslims … deeply sorry. But I am not a racist, loves."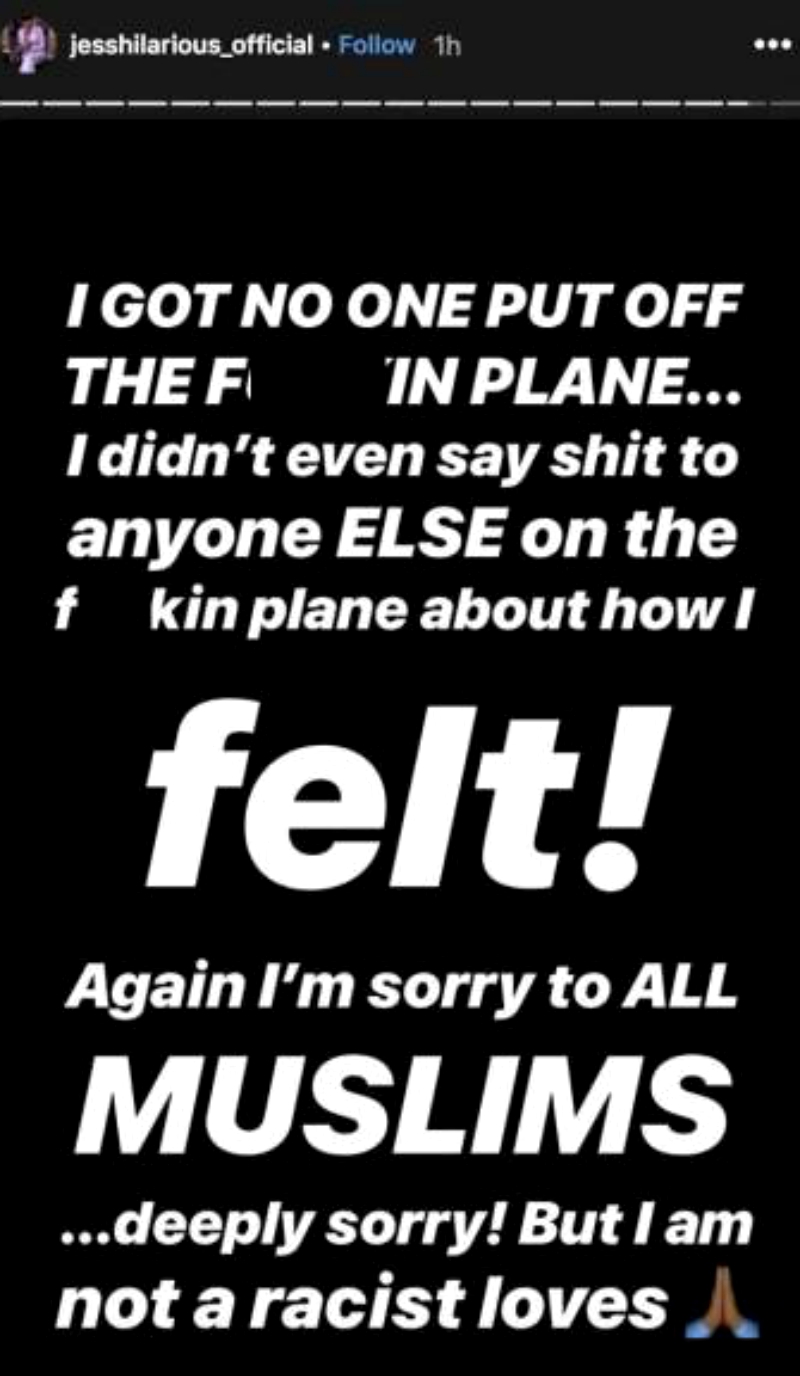 It is unclear whether the four people Moore had referred to as Muslims are actually Muslims, however.
Many pointed out that they are, in fact, Sikh, suggesting that the comedian has more to learn.
Featured Image Screenshots via Twitter / sara_zfa (Left), YouTube / The Jasmine Brand (Right)