"谢谢你们在这段时间以潮水般涌来的各种安慰、代祷、祝福、鼓励的话语、贴心的礼物等等来支持我,我真的是被你们深深的鼓舞和激励。前段时间我有时会很麻木,但是当我看完你们的评论,以及"你才不会就这样完蛋"那篇文章时,我受到了深深的鼓舞。在职业篮球里,我們习惯于把粉丝对我们是否喜爱和我们在场上的表现联系起来。但是这么多年来,不管我表现如何,中国的粉丝,你们都一直不离不弃的支持我,谢谢你们!

"Thank you for supporting me during this time with all kinds of comfort, intercessions, blessings, encouraging words, intimate gifts, etc., which I have come to inspire. I am deeply inspired by you. Some time ago I was very numb, but when I read your commentary and the article 'You Will not Finish That,' I was greatly encouraged. In professional basketball, we are accustomed to connecting to fans. However, for so many years, no matter what my performance, Chinese fans, you are always supportive of me, thank you!
Subscribe to
NextShark's Newsletter
A daily dose of Asian America's essential stories, in under 5 minutes.
Get our collection of Asian America's most essential stories to your inbox daily for free.
Unsure? Check out our Newsletter Archive.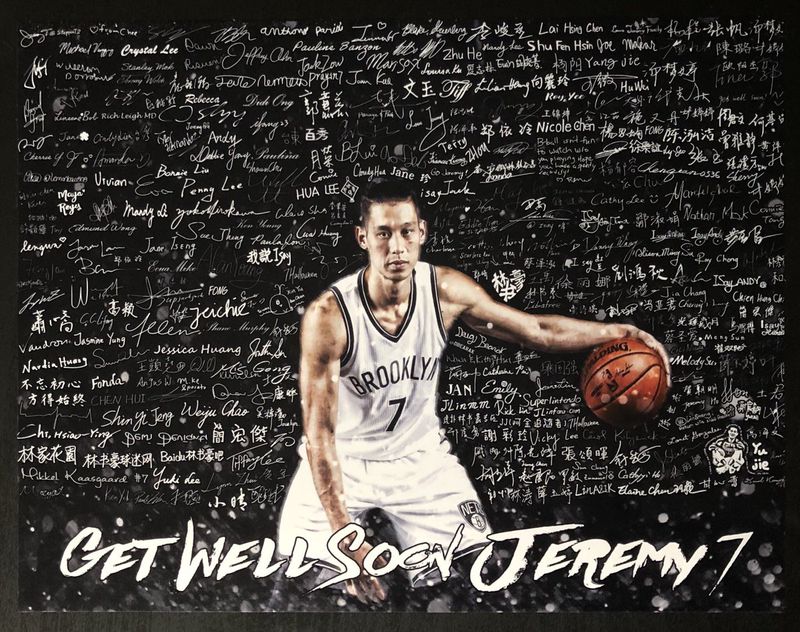 "现在, 我已经从受伤的惊吓中走出来了,我可以很真实地说, 上帝给了我极大的平安和喜乐。不要误会, 我真的很伤痛和心碎。没有人比我更在乎我的职业生涯了。尽管我在篮球上投入了这么多的精力, 去年我只能打36场比赛,而今年只打了1场。但有时生活就是这样,即使我们做了百分之百的准备,我们不见得总是能得到我们想要的。

"Now that I've recovered, I can honestly say that God has given me great peace and joy. Don't get me wrong, I'm really hurt and heartbroken. Nobody cares more about my career than I do. Although I put so much energy into basketball last year, I can only play 36 games, but played only one game this year. But sometimes life is like that, even if we do a hundred percent of the preparation, we may not always get what we want.

"但通过这一切, 我学会了最重要的一件事,就是抱有希望。我的信仰给了我希望, 因为我知道上帝一直以来在我生命中,对我有一个完美的计划。即便我不明白为什么事情必须这样发生,但我知道他是那个掌权者。我知道他的能力比我所面临的任何困难都要大。我知道他的爱比我能感受到的任何悲伤都要深得多。在受伤的前两周,我感觉到了超自然的平静,就如同你们一样, 上帝也是这样不离不弃的支持我!

"But through all this, I learned the most important thing is to have hope. My faith gave me hope because I know that God has always had a perfect plan for me in my life. Even though I do not understand why things have to happen, I know He is the ruler. I know His ability is greater than any difficulty I face. I know His love is much deeper than any sadness I can feel. In the first two weeks before I was injured, I felt a spiritual calm, and God supported me like this.

"我很兴奋开始踏上下一段旅程。我的训练师,康复师、我的球队和我已经有了一个全面且周详的计划, 让我能够从头开始重建自己,并且比以前更强大。因为就像你们提醒我的, 我并没有完蛋!!

"I am excited to start the next journey. My trainer, rehabilitation division, my team and I already have a comprehensive and thoughtful plan that will allow me to rebuild myself from the ground up and be stronger than before. Because like you remind me, I did not finish!

"一直以来,我把打篮球看作是我代表华人在全球舞台上的一种表现方式。但是由于这个赛季不能再上场比赛, 我想给你们一个礼物。在我内心的深处一直有一个愿望,就是希望所有中国的孩子都能够拥有和美国孩子一样的篮球训练资源和机会。所以这个赛季, 我会发布免费篮球基础训练课程, 让所有的孩子都能学到一些篮球基础。之后我将会发布更多的视频课程。"

"For a long time, I saw playing basketball as a way of representing me on the global stage. But since I cannot play again this season, I want to give you a gift. There is always a desire in my heart to hope that all Chinese children will have the same basketball training resources and opportunities as American children. So this season, I will release a free basketball basic training course, so that all children can learn some basketball foundation. After that I will release more video lessons."
Here's to hoping Jeremy Lin recovers quickly and gets back onto the court soon!
Feature Image via Instagram /
JLin7