Twitter has been on fire this week over the cultural appropriation debate surrounding the Utah woman who wore a Chinese qipao dress to her prom.
PROM pic.twitter.com/gsJ0LtsCmP

— Keziah (@daumkeziah) April 22, 2018
Twitter user Jeremy Lam is credited with being the first to call out the woman, Keziah Daum, for her pictures on Twitter, tweeting "My culture is NOT your goddamn prom dress."
My culture is NOT your goddamn prom dress. https://t.co/vhkNOPevKD

— Jeremy Lam (@jere_bare) April 27, 2018
Lam's tweet sparked a massive cultural appropriation debate on Twitter, with many arguing that Daum is exploiting the qipao in a disrespectful manner to take advantage of the "exotic" look. Many, however, sided with Daum, arguing that her choice of dress was made in a respectful manner and that culture should be shared and appreciated this way.
Many in China also supported the woman's dress for representing the beauty of Chinese culture. Some Asian Americans, in response, argued that Chinese people in Asia can't accurately speak on the struggles that Asians in America must face.
But while most were praising Lam for outing a potential "cultural appropriator," others took a closer look at Lam's past tweets, finding several instances of racism that immediately destroyed all credit he may have had.
Doesn't work like that playboi, you're gonna take this L pic.twitter.com/SGuOeZxI2R

— (@Dayton_Thomas) April 29, 2018
— Neonta'veren (@neontaster) April 29, 2018
We love a closet racist pic.twitter.com/KqIzsBBMQA

— jake severe (@JacobSevere) April 29, 2018
While Lam was quick to delete the past tweets he was being called out for, some also took advantage of the opportunity to create at least one fake tweet that he addressed directly.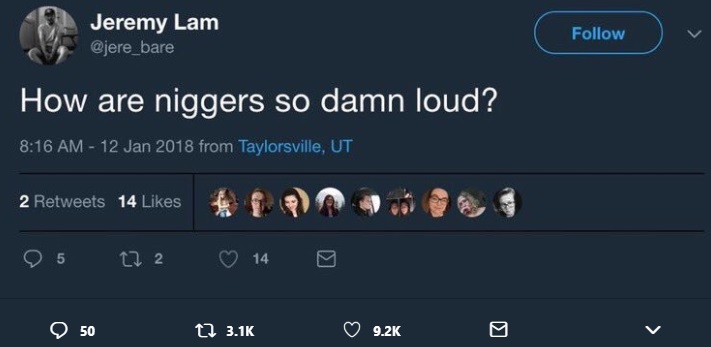 If y'all are actually dumb enough to believe in this photoshopped garbage then y'all really are wasting my time ¯\_(ツ)_/¯ https://t.co/C9wf184QgO

— Jeremy Lam (@jere_bare) May 2, 2018
Good thing this wasn't photoshopped. pic.twitter.com/j84uqayqna

— #TannehillGangGang (@Lolitsjavi) May 2, 2018
As for the real racist tweets he deleted, Lam offered an apology, saying he used to be "ignorant" in his "problematic youth" and that his past does not define him.
Yes, I used to be more ignorant than I am now. My youth was not perfect, it was problematic, I was problematic and didn't know better. I sincerely apologize to all the people it possibly affected, but my past does not define me.

— Jeremy Lam (@jere_bare) April 29, 2018
Still, for someone who assumed a position on top of a cultural awareness high horse, the internet decided to rip every ironic instance that Lam may have been "guilty" of cultural appropriation himself.
Don't worry @daumkeziah , Jeremy Lam is guilty of cultural appropriation of western culture pic.twitter.com/WIl7cJFOFt

— 최정산은 변태 이요. (@ChoiJeongSan) April 30, 2018
New rule: Jeremy you can no longer eat tacos because my people made them. To eat them without knowing FULLY the history behind the taco and how it fed my people through oppression, is cultural appropriation. Also you have to be invited to eat them by one of my people. Each time

— Erin Martinez (@emartinez78987) May 2, 2018
Yo Jeremy, why are you wearing adidas? Are you German? Adidas was founded by Adolf Dassler who had to make his shoes in his mothers laundry room & often had to run equipment from a stationary bike as a struggling entrepreneur in devastated post WW1 Germany

— The Dogefather (@LukeCryptwalker) May 2, 2018
Personally I admire Jeremy Lam. He's brought together people of all races, colors and creeds to talk about what an asshole he is. He's a uniter, not a divider.

— Lukas Hart (@LukasHartIV) April 30, 2018
A Chinese poll. Oof pic.twitter.com/EfLzv9lUZE

— AJ (@NewEngIandYiddo) May 2, 2018
Here was my thoughts on the whole Jeremy Lam situation. The kid is straight up racist as well and needs to step off his damn high horse. You can preach about racism and culture when you're the Fkn racist lmao pic.twitter.com/o5HjOnwoWZ

— Esaaaaaaaa (@EsaFung) April 30, 2018
Amid the argument was Lam's defense that the qipao was entirely Chinese to begin with.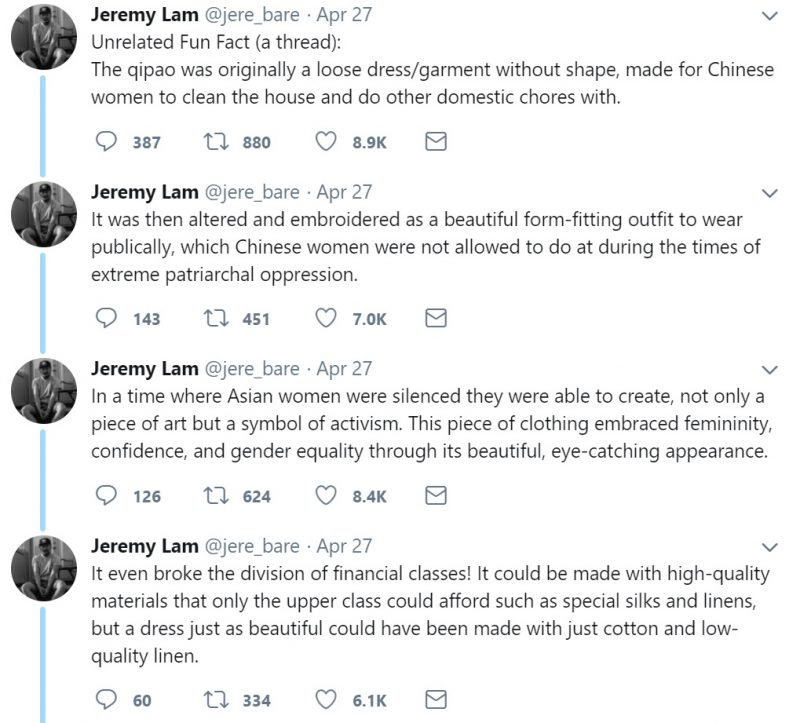 Some twitter users begged to differ:
From a Chinese girl , I want to tell you what Jeremy Lam said is completely worng! cheongsam(qipao)is not a traditional costume

— Wu Yifei (@shelphyff) April 30, 2018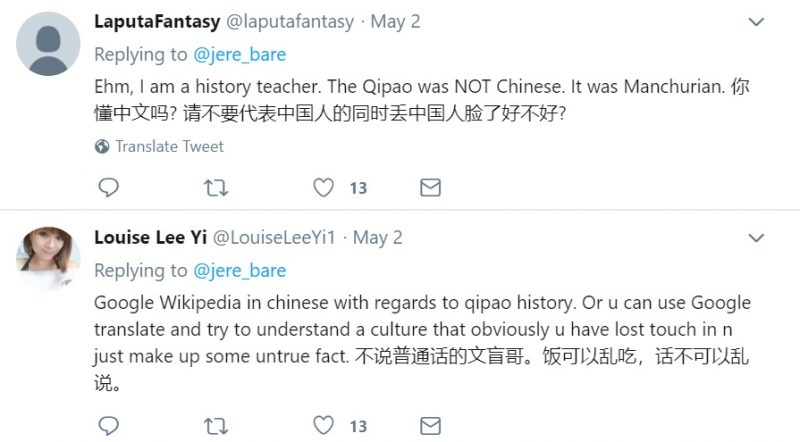 The origin of the qipao is hotly debated, going back as far as 200 A.D. or the Qing Dynasty (1644 to 1912), but according to "An Analysis of the Origin of Qipao" (2003) written by Bian Xiangyang, the qipao, or cheongsam, is an adaptation of a Western-style dress during the Republic of China era (1912-1949) when colonization was responsible for the integration of Western culture. According to Bian, the qipao is a hybrid of a traditional Chinese dress and a Western dress, making the cultural appropriation argument, at least academically, invalid.
As for Daum, she's not apologizing to anyone who may have been offended by her admiration of the qipao and thanks all those who supported her appreciation of the dress.
I'm getting so many DMs telling me to contact @pewdiepie and @TheEllenShow and several other people about this whole dress thing because of how big it is. Honestly, I'm sorry if you were offended. I'm not taking anything down. Thank you for everyone who has been kind to me❤️

— Keziah (@daumkeziah) April 30, 2018