Jackie Chan has aligned himself to be among the patriotic Chinese who declared themselves "flag bearers," soon after news emerged that protesters in Hong Kong threw the Chinese national flag into the sea.
Last week, protesters ripped the Chinese national flag off the flag pole on the Tsim Sha Tsui side of Victoria Harbour and hurled it into the waters. The flag was then replaced with flags bearing the words "Hong Kong Independence." 
China's state-owned news outlet CCTV condemned the act and posted a call on social media, proclaiming that "China's national flag has 1.4 billion flag bearers." The post then urged social media users to share the post and affirm "I am a flag bearer," reports Shanghaiist.
The 65-year-old Hong Kong-born actor shared the post on Tuesday, declaring himself among the "flag bearers."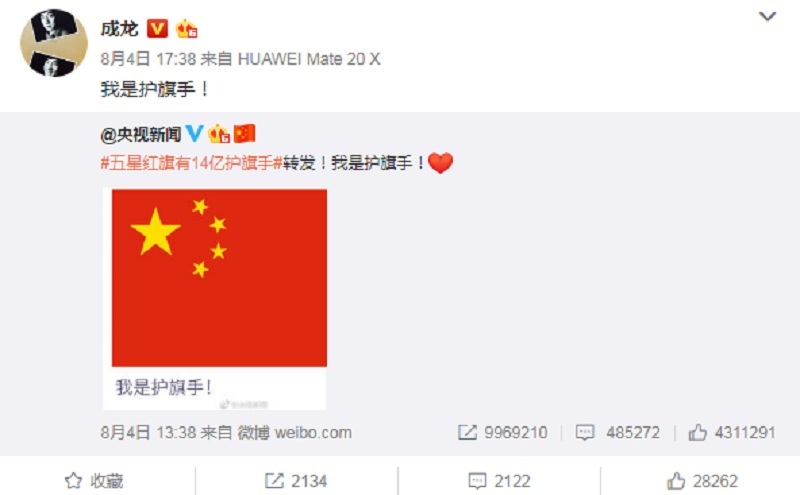 It has since been shared by Weibo users nearly 10 million times, among them numerous Hong Kong celebrities, including actor Jordan Chan, rapper Jackson Wang and actor Hawick Lau. Mainland stars such as Luhan, Kris Wu, Jane Zhang and Angelababy also shared the post.
While celebrated by pro-Beijing social media users, the stars' apparent love for China's national flag has been mocked by some dissidents online. 
Cartoonist Badiucao posted an image on Twitter asking which they would save first: the flag or their lover from drowning in the sea?
For Jackie Chen and all other China's patriots,which side would u save when the national flag and your lover are both drowning in the sea?
送给成龙大哥和各位护旗手的画#FreeHongKong #antiELAB pic.twitter.com/bAOdNGH6wp

— 巴丢草 Badiucao (@badiucao) August 8, 2019
Meanwhile, Chan's pro-Beijing stance has earned him widespread criticism in Hong Kong. During a recent album tour in Taiwan, Chan was asked for his views on the anti-extradition protests which had then been going on for about a week in Hong Kong and already making international headlines.
He responded with: "I only found out yesterday there was a big march in Hong Kong. I don't know anything about it."
Featured Image via Instagram / jackiechan (Left), Facebook / CY Leung (Right)