K-pop girl group ITZY has dominated this year. 
Last month, they wrapped up their sold-out CHECKMATE world tour. In July, they dropped their fifth mini-album of the same name led by the title track "Sneakers." The album skyrocketed to No. 8 on the Billboard 200 chart, marking their first placement in the top 10 and cementing them as only the fourth K-pop girl group to do so. In August, they headlined KCON LA 2022, joining an all-star assembly of K-pop acts. 
With no signs of stopping, the JYP Entertainment quintet is back with another mini-album, "Cheshire," led by a title track music video of the same name. ITZY corresponded with NextShark over email ahead of the album's release and spoke about their latest songs and their FIFA World Cup commercial with McDonald's. 
"Cheshire" and new group goals 
"I'm curious how people will react to a change from ITZY this time. It's a new challenge for us and I'm looking for it," group leader Yeji said. Her fellow members echoed her sentiments, describing "Cheshire" as an entirely different concept from the group's usual perkier and more uplifting sounds. 
'Cheshire' has some notable names behind it. Justin Reinstein of NuVibe Music previously worked on NMIXX's "Funky Glitter Christmas" and the TWICE album "Between 1&2." Tim Tan and Ciara Muscat are both credited on Red Velvet's newest album, "The ReVe Festival 2022 – Birthday" and Josefin Glenmark co-wrote for LE SSERAFIM's "Fearless."
ITZY's newest track is mysterious and teasing, befitting of its name. Lyrics include questions like, "Nothing's wrong, right? Can you see me? Hey, why so curious?" bringing an enigmatic undertone that belies the effervescent colors synonymous with the group. Ryujin said of the track, "Cheshire was a song that I fell in love with when I first heard it so I'm very excited to release that song." 
The song made its live stage debut during night two of the MAMA Awards on Wednesday. The group was nominated for Artist of the Year, Worldwide Fans' Choice Top 10 and Best Female Group. 


"The goal before we debut is to get the rookies awards! And we were so proud. The recent goal is to perform on the bigger stage to let more people know ITZY, be healthy and share the good energy to people," Chaeryeong said. 
ITZY is slated to perform at the forthcoming 2022 KBS Song Festival alongside, aespa, ENHYPEN, IVE, LE SSERAFIM, (G)-IDLE, Kep1er, NewJeans and labelmates NMIXX and Stray Kids on Dec. 16. 

B-sides on the brain 
The album's B-sides include "Snowy," "Freaky" and the previously released English-language single "Boys Like You." Yeji hinted that the album would showcase a "chic concept," something she said she has thought about often. 
The group also shared the B-sides they would most love a chance to develop choreography for.
"I want to create a stage for 'THAT'S A NO NO,' one of our B-side tracks in the 'WANNABE' album! It's my favorite song, and it has a cool sound as the point. I think it would be cool if we can perform it on the stage," Yeji said.

Chaeryeong added, "'TING TING TING,' the B-side track in the 'WANNABE' album! I think we can create a cute dance that suits the cute 'Ting Ting Ting' words."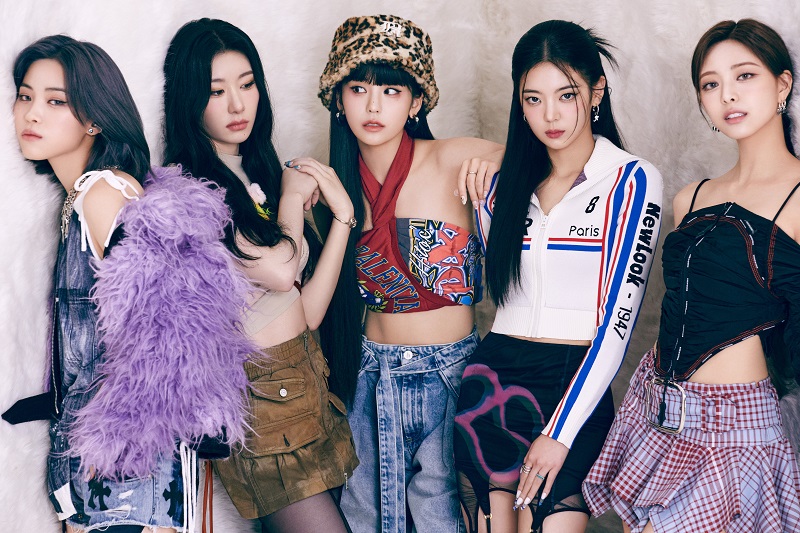 McDonald's and FIFA
Beyond the big stages of K-pop award shows, ITZY recently appeared in a FIFA World Cup McDonald's commercial. The ad sees FIFA fans around the world uniting together for their love of soccer and McDonald's. ITZY's part involved Lia asking, "Wanna go to McDonald's?" in Korean and youngest member Yuna shouting "goal" while watching television. 
"There is a scene that we shout 'Gooooooooal.' I had to shout this word with our members so it was fun," Yuna said.

Lia added, "There was a script that we had when shooting — I've never done anything like this before, but all the staff on the set gave us a good reaction." 


ITZY will be sending their fans, MIDZY, a McDonald's fry truck during an outdoor watch party in Greeley Square Park, New York, on Dec. 2 at 9 a.m to 4 p.m. EST for the match between South Korea and Portugal.
Featured Image via JYP Entertainment