A 24-year-old engineering student at Texas A&M University was called a "terrorist" and told that "this isn't Pakistan, bitch" among other racist slurs during a roadside incident.
In a video posted earlier this month by Ali Alghamdi, a man wearing a cowboy hat can be seen near his car while throwing out racist profanities in Kingsville, Texas, according to The Huffington Post.
"This is America, dumbass," said the man, whose name has yet to be released by Kingsville police. "You better learn how to drive in America. This isn't Pakistan, bitch. This is not Pakistan, Afghanistan or Kuwait, motherf**ker."
"This is not Pakistan, Afghanistan or Kuwait. We have rules in this fucking country," the man continued in his tirade. "You sound like a f**king Arab."
Alghamdi said he was running an errand when he saw a black Chevrolet in front of him roll past a stop sign. The driver of the vehicle kept hitting the brakes, so Alghamdi did the same. That's when the driver suddenly swerved and got out of his car while yelling racist remarks.
Alghamdi said he started recording because he was worried that the man might have a gun on him.
"I was just shocked; honestly, I was scared," said Alghamdi.
In the footage, the man in the cowboy hat can be heard accusing Alghamdi of tailgating him. He went back to his own car after the racist tirade.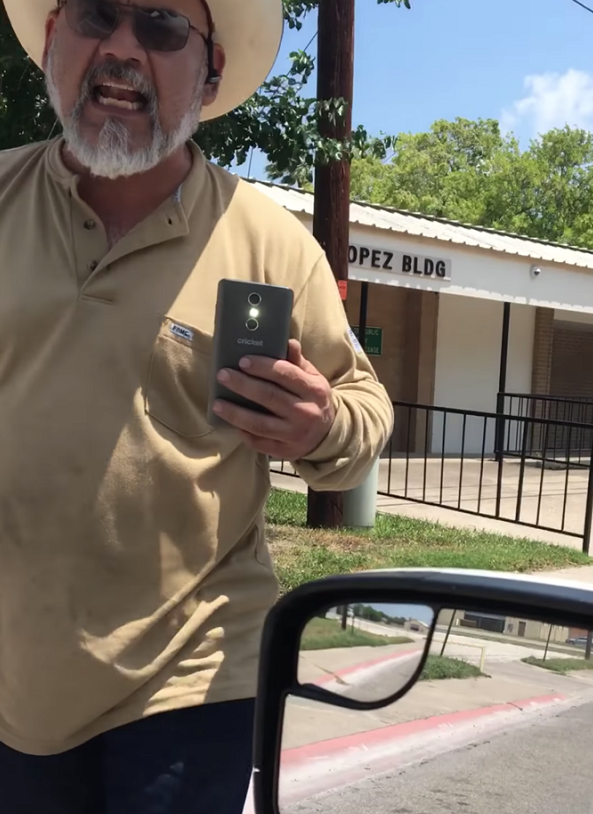 However, the man then followed Alghamdi in the black Chevrolet to his destination, where he spoke to a clerk before leaving.
Kingsville police officers reportedly arrived minutes later and asked for Alghamdi's identification. Alghamdi told the officers that he got the whole incident on video. He was then advised to file a police report and hand in the footage.
"I swear, that's when the whole process changed 180 degrees," he said.
Lieutenant Bradley Lile told the HuffPost that the man in the video has been identified and that officials will pursue charges of disorderly conduct. But Alghamdi believes that the incident was motivated by hate.
"Yes, it's road rage, it happens to everyone," Alghamdi said. "I look different, that's when the incident went further."
Images via YouTube / Ali Alghamdi