A Canadian man recently forced an emergency landing after jokingly announcing on a flight that he might have been infected with the deadly coronavirus. 
The prankster, identified as James Potok, was arrested immediately after his attempt at social media fame. 
Potok was aboard WestJet Flight 2702, a Toronto flight bound for Jamaica on Monday when he made his ill-conceived "prank."
WestJet flight to Jamaica was turned around halfway there when a 29 year old man announced that he had the Corona Virus … It appears to be a prank …250 passengers were standed in Toronto as well as others in Montego Bay , Jamaica pic.twitter.com/obscZav4FJ

— Gerald Frank (@drgeraldfg) February 4, 2020
About two hours into the flight, Potok announced to his fellow passengers that he had visited Hunan Province in China, where he thought the novel coronavirus had originated.
"I stood up, I said, 'Can I have everybody's attention, I just came back from Hunan province.' And that was it," Potok told Global News.
Wuhan, where the coronavirus outbreak originated, is located in Hubei province, not Hunan. 
In a separate interview with City News, Potok said he also told the passengers that he wasn't feeling well. When the flight crew learned about the so-called prank, a decision was made to return the flight to Toronto.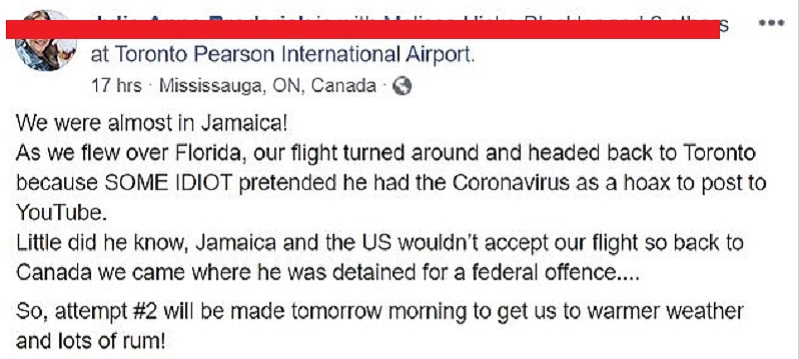 Admitting that he did the prank in hopes of creating a viral video, Potok said he eventually realized that ruining the passengers' flight "was wrong."
Potok, later described by a fellow passenger as "some idiot," was put into a mask and gloves by the airline staff.
In a statement, WestJet said that the flight crew followed infectious-disease protocols "out of an abundance of caution," then noting that the flight was diverted because of an "unruly guest." 
The plane, which had 243 people on board, turned around and returned to Pearson International Airport.
After a medical inspection found him to be free of any symptoms, Potok was arrested and charged by the police. He will be appearing in court on March 9 to face charges of mischief and breach of recognizance.
Feature Image via Global News and City News