Authorities in Indonesia reportedly ordered a fire truck to hose down a trio of transgender women to wash off their "impurity."
The incident took place at a local tourist spot in the province of Lampung, northwest of Jakarta, on Nov. 2.
According to VOA Indonesia, officers from the Public Order Agency (Satpol PP) of Pesisir Barat Regency apprehended the trio before hosing them down in what they described as "mandi wajib," an Islamic bathing ritual that removes one's "junub" or state of "impurity" associated with sexual intercourse.
Satpol PP then uploaded photos of the aftermath on its Facebook page, which Human Rights Watch (HRW) Indonesia researcher Andreas Harsono then shared on Twitter.
In response, LBH Masyarakat (Community Legal Aid Foundation) slammed the officers' act as extrajudicial.
"Is there [any law justifying] such an inhumane act, hosing down people at night using a fire truck hose? Is there any punishment like that in the regional bylaw? No there isn't," spokeswoman Naila Rizki said. "[The officers'] intention was to torture people, demean them. So [the officers'] goal is not to enforce the law but to uphold their own version of morality."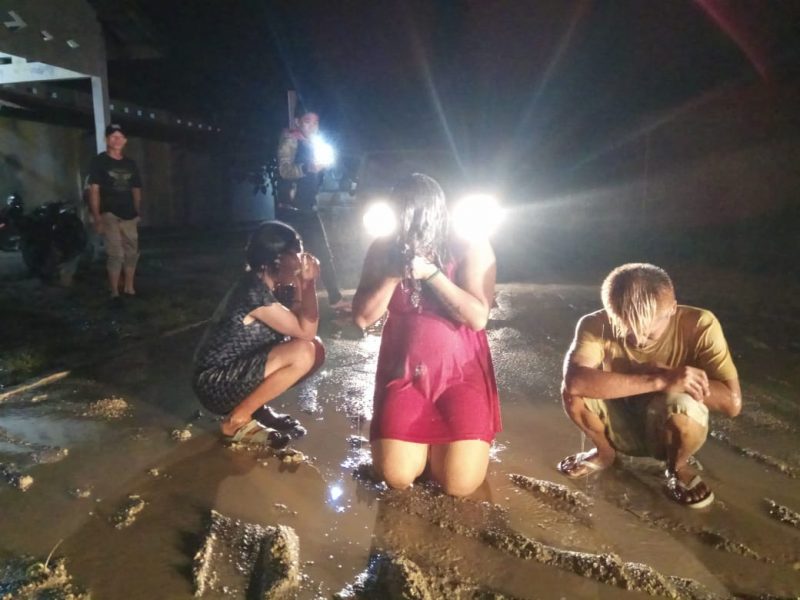 An advocacy group based in the province also condemned the act and urged authorities to stop going after the LGBT community.
"My message to the authorities, be it the police, Satpol PP, military, and the like, please see us LGBT as human beings. Regardless of our sexual orientation, we have the same rights as all Indonesian citizens," an anonymous member said.
The disturbing photos have since gone viral on social media, with many taking the trans women's side.
"I condemn arbitrary actions like this."
"They are also human, Indonesian citizens. They have the same rights as those hosing them down."
"Hopefully, those who bully the LGBT community get the punishment overwritten by Allah."
"Regardless of what they did, they should not be treated like that. It's very inhumane."
"Hopefully those who hose down these transwomen realize they are trans themselves."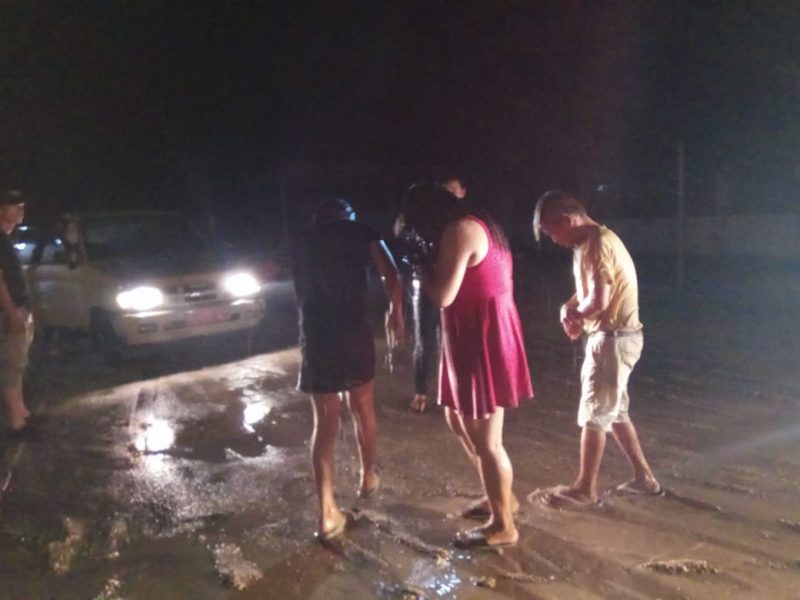 Both HRW and Amnesty International recently released reports on the escalating crackdown on LGBT individuals in the country. In a letter to West Java Governor Ridwan Kamil, HRW urged officials to uphold the rights of such individuals in the wake of a renewed anti-LGBT rhetoric and discriminatory policy proposals.
"Indonesian officials at all levels need to protect LGBT people from violence and discrimination. West Java's governor, Ridwan Kamil, should unambiguously support the basic rights of all Indonesians, including LGBT people," Harsono said.
Meanwhile, Amnesty International described the ongoing crackdown as "alarming," citing the incident involving the three trans women.
"The humiliation of these three transgender women is appalling and constitutes cruel, inhuman and degrading treatment which is absolutely prohibited under international law," said Usman Hamid, executive director of the organization in Indonesia. "Raiding people and using a fire truck to hose them down in public are totally unacceptable, as is any other act of violence and discrimination against transgender women or other LGBTI people."