A physician in India has gone viral on Twitter after a colleague shared a video of him dancing for patients with COVID-19.
Dr. Arup Senapati, an eyes, nose and throat (ENT) surgeon at Silchar Medical College, busted a move with no difficulty while wearing a complete set of personal protective equipment (PPE).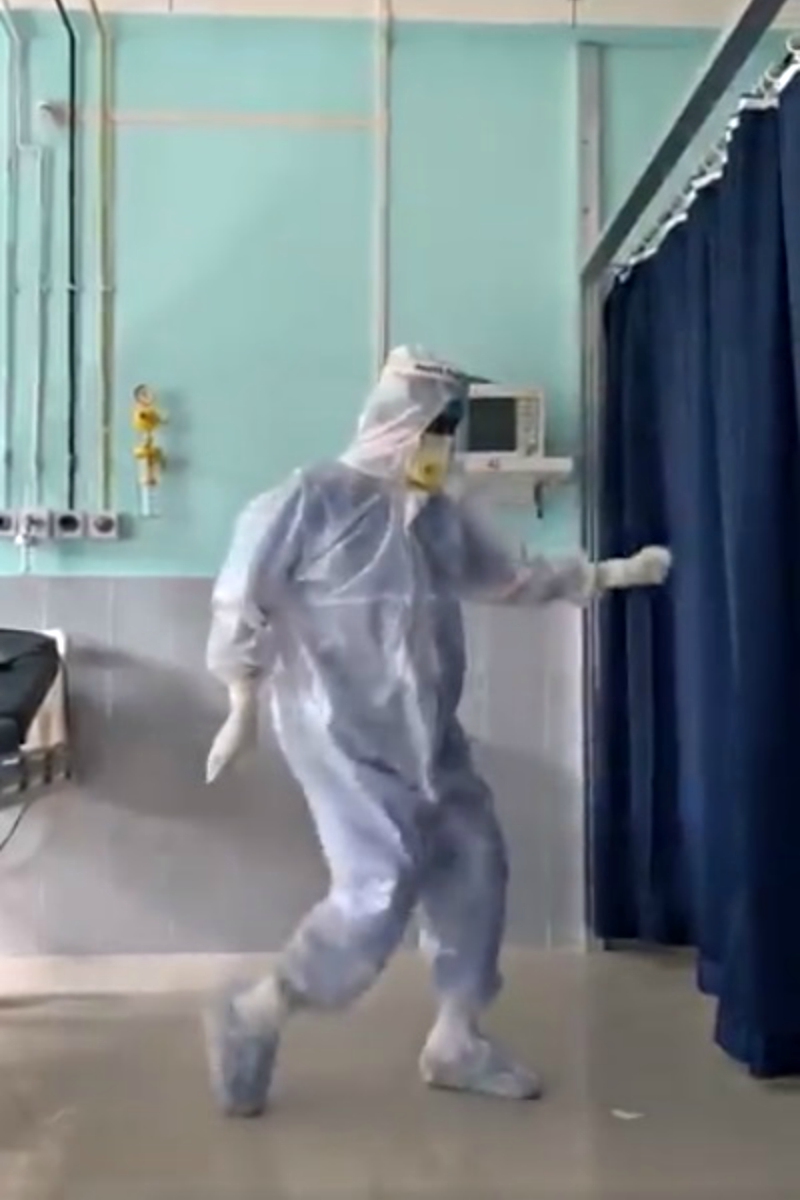 "[He's] dancing in front of COVID patients to make them feel happy," said Dr. Syed Faizan Ahmad, who shared the video of his colleague.
As seen in the video, Arup shows off his moves to the beats of "Ghungroo," a viral song from the 2019 Bollywood hit "War."
Meet my #COVID duty colleague Dr Arup Senapati an ENT surgeon at Silchar medical college Assam .
Dancing infront of COVID patients to make them feel happy #COVID19 #Assam pic.twitter.com/rhviYPISwO

— Dr Syed Faizan Ahmad (@drsfaizanahmad) October 18, 2020
The video has received 5.3 million views since its posting over the weekend.
Many praised Arup for his dancing skills, but more importantly, for his love of duty in these difficult times.
"He's too good," one user commented. "And salute to him and all the front line warriors holding up in these testing times. We are indebted."
Another wrote, "All respect to this man, I've danced in heavy clothing like this, and in cold weather; doing it in a hospital, in that gear, he must be sweating up a storm. So much respect."
If I see nothing else today, this will be fine. It has made my day.

— Thaddeus Arjuna, Writer and Cat Prisoner. (@ThaddeusArjuna) October 19, 2020
This is actually what happens when one loves one's duty.
This doctor can shake a leg.

— Mahmood Arif (@ArifMah48958702) October 18, 2020
Hatts off, after so much of stressful days they have, to do this with such ease👏👏 bow my head with respect❤️❤️

— Satya_INC। ರೆಬೆಲ್🌐 (@satya_kg) October 18, 2020
Standing ovation to ur dancing talent & d sentiments behind it as well👏🏻👏🏻👏🏻

— Shree Speaks (@StayingReal0511) October 19, 2020
They are Doctors ,not magicians .They can only treat patients with the limited facilities at their disposal .Trying to lift the spirits of those in their care is not a cardinal sin . Majority of them have not been paid for months , don't forget .

— nirlep sohal (@dijuli22) October 19, 2020
Feature Image Screenshots via @drsfaizanahmad