Despite being an
emerging country with a lot of potential for growth, India has continued to get sadder by the year, according to a recent U.N. report.
According to the United Nations' World Happiness Report 2017, the country has fallen four spots from last year's 118th place in the global ranking of the happiness index. It was at 117th in 2015.
The study, which bases its findings on GDP per capita, life expectancy, social support, trust, freedom to make life decisions and generosity, places India even behind war-torn nations such as Iraq and the Pakistan,
Mashable
reports.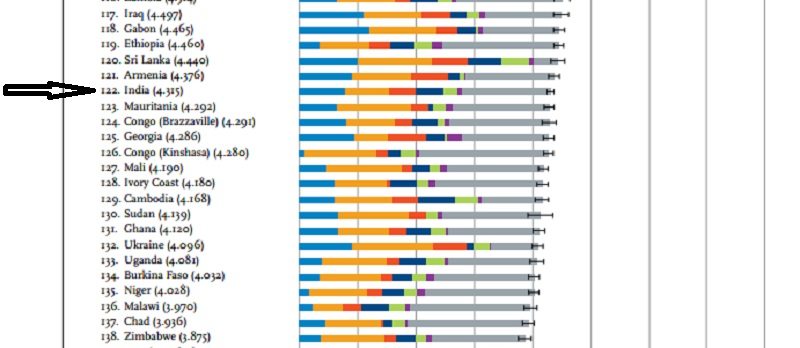 At its current rank of 122 out of 155 countries, India is now the unhappiest country among the grouping of emerging economies in BRICS (Brazil, Russia, India, China and South Africa). Among SAARC (South Asian Association for Regional Cooperation) member nations, the country is now the second-lowest.
However, despite having slipped consistently in the ranking in the last three years, India has been posting economic growth.
In fact, the country's
gross domestic product
(GDP) is growing at a pace faster than most of the world's countries.
Subscribe to
NextShark's Newsletter
A daily dose of Asian America's essential stories, in under 5 minutes.
Get our collection of Asian America's most essential stories to your inbox daily for free.
Unsure? Check out our Newsletter Archive.
So, what is exactly causing its 1.3 billion citizens to be sad?
The report from last year highlighted the country's dwindling social support offsetting 
its positive accomplishments.
India's age-old social problems have persisted. 
For one, the country's malnutrition problem has remained the worst in the world.
According to the World Bank, malnutrition cases among Indian children are double those in Sub-Saharan Africa and about five times more than in China.
Millions of Indian children are still deprived of quality education as they are forced to work as laborers at a very young age. 
But it's not just the kids — grown ups are largely unhappy too. Aside from feeling tired and overworked in their jobs, Indians also lack the opportunity to take vacations.
Added to that are certain traditions that trample on the rights of others that continue to exist in parts of the country.
Honor killings, which involve the murder of relatives who were adjudged to have brought dishonor to the family, may have already ceased about a century ago in most parts, but the UN has noted that it still persists today.
Figures from the UN reveal that 20% of all honor killing cases in the world each year comes from India. Last year, the country even posted a record 800 % rise in honor killings.
Yet, despite all this, India has continued to lay claim to the title of being one of the hottest investment destinations in the world, especially in tech.
That, and the other social ills mentioned above are certainly no reason to be cheerful about.
UN's World Happiness Report 2017 also posits that both the United States and China have also registered declining happiness.
Meanwhile, the list ranked Norway as the happiest this year, followed by Denmark, Iceland and Switzerland.