A photograph of four young women purportedly hosing a fire during the Japanese attack on Pearl Harbor has appeared on several mainstream publications and history books as an iconic symbol of determination against adversity.
It was later revealed, however, that the image was actually taken from a training exercise.
Sourced from stock images supplier Getty Images, publications used the photo's caption, which read: "On that fateful December 7th, 1941, these girls of Pearl Harbor helped extinguish the flames that were raging at the naval base. They were the first women defense workers of America."
LIFE Magazine, the History Channel and several war photo books carried the image using such pretext but eventually drew heavy skepticism from the public.
To investigate, NBC sought help from its readers in identifying the women in the image.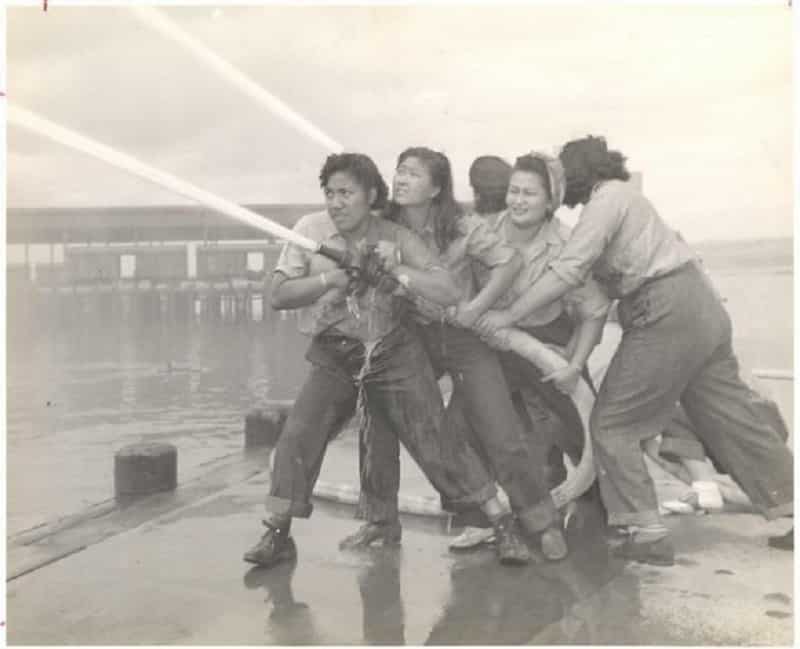 A reader reportedly mentioned the name of Dorothea 'Dee' Buckingham, a librarian who had previously written extensively about women in the war.

Buckingham unearthed the picture from the Hawaii War Records Depository, which contains more than 2,000 photographs taken for local publications between 1941 and 1946.
This image had a caption containing the names of the photographed women: "A crew of women firefighters, all crews having been chosen from personnel working in the immediate vicinity of the pumper stations. From left to right: Elizabeth Moku, Alice Cho, Katherine Lowe, and Hilda Van Gieson."

Here's another photo taken that day: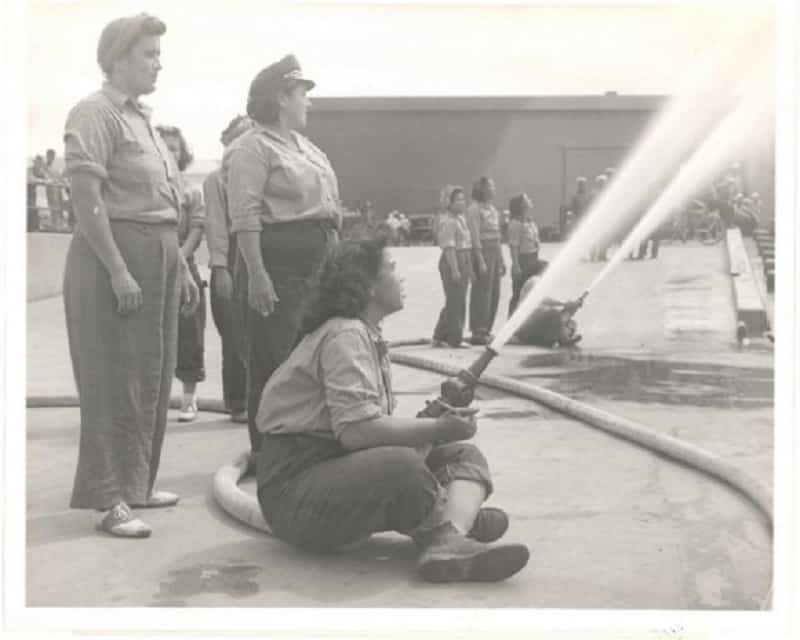 As it turned out, Katherine Lowe, one of the women in the photos, was still living in Laie, Hawaii at the time of the investigation in 2011.
Lowe, who was then aged 96-year-old, expressed shock when she saw the photo for the first time.
She said she was sure it was taken on the day Pearl Harbor was attacked as she remembered going to church when the bombing began.

"We were ready to go to church. We didn't know we were at war," Lowe was quoted as saying. "We went to church anyway. We were looking at all the planes bombing."

She revealed that when America joined the war, she took a civilian job at a storage facility in the Pearl Harbor Naval Shipyard.

"We were rugged," Lowe told NBC. "We carried heavy stuff, oil drums, bags, anything that needed to be stored."

She noted that they got trained for firefighting since fires in the storage areas were common.

Lowe shared that she remembered putting out a real fire during a practice: "It was a lot of fun. We'd shoot water at one another."
While Lowe cannot recall having their image taken, she believes it was shot from a training exercise at the Pearl Harbor shipyard.
According to Lowe, she stayed friends with Moku, one of the women in the picture, after the war. Moku reportedly retired as a Navy commissary cashier and died in 1986. The other women in the photo, Cho and Van Gieson, have also passed away, according to public records.