Netizens took to social media on Sunday to share their sweet, thoughtful messages for their moms, and loved ones who are also mothers, in celebration of Mother's Day.
But while social media feeds around the world were teeming with heart-tugging posts for that person who brought us into the world, one girl's post in Hong Kong has gone viral for its brutal criticism against her mom.
The post, which showed a photo of a young girl's mean-spirited mother's day card, first appeared on a Facebook group where parents discuss how much homework their children get, reports HK01 via Coconuts Media.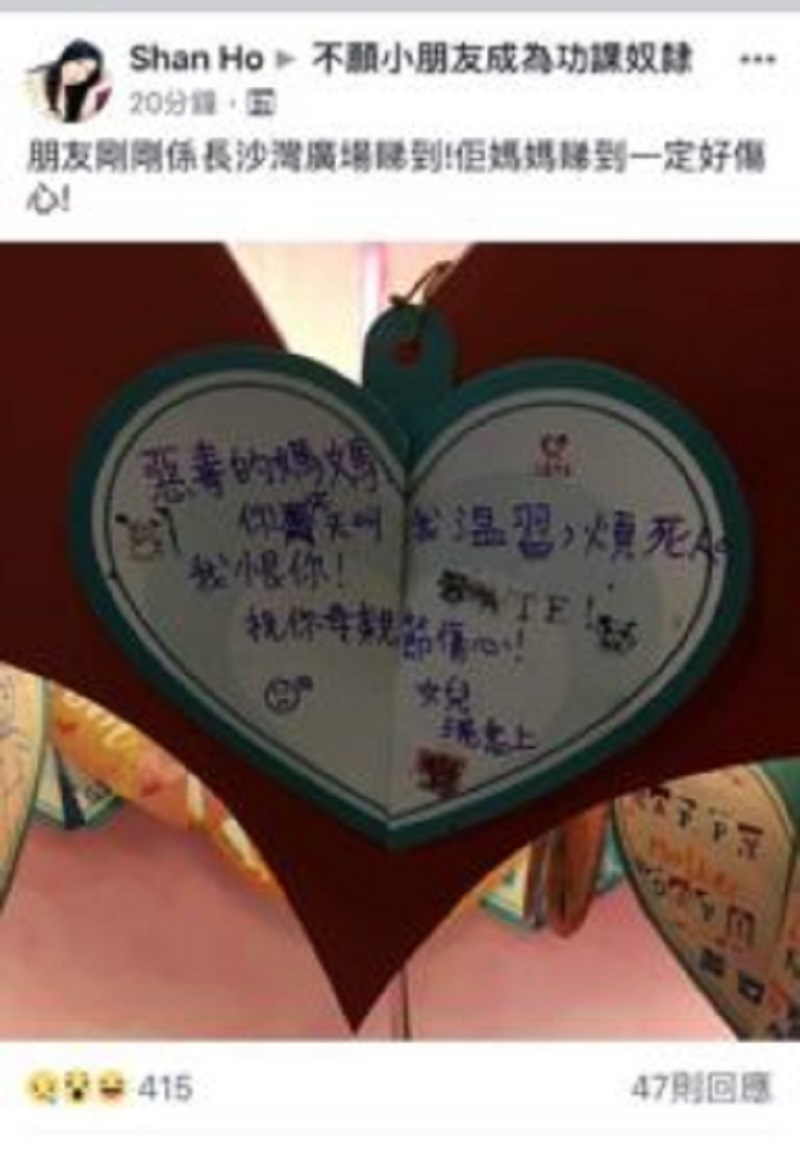 "To my vicious mother," the girl wrote. "Every day you tell me to revise and it annoys me to death. I hate you! Wishing you a sad mother's day. Your daughter."
The group member, who reportedly found it in Cheung Sha Wan Plaza, posted the card under the caption, "Her mum will be devastated when she sees this!"
While the card did contain a few hearts, there was also a drawing of an angry face and the words "hate" stamped in English. It was also signed with the girl's own name, Wan Kiu-sheung.
The "hateful" Mother's Day card sparked discussion among netizens on how excessive studying can affect a child's happiness. Many of those who commented on the post also expressed concern that the child who made the card might have depression.
Some Hong Kong parents acknowledged that their children face increasingly heavy homework load these days.
"I myself tell my daughter to revise every day," one netizen commented. "If she doesn't I don't know what will happen in the future, if I let her be she won't do it, it's hard being a parent."
Featured Image from Facebook Group HKGolden via Coconuts Media