An Asian American YouTuber who was reported last year to be making $11 million a year is now making double that amount, according to Forbes.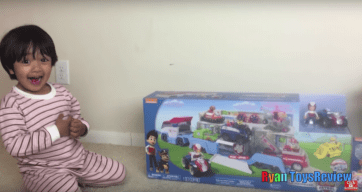 Ryan of Ryan ToysReview has racked up almost 26 billion views since his start in March 2015. He has 17.3 million followers on his toy review channel, mostly children around his age.
Most of the $22 million that Ryan's channel has made to date comes from pre-roll advertising, in which the greater the number of views, the greater the automated ad revenue. The remaining $1 million comes from sponsors.
Not only does Ryan have a popular YouTube channel, he also launched a line toy and apparel line with Walmart this past August. Ryan described seeing his face on the line as "cool."
Unboxing has been a growing trend in the YouTube space, where content creators post videos of themselves opening up various consumer goods. In Ryan's case, that might be toys ranging from Disney's "Cars" to "Paw Patrol," as seen in his most popular video.
"Unboxing videos provide the proxy for actually experiencing the joy of receiving and opening something you really desire; this is especially true for items that are out of reach or unattainable," Chas Lacaillade, founder and CEO of Bottle Rocket Management, said to Forbes. "The next best thing to owning one is experiencing it virtually, seeing someone else play with it."
Ryan had recently told NBC why he thought he was so successful.
"I'm entertaining and I'm funny."
Comments have poured in supporting the star, with many feeling inspired to recreate their own lives.
A little preschooler plays with toys and gets more money each video than I do for working part time at McDonald's juggling my school and work life. Dammit now I want to be 4.

— Eømma Cxce (@cxce_e) December 4, 2018
He is, and inspiring parents to take advantage of their kids and make dolla dolla moneyyyyy

— TOBGShO but lizard (@TOBGShO) December 4, 2018
I wanna end my existence Forbes. Thank you.

— YaBoyJordan (@JordanSinceDay1) December 4, 2018
Others were less than supportive of Ryan's accomplishment, even calling for a ban of the videos.
My little girl is help making him rich by watching so much. You're welcome, Ryan.

— Janeen Mikell (@MissNeenieBaby) December 4, 2018
I can see $$$ sign in his mum's eyes. She has taken over the show long ago with her endless unbearable scream.

— Veysel YAZICI (@veyselyazici) December 4, 2018
My cousins kids watch him almost all day! I got curious and watched his videos with the kids. What do I think? These videos should be banned from the kids cuz he's setting bad examples for the children. I don't understand why stupid videos are more popular nowadays. That's sad.

— Jess (@jessngkehuey) December 4, 2018
So where does all that money go? Obviously, some of it goes towards toys. Due to Ryan's young age, 15 percent of his earnings also go into a Coogan account until he is a legal adult.
Featured images (Left) Instagram / @ryantoysreviews and (Right) Youtube / Ryan ToysReviews