Editor's Note: This
post has been updated with additional comments from Madison's mother, Christina Chacon.
A Korean American high school senior in Georgia is being praised on social media for speaking up against racism toward the Asian community in this time of coronavirus pandemic — especially after her authenticity was questioned by no less than a principal.
On Sunday, the student,
Madison Williams
, took to Instagram to expose a former friend who complained about missing her graduation because
"some ch*nkeye piece of s*** decided to eat a bat."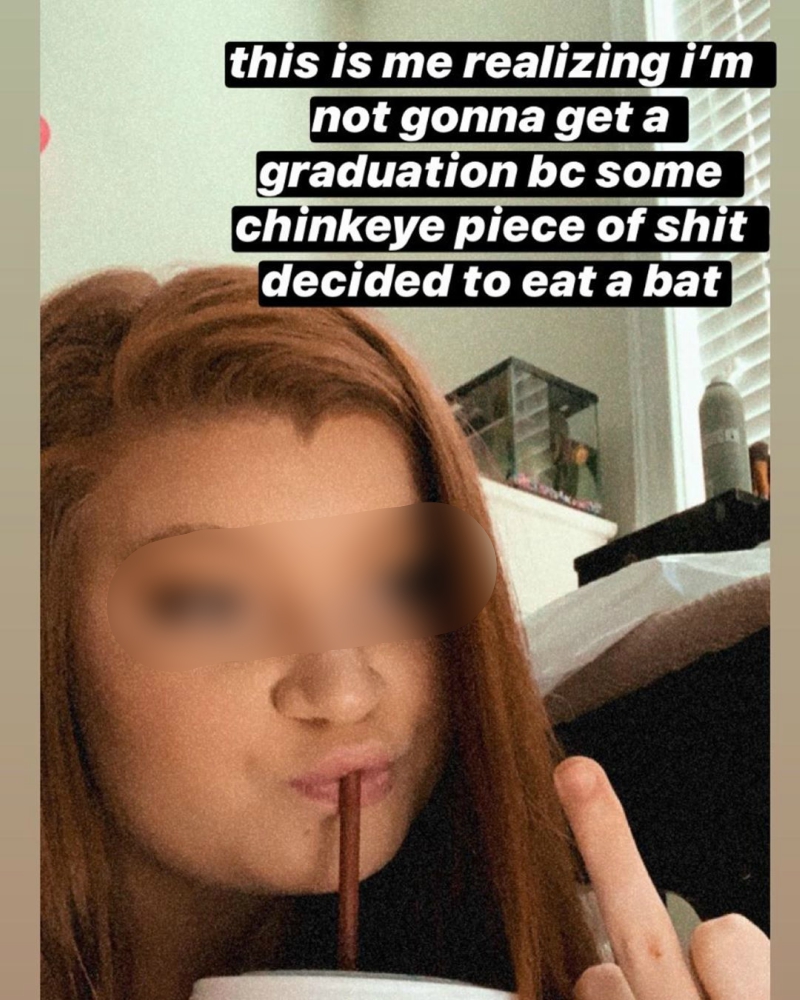 A screenshot of her former friend's post shows her giving the finger while sipping from a straw.
"As if all of us are not upset that our senior year is now spent in the confines of our own home. I do not take racism lightly, especially towards my people,"
Madison
wrote
.
"I hope this speaks for all of the minorities out there who felt they had no voice when presented with prejudiced remarks."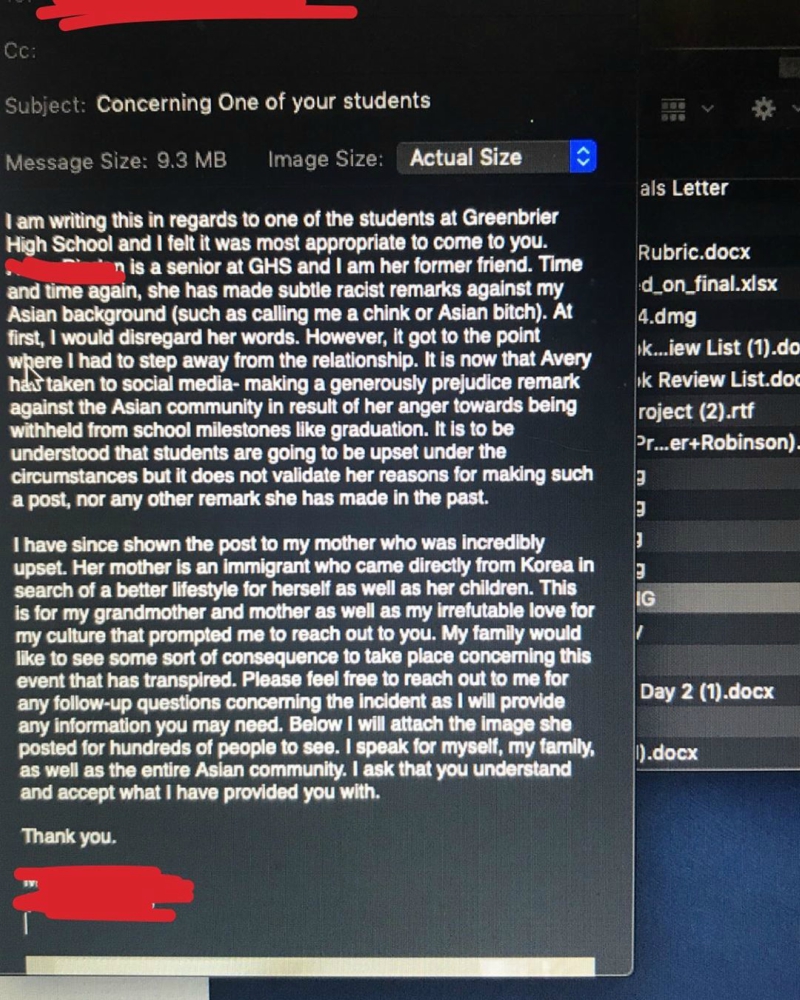 Madison claimed that she had reached out to the principal of her former friend's school, Greenbrier High School, for help.
Unfortunately, the principal dismissed her report without further discussion, suspecting that she had used a fake name.
"I do not act on emails from senders who do not have the courage to use their real names," Principal Carla Shelton replied in an email. "In addition, the student in question did not make a threat toward the school or others.
"If you beg to differ with my analysis, I would suggest you contact law enforcement. In addition, I need to inform you that I have already informed them of your email to me," Shelton wrote, adding that Madison's parents should expect a visit "in the very near future."
Subscribe to
NextShark's Newsletter
A daily dose of Asian America's essential stories, in under 5 minutes.
Get our collection of Asian America's most essential stories to your inbox daily for free.
Unsure? Check out our Newsletter Archive.
"Your principal shut down my request for help — allowing for yet another issue to run free of consequence," Madison wrote in her Instagram post. "My heart goes out to both of you in hopes that you change your mentality."
Shortly after Madison received Shelton's response, her mother,
Christina Chacon
, took to Facebook to slam the principal. She shared similar screenshots of Madison and Shelton's exchange.
"I am so proud of Madison for speaking up. But this is the response she got back,"
Christina
wrote
.
"The Greenbrier High School principal accused my daughter of lying/hiding about her identity (when clearly her full name and number was listed) and also threatened to turn the email to the authorities.
"How the F did this flip onto my child!?!?"
In an update, Christina claimed that Shelton had called a deputy police, who then contacted her. Christina and Shelton connected later.
"There is a case number now,"
Christina
noted
.
"She [Shelton] reiterated what was stated in the email. She said she couldn't find Madison in the school system and she was not about to call the number … I lost it at that point."
Christina criticized Shelton for "discrediting and threatening" her child. She also explained how Madison's former friend affects Shelton and Greenbrier High School as a whole.
"This child is a student at Greenbrier H.S. Her racist post can potentially contribute to the ongoing hate crime due to the height of the coronavirus outbreak. The students represents the school. The principal that discredited my child's email also represents the school. They both failed to show morality and integrity," Christina wrote.
In her latest update, Christina
announced
that she had spoken to Dr. Sandra Carraway, Superintendent of Schools in the Columbia County School District (CCSD). Carraway apologized on behalf of Shelton's actions but
"spew on why Shelton is the way she is."
According to Christina, Carraway admitted to Shelton as being "unprofessional."
"There were a lot of 'I'm not trying to makes excuses for her but…', 'She's very black and white' and 'I've known her for a very long time' statements in the conversation."
Christina also shared a statement from Madison, who clarified that she had warned her former friend to take her post down first. Unfortunately, that never happened.
In addition to Madison's statement, Christina shared a letter from Shelton to stakeholders of Greenbrier High School. In it, the principal stressed that she would "never condone the use of racial remarks towards another human being at any point in time," but justified her action of reporting Madison's email to law enforcement.
"On March 29, 2020, I received an email from an individual who I could not identify in our student information system or find evidence the individual had ever attended Greenbrier High School. According to the area code attached to the number provided, it appeared the sender was from the Atlanta area. Based on the information I had to this point, I believed the email address was most likely from a fake account. Sadly, we have to deal with these kinds of situations all too frequently," Shelton wrote in defense of her actions.
She continued, "Upon review of the social media post emailed to me, I determined the author of the post made no terroristic threat toward the school or individuals in the school. I understand the author's post on social media was horrific on many different levels. The picture and language posted by the author were highly inflammatory and offensive in nature, but the author did not name a specific student in the post.
"Although it may be difficult to understand, as the principal of the school, in most instances, I have no authority or control over the actions of students outside of the school day and using their own technology devices unless their posts cause disruption of the school environment."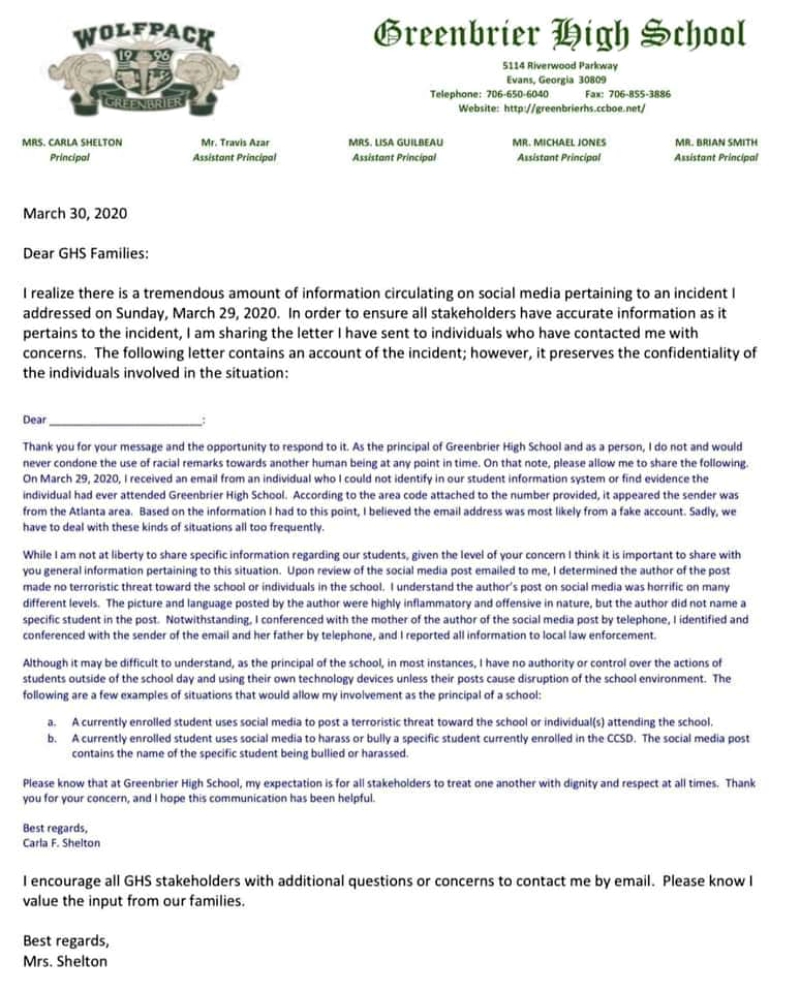 Shelton explained that she, as a school principal, can only be involved in instances such as "a currently enrolled student uses social media to post a terroristic threat toward the school or individual(s) attending the school" and "a currently enrolled student uses social media to harass or bully a specific student currently enrolled in the CCSD."
Denouncing racism, Madison believes Shelton only made a statement because the public had already reached out to her.
"I believe the whole Asian Community was targeted. This slur does not just pertain to me. We are constantly harassed for traits we cannot control, even worse now that COVID-19 is prevalent," Madison wrote. "Racism should be denounced and the way the principal handled the situation was beyond unprofessional."
Christina told NextShark that Shelton has not apologized to either Madison or her.