Seeing nails painted with faces might sound creepy, but South Korean illusion artist Dain Yoon's latest artistic display just took that idea to the next level by adding hair.
The 23-year-old arts school graduate from Seoul launched the bizarre 2017 fashion trend after posting the "hair nails" picture set on her Instagram and Twitter accounts.
While Yoon's artistic new trend might appear horrific at first, her hair nails are actually quite intricate, from the highly-detailed faces to the long locks of hair on each individual finger.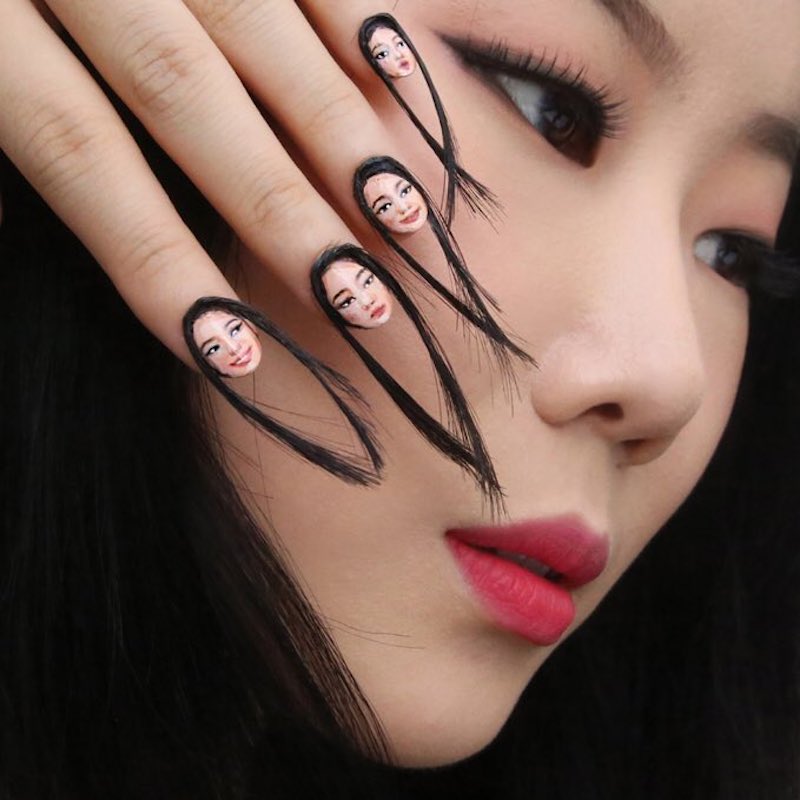 Many urged Yoon not to post photos of her absurd yet captivating "hair nails", but she opted to post the photos on her social media page anyway.
Many people told me i should delete those my photos before becoming a new trend 😂 pic.twitter.com/NZ7FD1dFDM

— Dain Yoon (@designdain) September 10, 2017
The illusion artist's strange nail trend even prompted others to come up with their own versions of the "hair nails".
Better without the hair tho! pic.twitter.com/DvDjX877aM

— Bad Boy Brazil (@Bad_Boy_Brazil) September 10, 2017
While Yoon's art work could be the start of even more quirky new nail trends in 2017, some believe that it's too disturbing to have a following in the world of fashion.
— David (@_Mindtrick_) September 10, 2017
And how does one use toilet paper to wipe your back side with those? pic.twitter.com/fzgGkaer1B

— OLIVIA FOX RADIO (@Oliviafoxradio) September 10, 2017
— 재렌 (@scereneser) September 10, 2017
Yoon's "hair nails" are just a small glimpse of the rising number of unusual fashion trends in 2017.
According to Independent, the squiggle trend exploded onto the fashion scene after numerous bloggers showcased their strangely wavy lips and eyebrows. Some netizens complimented the "squiggle brows" describing it as a cool new look, while others thought it was ridiculous since it looked as if the person's face was melting.
Strange new clothing such as fake camel toe underwear and elongated face masks have also apparently become a thing in some Asian countries.
Images via Instagram / designdain