When news emerged that Hailee Steinfeld could be playing Kate Bishop, protege to Jeremy Renner's Clint Barton in the Marvel Cinematic Universe, social media went haywire. 
The 22-year-old actress is in early talks to star in the Disney+ series "Hawkeye" opposite Renner, according to Variety.
The role, which is based on the Marvel comic book character Kate Bishop, was created by Wonder Woman screenwriter Allan Heinberg and artist Jim Cheung.
View this post on Instagram
Twitter immediately erupted with support from both fans of Steinfeld and the MCU as well.
Please say yes, please be confirmed. Please 🙌🏻 #Hawkeye #KateBishop pic.twitter.com/EkbHHMfwQQ

— Fred Campo (@MutantJediMouse) September 9, 2019
This true? if it is, it's the best news I've gotten all week #KateBishop pic.twitter.com/NiDCQhQfiO

— Simon Dex (@DiasantaSimon) September 10, 2019
#HaileeSteinfeld as #KateBishop is INSPIRED casting.

She blew me away in #TrueGrit. She brought so much life to #Bumblebee and #PitchPerfect. She's incredible in #EdgeOfSeventeen and #Spiderverse.

Kate Bishop is smart, capable, funny, headstrong yet vulnerable. Perfect. pic.twitter.com/qd8bzUxI3q

— Coy Jandreau (@CoyJandreau) September 9, 2019
The BEST choice for the role!!!!!!! #KateBishop #LadyHawkeye pic.twitter.com/NQa9IhI6wt

— NinjaBoy⚔️ Loved Endgame 3000 🅰️4️⃣ (@NinjaRivs) September 9, 2019
However, not all reactions were positive as there were a few people who also expressed displeasure with the casting.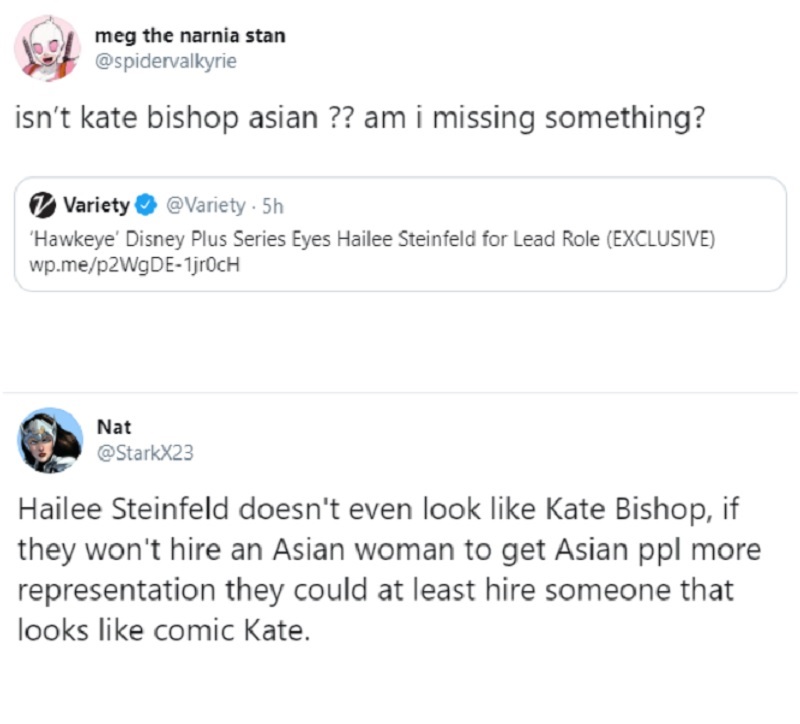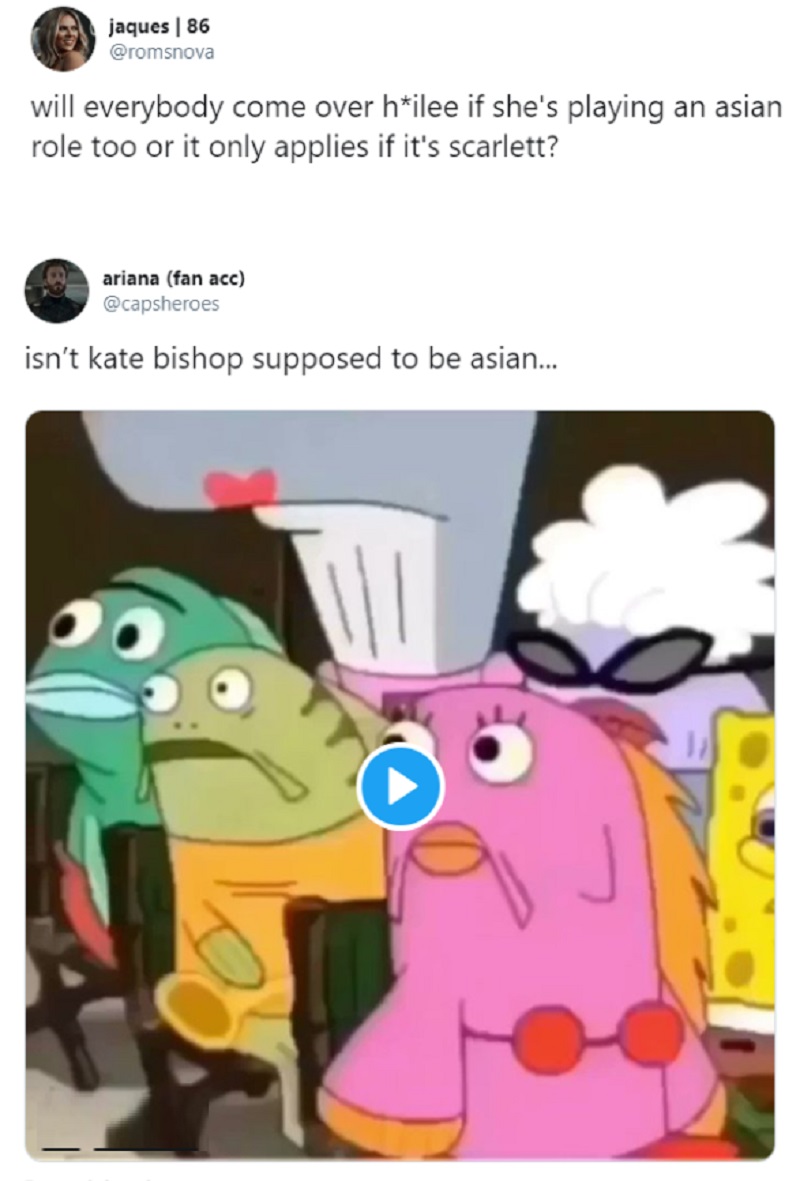 Most of the negative reactions were apparently accusations that the casting was a form of whitewashing.
(No Sarcasm intended) Ok so people are upset Hailee Steinfeld (who has Asian ancestry) was casted as Kate Bishop (who might be white but perceived as Asian by fans) because it's white washing
This is a lot to process pic.twitter.com/lkpXOaamni

— Xandaya (@HeeHeeHarley) September 9, 2019
It is worth pointing out that Kate Bishop was never depicted in the comics as an Asian woman. While her ethnicity was never referenced in the comics at all, some fans might have assumed her race due to the art styles used on her in the different titles she appeared in.
I don't know what's worse about these hot takes. The fact that Kate Bishop IS NOT ASIAN in the books or the fact that Hailee Steinfeld ACTUALLY IS PART ASIAN. SMGDH. pic.twitter.com/ahv7n7N6oR

— TASK the Ol' Nerdy Bastard. #StillWorthy (@UpToTASK) September 9, 2019
Even co-creator Cheung once commented on Bishop's racial ambiguity via a Tumblr post: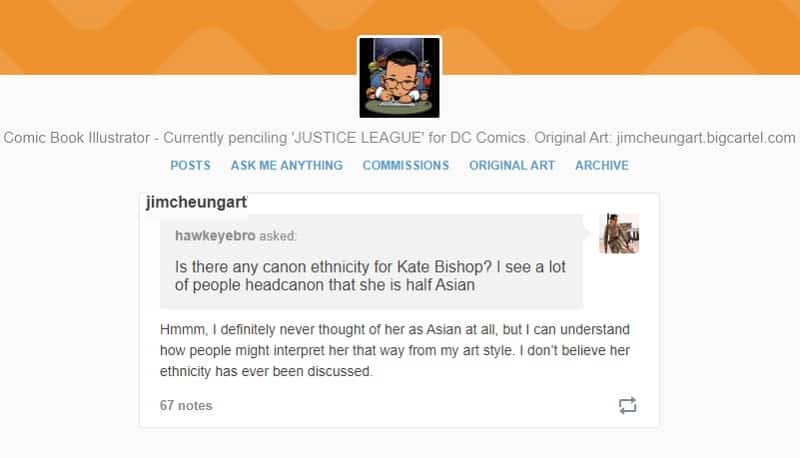 Another detail the naysayers failed to look up before their online tirade is that Steinfeld is actually part Asian.
Kate Bishop's white in the comics. And Hailee Steinfeld is half Asian. Soooo 🤡 pic.twitter.com/1ptum9lOqU

— Bricks_Ahoy (@AhoyBricks) September 10, 2019
Her mom is Filipino American interior designer Cheri Steinfeld whose family hails from Bohol, Philippines.
For those saying Kate Bishop is an asian, Hailee Steinfeld has Filipino blood, also for those who think she can't make it, remember that she revive the transformers franchise and already being nominated at the oscars at the age of 13. thats it. HAILEE STEINFELD fits KATE BISHOP. pic.twitter.com/BYT4EyVXjA

— aly loves Soonfeld (@haizfact) September 9, 2019
While the role is yet to be confirmed by Steinfeld or Disney, Steinfeld's casting is already anticipated by many to include appearances in future films set within the MCU. In the upcoming series set to premiere in November, Renner's Barton will pass the "Hawkeye" mantle onto Bishop.
Steinfeld, who is also starring in Apple's upcoming series "Dickinson," is known for her roles in films such as "True Grit," "The Edge of Seventeen," "Bumblebee," and the "Pitch Perfect" franchise.
Featured Image via Instagram haileesteinfeld