Although "Minari" has received praise from critics, the Golden Globes placed the film under the foreign-language category due to a rule created by the Hollywood Foreign Press Association (HFPA).
According to the HFPA, at least 50% of a film's main language must be English for it to be placed under two of the most competitive categories at the Golden Globes, Entertainment Weekly explains.
"Minari," however, is mostly in Korean, making the film ineligible to compete.
"Motion pictures that qualify for the Best Motion Picture – Foreign Language award also qualify for awards in all other motion picture categories except Best Motion Picture – Drama and Best Motion Picture – Musical or Comedy, which are exclusively for English-language motion pictures, and Best Motion Picture – Animated," the official Golden Globes guidelines state.
The Academy Awards were also accused of racism for placing "Minari" under the Foreign Language category instead of Best Picture.
The Lee Isaac Chung film follows the story of an Asian American family in 1980s Arkansas. The movie was also produced by a U.S. company and directed by an Asian American.
Minari is US produced, about an American family & their relatable American story.

"Golden Globes do mandate that "any film with at least 50% of non-English dialogue goes into the foreign language category."

Racism in all its forms is illogical https://t.co/ryHF2feNOl

— Jeffrey Rousseau (@JRpotential) February 4, 2021
we gonna talk about the casual racism from the golden globes nominating minari as a "foreign film" oooor???

— jamal (@reggiegotlag) February 4, 2021
wow this years golden globes really didnt have any shame and said "yes we are racist" by nominating minari as a foreigner picture and not nominating sandra oh

— eri / no body no crime stan account (@gothicwhr) February 3, 2021
Social media users pointed out that the Golden Globes placed "Minari" under the foreign film category but failed to do the same for the 2009 Quentin Tarantino movie "Inglorious Basterds."
— Art-Eater ➡️⬇️↘️🐲👊 (@Richmond_Lee) February 4, 2021
OK I'm a Korean immigrant & the fact that Minari was labeled foreign by Golden Globes while Inglorious Basterds w/ its umlaut-laden dialogue was not makes me question how far we've come since Rooney's yellowface in Breakfast at Tiffany's. Thx @lpolgreen @HarryShumJr @phqntomthrd https://t.co/U4Xg22KmY6

— Yoonj Kim (@YoonjKim) February 4, 2021
The 2009 film, which stars Brad Pitt, Christoph Waltz, Michael Fassbender and Daniel Brühl, was nominated for Best Picture Drama even though only "30% of the film is spoken in English," as stated in its IMDB trivia page. The main languages of the film are French, German and Italian.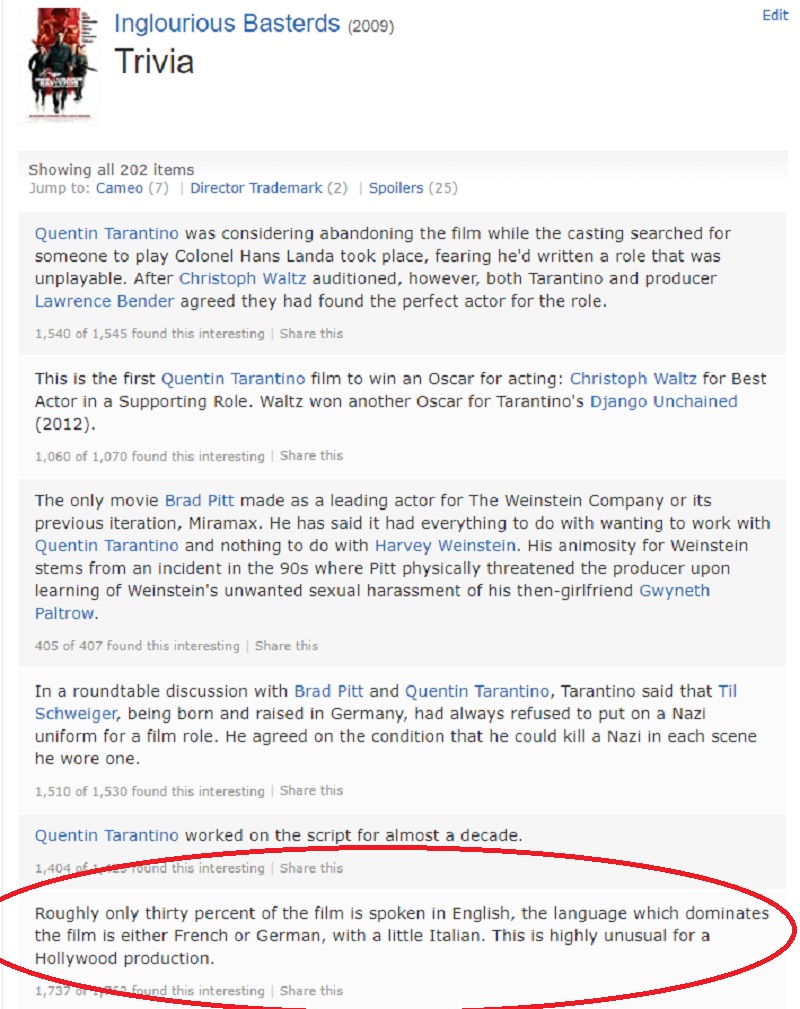 Lulu Wang, the director of Awkwafina's "The Farewell," tweeted her disappointment last December about "Minari."
I have not seen a more American film than #Minari this year. It's a story about an immigrant family, IN America, pursuing the American dream. We really need to change these antiquated rules that characterizes American as only English-speaking. https://t.co/1NZbkJFE9v

— Lulu Wang (@thumbelulu) December 23, 2020
Despite the Golden Globes' decision, "Minari" still took home trophies from other awards ceremonies. The film was named Best Picture and Best Foreign Language Film by the New York Film Critics Online. It also won other awards at festivals such as the Sundance Film Festival and the Capri Hollywood International Film Festival, according to Yonhap News Agency.
Feature Image via Why You Laughing ?