A Filipina American nurse was harassed by a White woman while giving out free water and masks during a Black Lives Matter protest in Fort Lee, New Jersey.
What happened: Krystle Ann Batong and her friend were handing out free water and masks to BLM protesters and police at the Fort Lee protest on June 16 when the woman, identified as Melissa Osso, approached the two and screamed at them.
"This other woman, screamed at us, at the top of her lungs, saying shame on you and claimed that we were paid actors to come to Fort Lee and cause division, and cause chaos," Batong told Balitang America.
Osso was live-streaming when she harassed Batong and her friend, attempting to move closer to Batong without a face mask.
During the confrontation, Batong repeatedly asks Osso to stay six feet away from her.
"I've already been called a racist, because I called them out for being divisive, for providing water which Black Lives Matters usually does, they provide water at this events, it's not organic, it's infiltrated, it causes division in our town and I'm not standing for that," Osso claimed.
Osso attacked them a second time and, again, live-streamed it to her audience on Facebook.
"Here they're providing water bottles, and they got their masks, see if you notice a commonality of shirts, you see the shirts, do you notice the commonality… there's water," Osso said.
"I was also just hurt and I was angry, I couldn't understand why she was attacking us for just handing out water," Batong said.
Osso also harassed the BLM protesters that allegedly resulted in her being confronted.
In one of her Facebook posts, Osso alleged that protesters took her cardboard and spat in her face.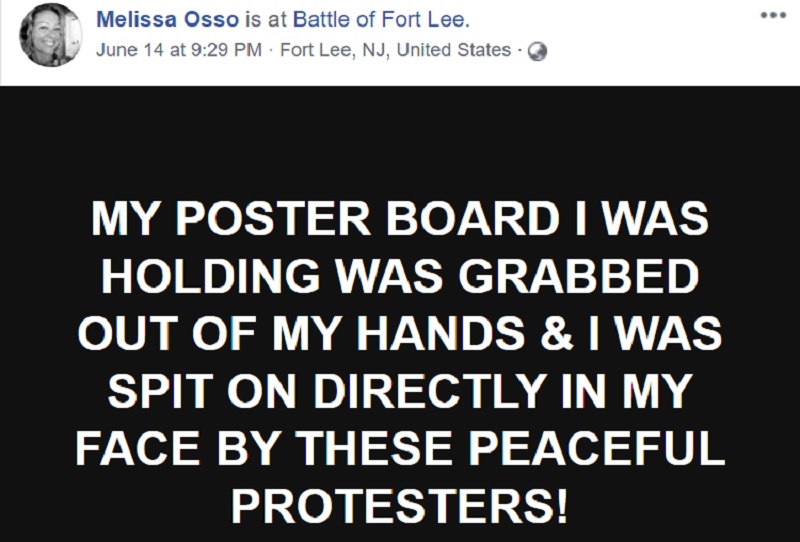 The message: Batong said the BLM movement's aim is to stop the police brutality, she told Balitang America.
"We want accountability, want black lives to matter to everybody, it's so sad for me to see someone so focused on [a] conspiracy theory," she said.
The U.S. is currently facing country-wide protests following the murder of George Floyd in late May.
People are marching on the streets not only to call for justice for the death of Floyd but also Breonna Taylor, Ahmaud Arbery, and others.
The protest in Fort Lee ended peacefully without any incidents.
Osso was not available for comment via Facebook.
Feature Image Screenshot via Balitang America TFC