While China has seen its significant share of farmer-turned-live-streamers, the rise in popularity of Dong Desheng (董德升) is particularly noteworthy because it challenges the ideas of racial identity in the country.
Desheng, a farmer from Heilongjiang province in Dongbei, China, amassed a significant following as a livestreamer on the video platform Kuaishou (快手, also known as Kwai).
Sharing everyday farm life with his followers, Desheng gained widespread attention for his humor and overall positive vibe.
While Desheng also talks about Chinese traditions and customs, viewers new to his streams might initially get confused as he does not look like the majority of Chinese nationals who are of Han descent.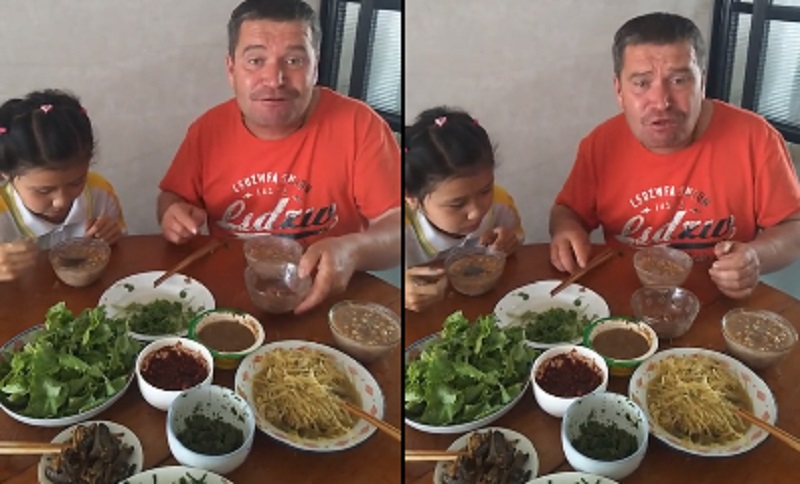 Desheng, who belongs to China's 15,000 ethnic Russian citizens, hails from Xunke (逊克县) a town situated near the Chinese-Russian border.
Desheng's ancestors, surnamed Petrov, crossed the Amur River during the October Revolution in 1917 to flee Russia.
When his Russian great-grandmother got remarried to a man from Shandong province in China, the family adopted the Han surname of Dong (董).
After three generations, Desheng has assimilated into the culture he grew up around. He now speaks only dongbeihua, a northeastern Chinese dialect, and has settled down with a Han woman, whom he has two children with.
On Kuaishou, where he has accumulated over a million followers, Desheng is better known as "Uncle Petrov" (彼得大叔), referencing his Russian family name.
Many of his fans openly express their fascination over a Russian-looking man speaking perfect dongbeihua, with some wondering how he was able to master the language.
It is worth noting that Desheng addresses this in his bio on Kuaishou, where he emphasizes his Russian origin and Chinese upbringing:
"Born-and-raised Heilongjiang native of Russian descent, grew up in Dongbei, and speak no Russian."
According to RadiiChina, Desheng's livestreams have somehow created a venue for netizens to reimagine how the Chinese identity is perceived since there is little to no discussion of race in China or on local social media platforms.
There is not much diversity in the 56 "officially recognized" ethnic groups in China, as 92% of the Chinese population belongs to the Han majority. Even some ethnic minorities such as Hui, Manchus, and Koreans share similar features with Han Chinese.
However, for the other groups, such as the Uyghurs, Kazakhs, Tajiks, and Russians, fitting into the traditional definition of "Chinese" is more of a challenge.
Because of their skin color and appearance, members of such groups often experience prejudice and discrimination from the major ethnic groups.
Desheng's popularity, however, offers some hope for cultural discovery and bridging towards finding some commonality despite the difference in skin color.
"Looking at his face, [you would think] he's a foreigner," one commenter pointed out. "But just as he says [himself], it will only take him one minute to convince you that he's Chinese."
Featured image via Kuaishou/彼得大叔