A Facebook hate group has come out taking credit for driving "Star Wars: The Last Jedi" star Kelly Marie Tran off social media.
Last week, the 29-year-old actress removed all her posts on Instagram without warning. Sources reported that it was due to all the online harassment Tran got after she got the role of Rose Tico in "Star Wars: The Last Jedi."
On June 8, "Down With Disney's Treatment of Franchises and its Fanboys," an online Facebook community group, took credit for the incident by releasing the following statement: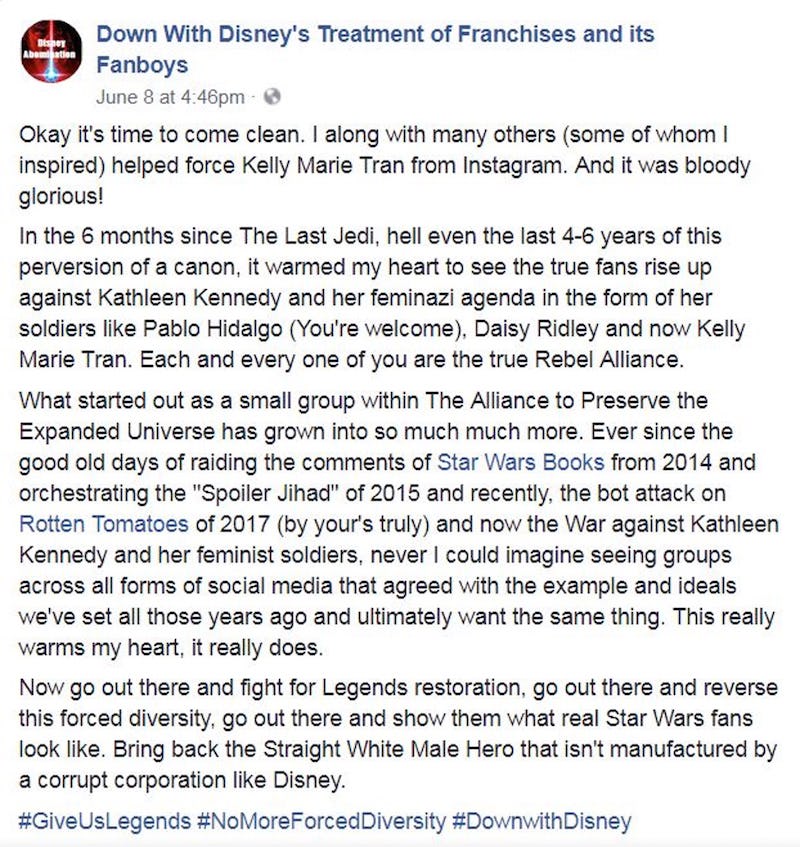 When describing the group's mission, ScreenRant wrote:
"The group's mission appears to be the subversion of what they perceive as unwanted  progressivism in the Star Wars universe. This can take the form of shared memes, posting screeds decrying the new Expanded Universe films, and through harassment campaigns. The latter can include repeatedly posting hateful speech and threats on the social media accounts of people like Tran, director Rian Johnson, and producer Kathleen Kennedy, who is twice named in the post as a specific target of the group's scorn."
The post ended the hashtag #GiveUsLegends, which seemingly connected them to "Give Us Legends", another group calling themselves a "Star Wars fandom terrorist organization". However, group founder Brian Borg has since denied any involvement via a Twitter post.
As a founder of @GiveUsLegends and president of the non-profit charity @twinsunsf that #GiveUsLegends became, I can confirm that the page in the story doesn't and has never had anything to do with GUL or the Alliance group which I help to admin. Please correct your story. Thanks!

— Brian Borg (@Azcatryo) June 9, 2018
This isn't the first time the first woman of color in a leading Star Wars role has been the recipient of such harassment. Last December, Tico's Star Wars "Wookepedia" was vandalized with racial slurs after someone altered the character description with the following:
"Ching Chong Wing Tong is a dumbass fucking character Disney made and is a stupid, retarded, and autistic love interest for Finn," and "She better die in the coma because she is a dumbass bitch."