South African tech billionaire Elon Musk called one of the British divers involved in the rescue operation for the trapped soccer team and their 25-year-old coach a "pedophile" after he criticized Musk's mini-submarine idea.
He said it not me! 😅

Cave rescuer slams Elon Musk's submarine idea, says "He can stick his submarine where it hurts,wouldn't have made the first 50m, Just a PR stunt" -CNN $TSLA
(Repost for twitter video h/t @TezzlaCFO) pic.twitter.com/GHWiILrPq5

— Brodie Ferguson (@brodieferguson) July 13, 2018
Vern Unsworth, in the widely shared interview video posted online last week, slammed the Tesla CEO for his submarine idea, telling CNN:
"He can stick his submarine where it hurts. It just had absolutely no chance of working."
He also went on to say that what the billionaire did was just a "PR stunt."
"He had no conception of what the cave passage was like," he continued in the interview. "The submarine, I believe was about 5 feet 6 inches long, rigid, so it wouldn't have gone around corners or round any obstacles. It wouldn't have made the first fifty meters into the cave from the dive start point."
The female reporter then pointed out to Unsworth that Musk went to the Thai cave while the operation was going. He then answered, with a shrug, "And was asked to leave very quickly."
Musk, who didn't take the criticism lightly, went to his Twitter over the weekend to vent out.
"Water level was actually very low & still (not flowing) — you could literally have swum to Cave 5 with no gear, which is obv how the kids got in. If not true, then I challenge this dude to show final rescue video. Huge credit to pump & generator team. Unsung heroes here," he wrote in one of his now-deleted Twitter post via VOX.

The 48-year-old entrepreneur then took it even further when he dropped an accusation without offering any proof or evidence to his claim.
"You know what, don't bother showing the video. We will make one of the mini-sub/pod going all the way to Cave 5 no problemo. Sorry pedo guy, you really did ask for it," he said in another now-deleted post.

Musk also tweeted in a now-deleted post, "Never saw this British expat guy who lives in Thailand at any point when we were in the caves."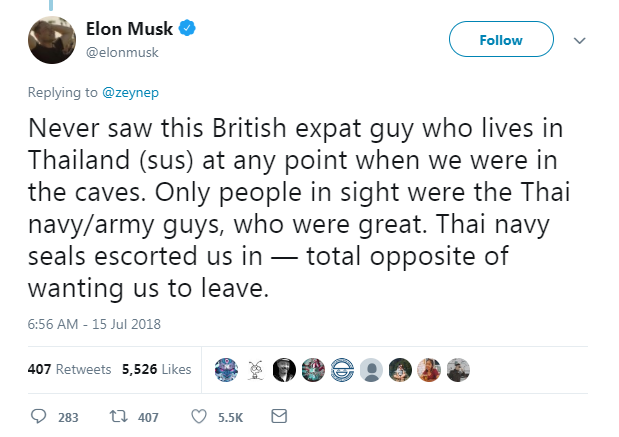 "Bet ya a signed dollar it's true," Musk replied when one fan pointed out his accusation against Unsworth.

No official word yet coming from Musk regarding the proof for his accusation. Unsworth, however, told AFP (via Evening Standard) regarding his plans to take legal action against Musk:
"If it's what I think it is, yes." 
Musk first offered to help Thai authorities in rescuing the trapped youth soccer team inside the miles-long Tham Luang Nang Non cave in Chiang Rai Province, Thailand when a fan asked him if he could assist the rescuers.
The team, who got trapped inside the cave for nearly two weeks before being found by British divers, was rescued last week. All 12 boys, aged between 11-16, and their 25-year-old coach, were safe.
Featured image (left) via Twitter / brodieferguson | (right) via Instagram / elonmusk