SpaceX and Telsa founder Elon Musk was impressed by how efficient China is when it comes to its progress in building infrastructure – particularly the country's recent amazing feat where 1,500 workers built a railway station in just nine hours.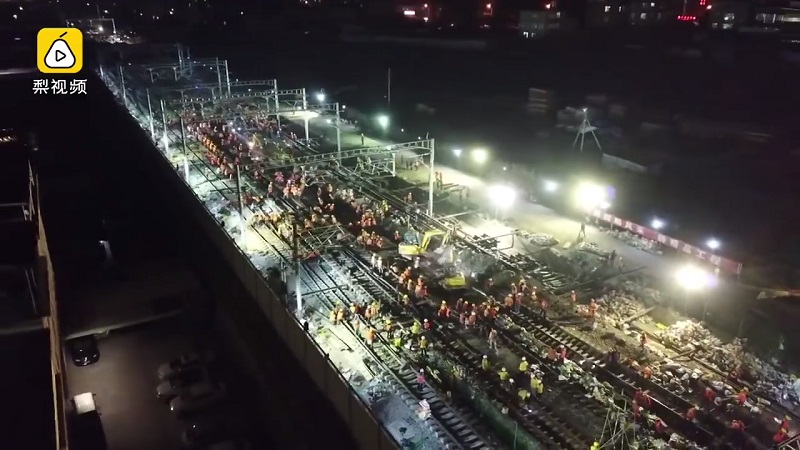 The 46-year-old tech tycoon even went on to compare China's efficiency to the United States in a tweet on Tuesday:
China's progress in advanced infrastructure is more than 100 times faster than the US https://t.co/fcqGIK78RY

— Elon Musk (@elonmusk) February 27, 2018
This remarkable demonstration of manpower occurred on January 19 at the Nanlong Railway Station in Longyan city, southeastern China's Fujian province, according to CGTN. The team began working on the project at 6:30 p.m. then ended at 3:00 a.m. the following day.
Seven trains as well as 23 diggers were used in the construction. Deputy manager at China Tiesiju Civil Engineering Group – China's main railroad building company – Zhan Daosong, said that the 1,500 employed workers were split into seven units. These seven units then operated seven tasks simultaneously.
Musk pointed out some of the problems in how the U.S. handle its infrastructure projects in his succeeding tweets.
Higher safety & environmental requirements & labor costs explain only a small part of the difference. True root cause imo is an exponential growth in bureaucracy & a self-serving private sector consultant industry earning a % on project cost, incenting them to maximize cost.

— Elon Musk (@elonmusk) February 27, 2018
The South African-born, Canadian American entrepreneur then added:
Want to clarify that as individuals, the people responsible for the high costs & long timelines are almost all well-meaning, but the system of incentives is messed up

— Elon Musk (@elonmusk) February 27, 2018
International media outlets have covered other similar amazing feats in the past, including the 2015 57-story tower in Changsha, Hunan province that was built in just 19 days and the demolition of a major overpass in Nanchang, Jiangxi province with only 200 diggers in just eight hours.
Featured image left via Instagram / elonmusk, image screenshot right via YouTube / zidyboby