A Chinese American mayoral candidate in San Francisco ignited controversy for funding a "racist" billboard that targeted the city's incumbent African American mayor.
Ellen Lee Zhou, whose supporters have branded as the "Chinese Donald Trump," sponsored the billboard showing a Black woman in a red dress and heels with her feet up, holding a cigarette in one hand and a stack of cash in the other.
The billboard also shows a thought bubble from the woman's head, which imagines a queue of people with number tags hanging around their necks.
Opposite the woman is a man in a suit holding a stack of cash while carrying a young girl clutching a teddy bear.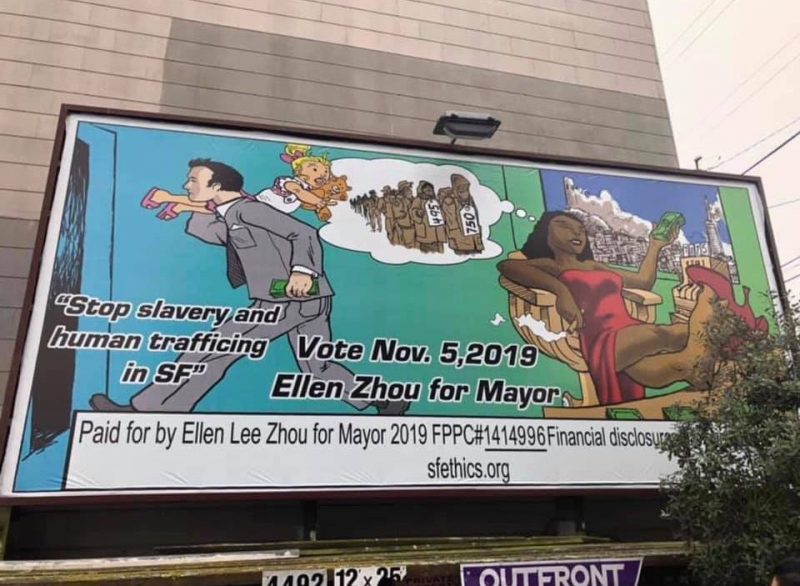 The billboard, which urged the public to vote for Zhou on Nov. 5, also features a quote that says, "Stop slavery and human trafficing [sic] in SF."
Observers suspected that the woman depicted on the billboard is none other than incumbent Mayor London Breed, who is hoping for re-election.
Yesterday we were proud to announce the first Small Sites acquisition on the westside of SF, which will stabilize 15 tenants who would otherwise be at risk of displacement! We need to build more housing while protecting current tenants to address the housing crisis. pic.twitter.com/TDDTJoDFFe

— London Breed (@LondonBreed) September 28, 2019
When asked to describe the campaign material, Zhou acknowledged that the woman on the billboard is, indeed, Breed.
"Well, if you look at the picture, London Breed is counting the money — that's her paycheck," Zhou told KPIX 5. "The mayor makes $350,000 a year while people are dying on the streets–they have to pick their dead bodies up. A mayor getting a big fat raise while people are dying."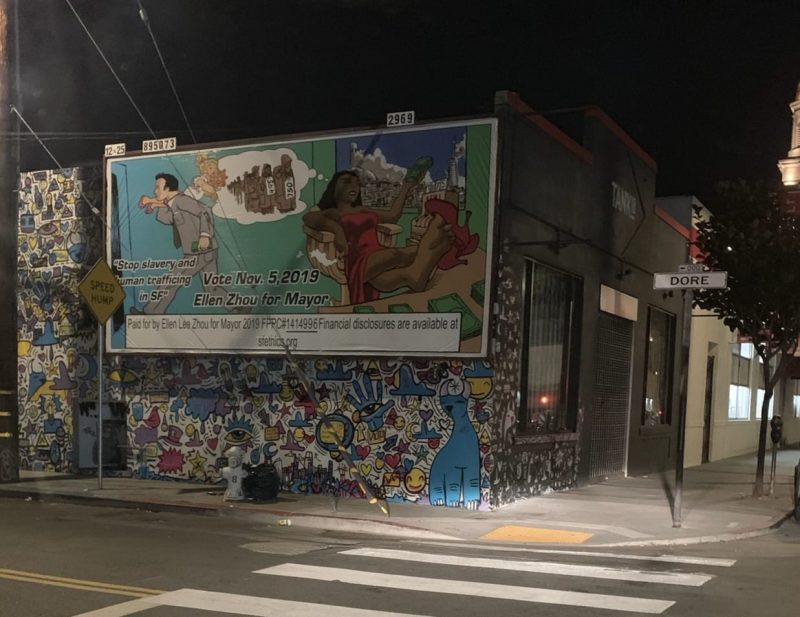 The billboard reportedly sparked outrage among the city's politicians, who slammed it as "racist." Among them is District 10 Supervisor Shamann Walton.
"Everyone should be outraged at what's depicted on this billboard. When are we going to overcome these racist depictions of black people and other communities in SF?" Walton wrote on Facebook.
In Zhou's mind, it is Breed who's racist, however.
"I believe London Breed is racist," she told KPIX 5. "Racist against three Caucasian men who is running for mayor because there's no debate. She refused to have any debate. I am Asian American and there is another Asian American running for mayor. There's six candidates for the mayor's position. I believe that London Breed is the most racist in the entire San Francisco."
She also took to Twitter to defend her ad.
"The people called me racist also called me terrorist not long ago because I am a NRA member. Is this racist against me as a female Chinese American? The truth will set SF FREE!"
The people called me racist also called me terrorist not long ago because I am a NRA member. Is this racist against me as a female Chinese American? The truth will set SF FREE! Vote Ellen for mayor. Thank you. https://t.co/M9yj7jEExv

— Ellen Lee Zhou for SF Mayor 2019 (@Ellen4SFMayor) October 21, 2019
Zhou, the only Republican running for mayor, is a vocal supporter of gun ownership.
"Can you imagine if all the Asian people owned a gun and they could protect themselves?" she told the San Francisco Examiner in August.
Commenting on recent mass shootings that targeted Asian households, she said, "The people who shoot at us, the mass shootings, they'll always get [guns], because they're bad. Good people like you and me, who have common sense, if we could carry we could come out and defend ourselves."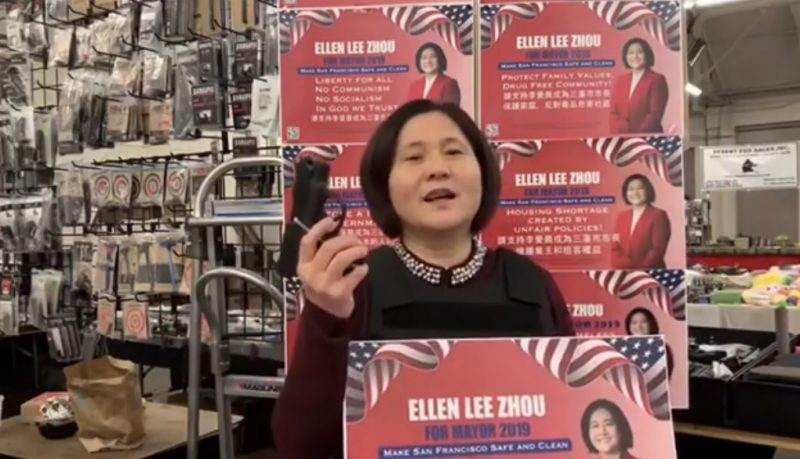 A member of Breed's campaign has since released a statement describing the billboard not only as racist but also sexist.
"This blatantly racist and sexist ad has no place in our political discourse or our city. Race-baiting like this is divisive, dangerous and shameful, and must be rejected," the statement said, according to NBC Bay Area.
San Francisco's Asian American leaders held a news conference at 10 a.m. today to discuss the billboard.
Facebook users commented on the matter: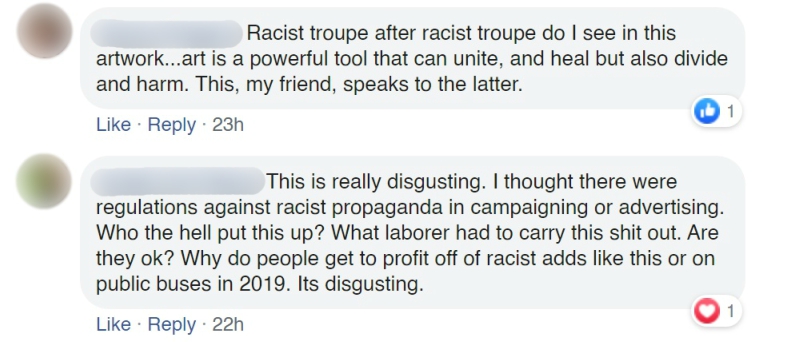 Featured Images via YouTube / Ellen Lee Zhou (Left), Facebook / Shamann Walton (Right)