A Singaporean YouTuber is the latest figure caught up in the #MeToo movement that has been sweeping across Asia, with victims coming forward one by one to accuse him of sexual harassment.
Eden Ang, who has some 173,000 subscribers on YouTube, first came under fire in late January when a Facebook user named Kuroe Kun claimed that he harassed her friend and that Singaporean police did nothing after hearing the situation.
"The man was unable to stop himself from slapping her ass and touching her inappropriately. Eden Ang, I absolutely despise you for harming my friend," Kun wrote. "A female police officer had told her to report. She did. This male investigator said 'it's your fault.'"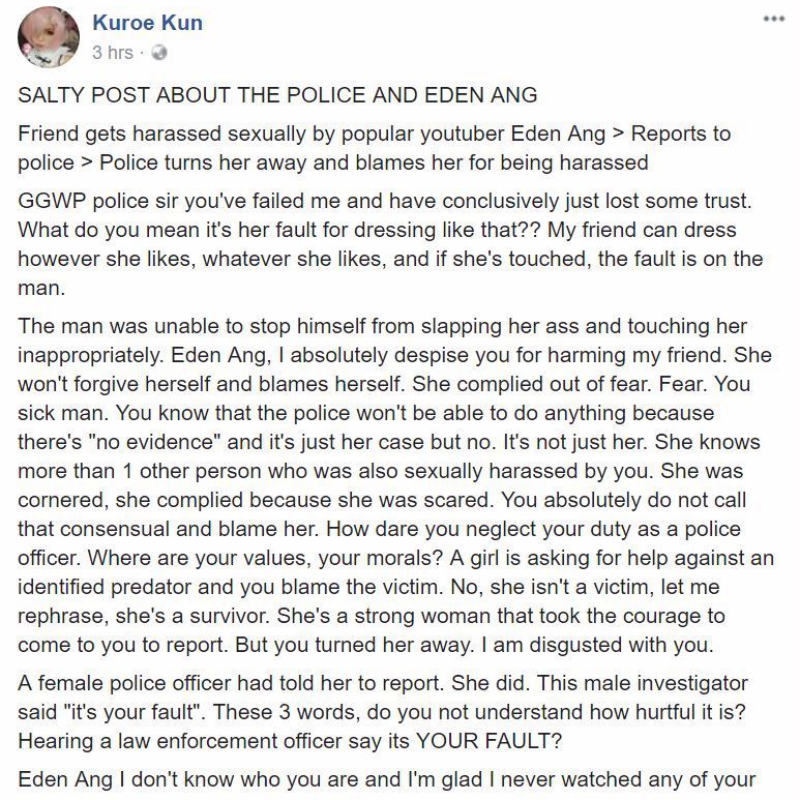 Singaporean Police posted their response denying that they made insensitive remarks in a Facebook post: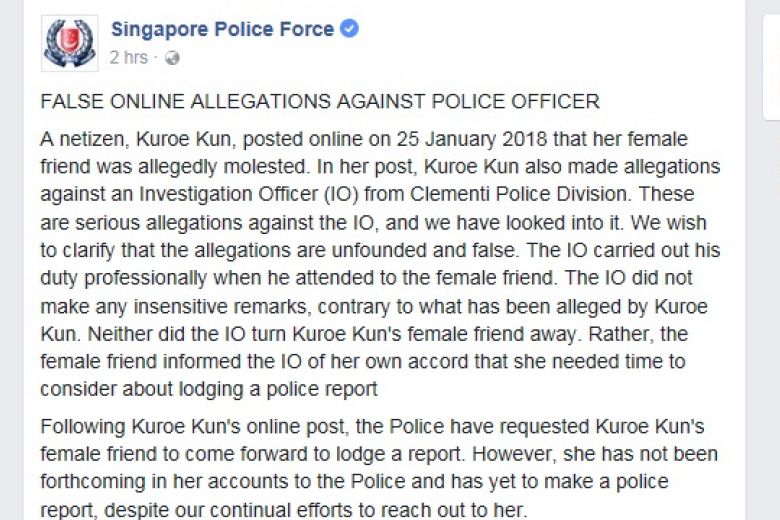 Dee Kosh, another YouTuber, also raised the matter by showing screenshots of alleged conversations between Ang and the girl, whom he identified as being 18 years old and was hired as Ang's personal assistant after meeting her in a boxing match.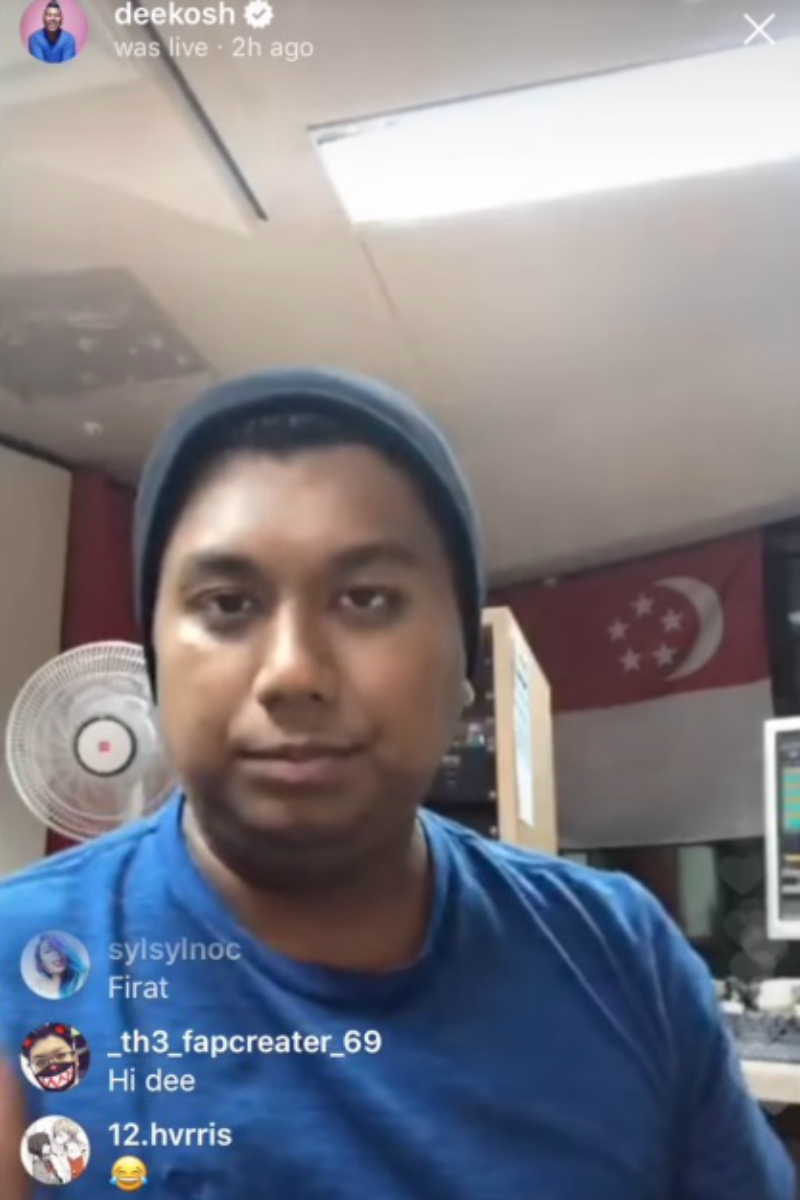 As per Kosh's account, Ang seemingly controlled the girl's way of dressing, asking her to "cover up" on a Tuesday and "dress different" on a Wednesday. She replied that she would prefer dressing professionally on both days.
The YouTuber replied, "Good girls listen to daddy. You should call me that actually."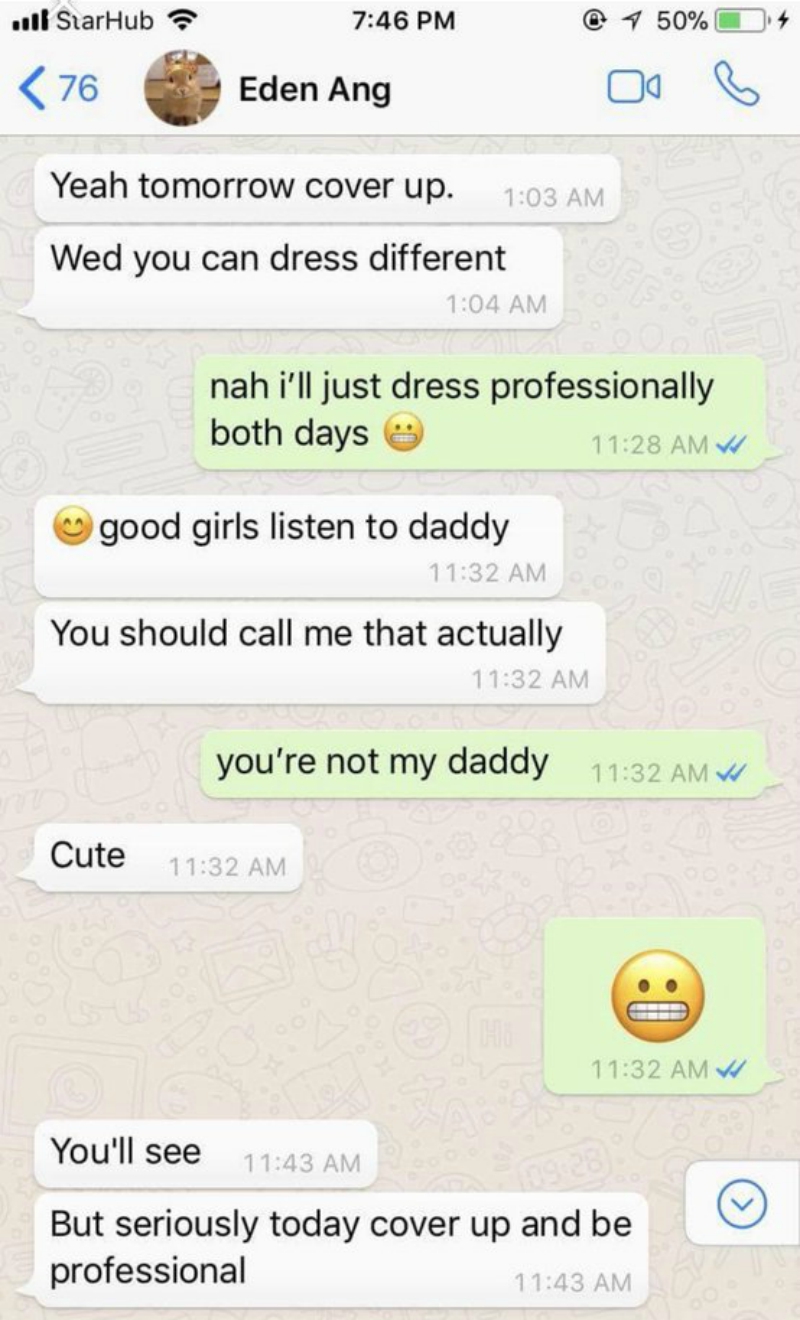 In another exchange, Ang allegedly asked the girl to wear a "cute G," referring to a G-string. When she refused, he asked her to listen to "daddy" and show her best asset. When she complied, he forced her to take off her pants and smacked her buttocks.
Kun and Kosh's accusations found support when the girl in question, identifying herself as Lilith, finally came forward to add credibility to the case.
"Hey everyone. My name is Lilith, and I am the victim in the Eden Ang scandal that is currently going on. I haven't said anything so far because I've been scared," she wrote on Instagram. "No, terrified by what speaking up would mean… for my safety, for my dignity, for my family, and for my friends. But enough is enough."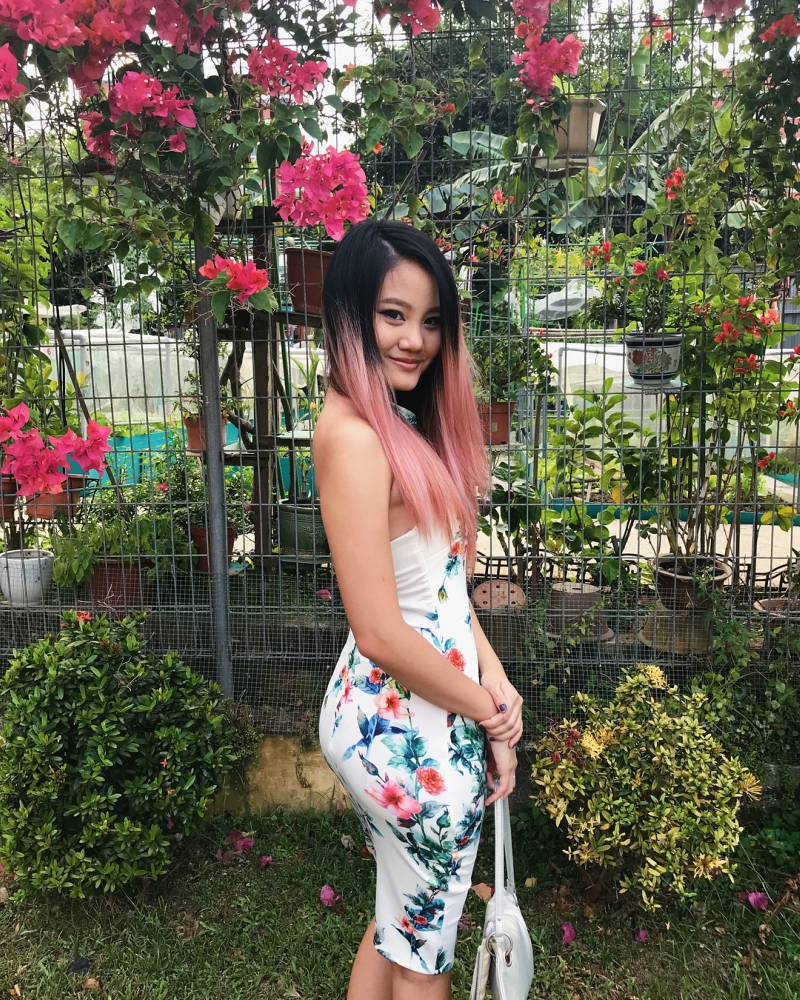 According to Lilith, there had been some "discrepancies" in the post that Kun put out, but "everything she said about Eden is true."
"He did touch me after me repeatedly telling him no, both online and offline. I will be filing a police report soon and will be unable to further comment on this issue."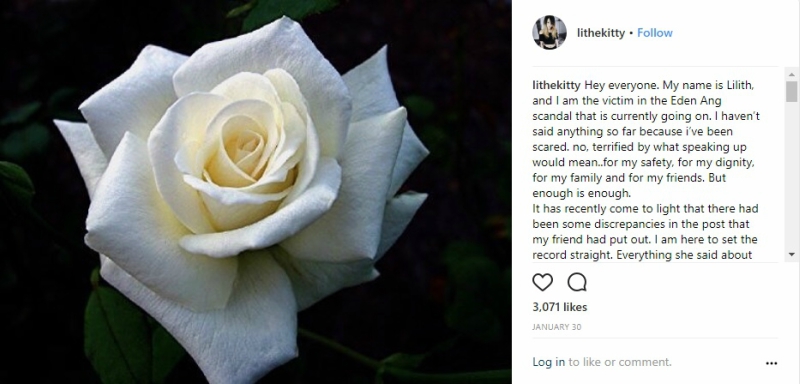 Responding to the accusations, Ang himself lodged a police report and thanked everyone supporting him. He wrote on social media:
"Thank you to all my family, friends, and fans who have notified me about the recent malicious allegations regarding me on Facebook. I am aware of this and I have made a police report. As always I put full faith and trust in the Singapore Police Force and the Singaporean legal system. I am fully cooperating with the authorities on the investigation of this case. Thank you to those who continue to support me and I pray these allegations come to past quickly."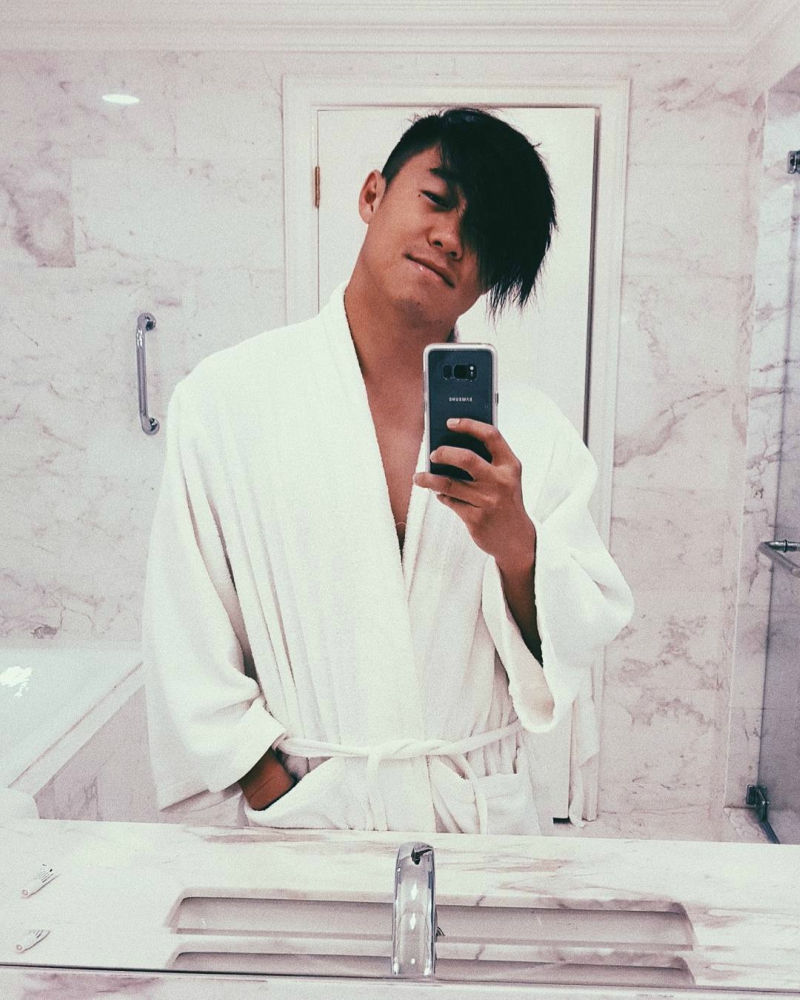 Later, he penned a lengthier post citing receipt of "abusive comments and even death threats." He denied the allegations:
"I did not take advantage of anyone. I recognize that incidents like these often play out in a 'he said she said' situation, but my conscience is clear and I have the records to support this."
"Some have pointed out that I should publicly share details to prove my position. However, I will not be sharing any further details on identity or communications out of respect for everyone's privacy. Any further discussions can be through the authorities."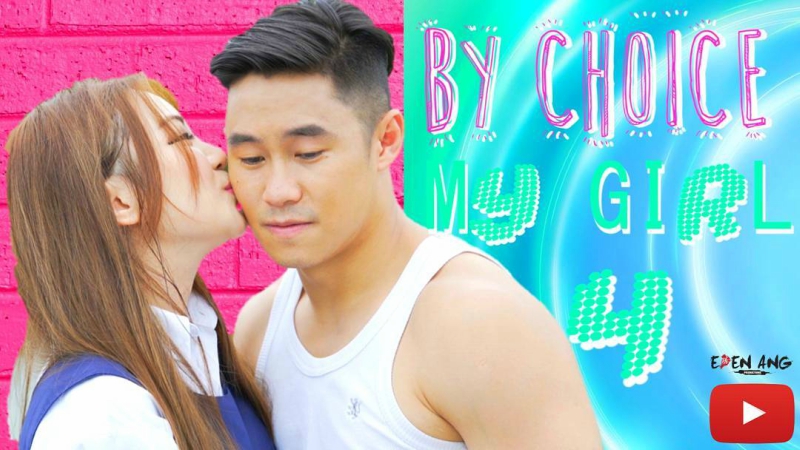 He went on to stand against sexual harassment and encouraged anyone experiencing it to speak up:
"Sexual harassment (or any form of harassment) is a serious matter. If you or anyone you know is going through it please speak up and seek help through the proper channels and authorities.

"I wanted to set the record straight with this post, which will be my final post on this matter. Right now, I will continue to focus on my craft and continue to produce quality work."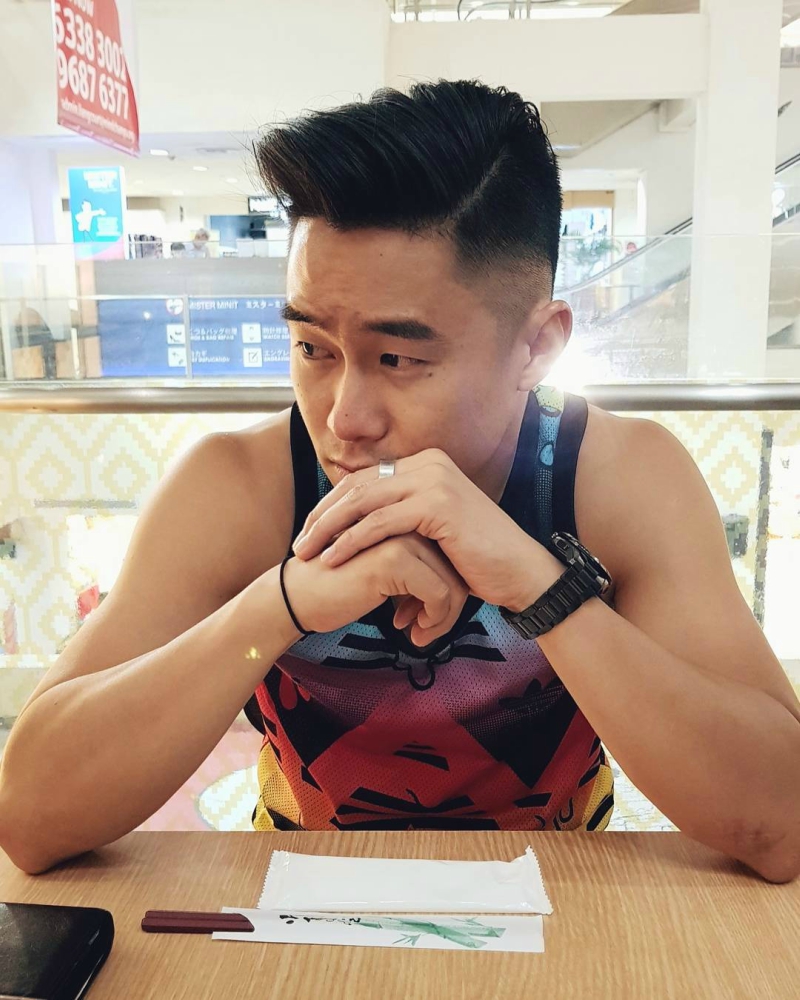 Others have since come forward against Ang. Nicolette Lim, a former national gymnast, claimed that the YouTuber sent her disturbing messages in 2015, commenting on her pubic hair and underwear. He allegedly invited her to audition for his videos, which required that she wore a G-string.
She wrote on Facebook:
"When I told him that I do not have a G-string and have never done something like this before, he said 'I can bring you to buy a G-string' and 'teach you how to wear.' He also asked me to send photos of the skirts I have at home and I stupidly did, which he then commented 'not short enough.'"
Lim said that she deleted all the messages as she "just wanted the disturbing conversation to end."
"Since I wasn't going to expose him and keeping the conversation meant a constant reminder of my stupidity (this is a personal feeling), I deleted ALL messages."
"Before anyone jumps into conclusion that I'm doing this for attention or fame, please let me explain that I'm sharing my story without any hard evidence because I do not want Eden Ang to continue harassing more girls, and also to give support to others who have very bravely opened up about their experiences."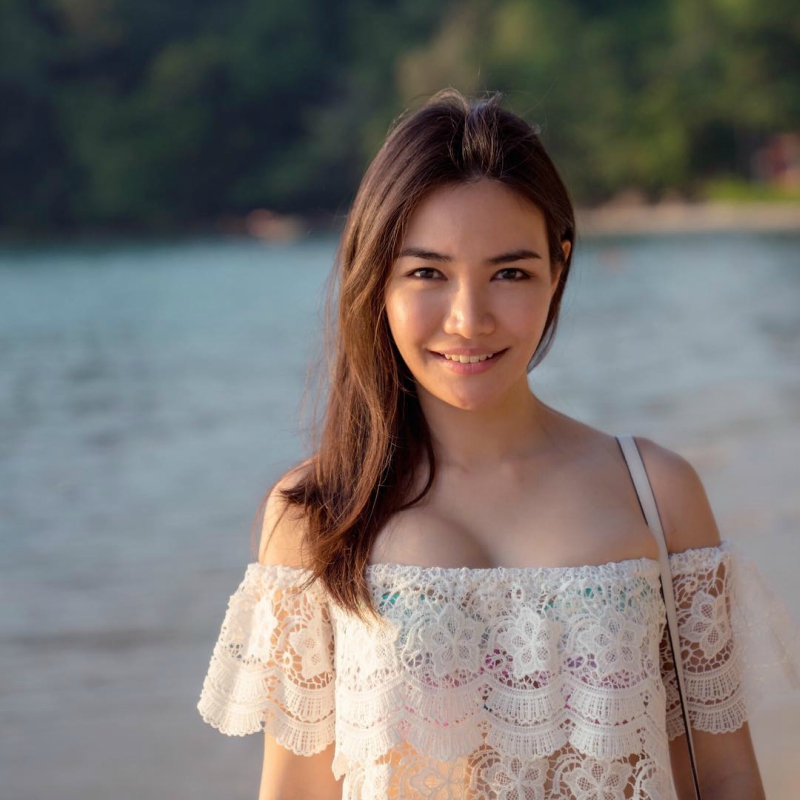 Days after Lim's post, model-actress Melissa Faith Yeo also spoke up and called Ang "just a tasteless guy lacking game." She cited the story of a girl who met him in New York City while he was learning film-making under a government grant.
Yeo wrote on Facebook:
"She brought him up to her studio and sat on her sofa while waiting for him. When he came out, he joined her on her sofa and allegedly put his hand up her skirt. She told me she was horrified, jumped up and told him they should get back to the cafe.
"While they were getting food, he allegedly bragged that teenage girls would approach him on public transport, asking if they could lose their virginity to him, then proceeded to ask her why wouldn't she sleep with him. A few days later, she told me she received his text messages calling her 'spoilt' for not having sex with him."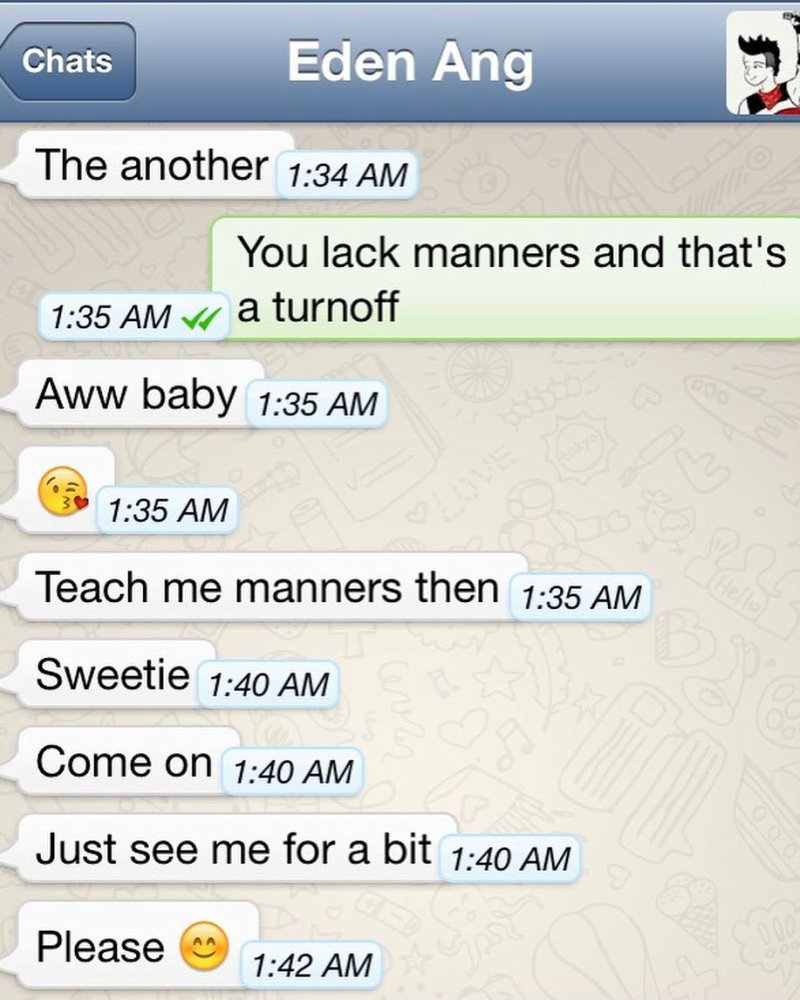 Yeo urged the girl to report him but the latter refused simply because Ang was famous and well-loved:
"When I demanded she reported him, like the other victims, she refused… because 'he [was] with Wah! Banana.' And like these girls, I never spoke up about this, because 1. No one would believe a God-loving, well-loved Youtuber over me… everyone would have just labelled me as a *yawn* 'famewhore' (surprise, surprise) and 2. Well… I felt it wasn't my story to tell."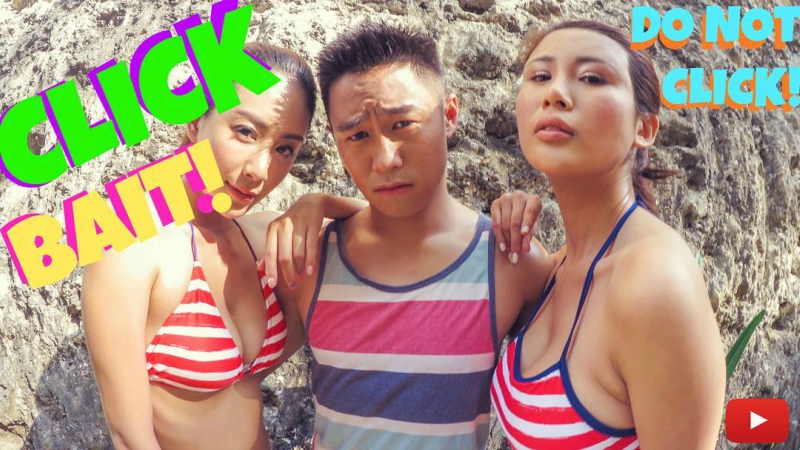 On February 23, another broke her silence and filed a police report against Ang. Speaking to Rice Media, "Dawn" accused the YouTuber of shoving his hand up her skirt, fingering her and saying, "I know you want it." She repeatedly rejected his advances, but he allegedly went on to penetrate her with his penis.
Dawn told the outlet:
"This was an evening when I went to his house for 'work'. He brought me to his bedroom again and started fingering me. He pushed me to the bed and said, 'I know you want it, I know you want it.' I said, 'Don't want la, don't want la.' Everything happened so quickly, I was in pain. I told him honestly that I was a virgin. He replied, 'It's okay, let me teach you how to do it, let the master teach you. You must try; if you never try, you won't know how good it is.'
"He kept fingering me even though I tried to stop him. And then he penetrated me with his penis after that. There was sexual intercourse, but no it wasn't consensual. I pushed him off and kept saying no. But he just kept going, did not stop, and carried on penetrating me. He repeated, 'You have to go on; if you don't go on, it'll be more painful.' While doing this, he removed my clothes."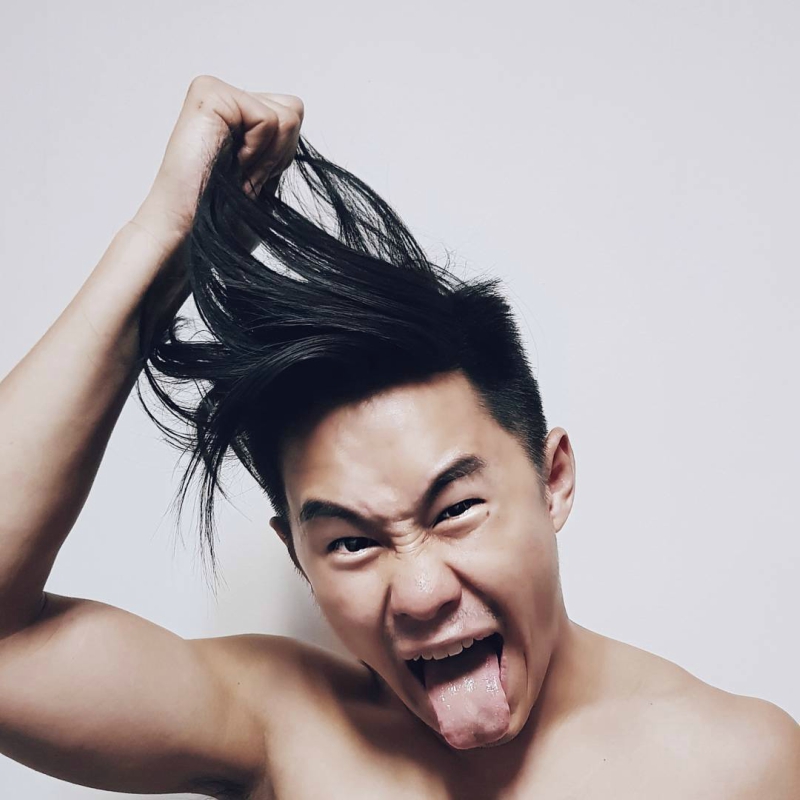 "Sheryl," another woman claiming to be Ang's victim, also spoke to Rice Media and shared screenshots of conversations she had with him. Apparently, she was also asked to wear a G-string.
"For your white bandage [dress], you might need to wear a G. I scared later can see visible pantyline (VPL)," Ang told her.
"Models shut up, trust and obey. […] When it comes to outfits, as a model your job is to make it look good. Not discuss what you wear. […] You're a good model. Sweet one too. Don't spoil image."
This post has been updated with a a Facebook post from the Singapore Police Force.
Featured Images via Instagram / (Left): lithekitty | (Right): eden_ang